CIOs plan to spend an increasing proportion of their IT budget on outsourcing in 2011 as they emerge from the downturn.
One in 10 plan to devote more than half, and almost one-third plan to spend a quarter of their IT budget on outsourcing, a survey of 2,500 CIOs and IT leaders worldwide reveals.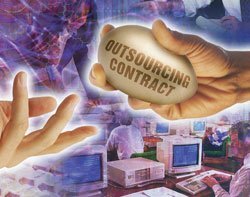 The trend will change the nature of IT departments, which will increasingly be made up of professionals with the skills to manage strategic relationships, the research by recruitment firm Harvey Nash and PA Consulting reveals.
---
---
"In the past 12 months, two trends have emerged around how CIOs are outsourcing. First, more CIOs than ever before are investing in outsourced activity. Second, they are engaging a more diverse group of partners," says Tom McEwan, global head of IT at PA Consulting.
Pressure to cut costs and the need to access a wider range of skills are the two most important drivers for outsourcing, the survey reveals.
Multisourcing
But the nature of the deals are changing, as more CIOs seek to form partnerships with a larger number of smaller, specialised outsourcing partners.
Some 39% of global CIOs expect to increase their dependence on multisourcing in the next 12 months, the survey reveals.
These smaller companies are able to deliver innovative technologies in mobile commerce, private cloud and social networking, says McEwan.
Offshoring up
The survey reveals that offshore outsourcing has grown in popularity over the past 12 months, with 50% of CIOs planning to increase their spending on offshore outsourcing this year, up from 20% in 2010.
India, still the outsourcing destination of choice for the majority of CIOs, has seen its popularity rise over the past year. But Brazil, China, Malaysia, the Philippines, Russia and Vietnam are taking a growing share. By contrast, the UK, US, Ireland and Canada are becoming less popular outsourcing destinations.
Flexible workforce
CIOs are transforming their IT departments into flexible organisations with a smaller full-time workforce, instead relying on temporary contract staff and outsourced teams during busy periods.
The majority of CIOs have up to a quarter of their IT workforce employed in this flexible way, and one in 10 use a flexible model for up to half their workforce.
Only 16% expect their reliance on a flexible workforce to fall within the next two years.
Skills
The trend will demand IT professionals with the skills to engage with customers and the ability use IT to deliver innovation, says McEwan.
"Those CIOs with experience of managing complex relationships with lots of moving parts are likely to become more attractive to employers which are now faced with the growing management headache of ensuring that all suppliers are working in harmony," he says.
Top priorities for CIOs in 2011
Saving costs 67%
Increasing operations efficiencies 65%
Delivering consistent and stable IT performance 64%
Improving business processes 63%
Enabling business change 44%
Developing innovative products and services 42%
Delivering business intelligence 39%
Delivering revenue growth 37%
Managing operational risk and compliance 34%
Better engagement with customers 29%
Email Alerts
Register now to receive ComputerWeekly.com IT-related news, guides and more, delivered to your inbox.
By submitting your personal information, you agree to receive emails regarding relevant products and special offers from TechTarget and its partners. You also agree that your personal information may be transferred and processed in the United States, and that you have read and agree to the
Terms of Use
and the
Privacy Policy
.