The IT industry has spoken out about this year's disappointing computing and ICT A-level results, warning that the UK may be forced to buy in IT expertise from offshore service providers unless the situation is addressed.
The number of students taking IT-related A-levels fell 2.4% compared with 2009. Some 4,065 students were awarded computing A-levels, compared with 4,710 this time last year - a drop of 13.7%.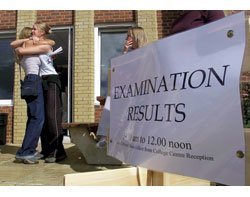 While offshore outsourcing is used by many businesses today to reduce IT costs, companies do have a choice. Without home-grown talent, IT departments could in future be forced to buy in key skills from overseas, said Davin Yap, CEO of software firm Transversal.
"If this worrying trend continues we will not have any choice but to look oversees to meet the shortfall. The UK more than holds its own on the IT world stage and the quality of our technology graduates is very high, but a lack of fresh blood will just make a scarce resource even scarcer," he said.
With lower-skilled IT work often offshored, there are fewer people working their way up the ladder to high-level IT roles. This potentially opens a huge opportunity for computing and ICT graduates.
"The question is, do we need more graduates or do we need better ones?" said Andrew Tuson, assistant dean for student recruitment at City University London's Department of Computing.
However, Bill Mitchell, executive director of BCS Academy of Computing, said, "If more people take up computing at A-level there is a much better chance the next great leap will happen in the UK and be exploited in the UK."
Business lobby group the CBI said the shortage of science graduates must be addressed by the state education sector, where insufficient numbers are studying science, technology, engineering and maths (Stem) subjects.
Young people need to be made aware of alternative pathways into IT roles, said Matthew Poyiadgi, European vice-president at the Computing Technology Industry Association (CompTIA).
"As another year's tales of grade inflation, missed places and dumbing down of A-levels begins, the IT industry should be engaging with schools, colleges, careers advisors and the media to highlight the benefits of a career in IT and the different routes into it - not just the university one," he said.
BCS, the chartered institute for IT, has launched a video site called ExcITing Careers to showcase the various routes into the IT sector.
And IBM today announced an apprenticeship scheme for school leavers.
---
Clearing ICT
University clearing house UCAS predicts 170,000 students will fail to secure a place at university this year. A total of 180,000 candidates are reported to be applying for university places through UCAS clearing.
Roughly 5,000 IT-related course vacancies are currently available through UCAS clearing - including 844 places available for computer sciences.
Andrew Tuson, assistant dean for student recruitment at City University London's Department of Computing, said the biggest problem facing A-level IT students was a shortage of places in UCAS clearing due to stricter government controls on the number of places available for UK students and the peak in the 17- to 25-year-old demographic.
"Any students wishing to take an IT or computing degree at this stage should act quickly and decisively, but calmly, and try to secure a place in the next few days," he advised.
---
A-level results highlight UK's IT skills gap >>
A-level results confirm IT industry's fears >>
Poll: A-level results - annual disappointment for IT industry >>
IBM launches apprenticeship scheme for IT leavers >>
Email Alerts
Register now to receive ComputerWeekly.com IT-related news, guides and more, delivered to your inbox.
By submitting your personal information, you agree to receive emails regarding relevant products and special offers from TechTarget and its partners. You also agree that your personal information may be transferred and processed in the United States, and that you have read and agree to the
Terms of Use
and the
Privacy Policy
.