CIOs need vision and pragmatism to help build the right company
How well CIOs balance three pairs of contradictory roles has profound effects on the performance on their employer firms, says the
How well CIOs balance three pairs of contradictory roles has profound effects on the performance on their employer firms, says the first CIO study by the IBM Institute for Business Value.

Download this free guide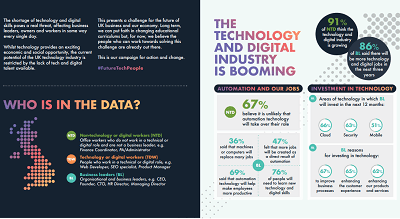 Infographic: Future-proofing UK technology
The current potential of the UK technology industry is restricted by the lack of tech and digital talent available. Read through this challenge for the future of UK business and our economy.
By submitting your personal information, you agree that TechTarget and its partners may contact you regarding relevant content, products and special offers.
You also agree that your personal information may be transferred and processed in the United States, and that you have read and agree to the Terms of Use and the Privacy Policy.
The global study published this week is the result of almost 2,600 face-to-face interviews with CIOs in 78 countries and 19 industries.
The researchers found that CIOs must not only balance conflicting roles, they have to do it within the limits imposed by the history and culture of their employer organisations in a volatile and financially challenging economy.
The roles CIOs need to assume, as the IBM researchers describe them, are Insightful Visionary and Able Pragmatist, Savvy Value Creator and Relentless Cost Cutter, and Collaborative Business Leader and Inspiring IT Manager.
Integrating these roles allows CIOs to produce truly innovative solutions, improve the return on investment in IT, and increase the impact of IT on the organisation's operations, researchers say. "For example, The Visionary may see a new opportunity, but it takes a Pragmatist to seize it," they say.
The researchers found that differences in how CIOs manage these roles show up on the bottom line. The researchers used profit before tax for the years 2004 to 2007 as a benchmark to split the employer organisations into high, medium and low growth firms. It then looked at the characteristics of the CIOs in each category.
It found that CIOs in low growth firms focus on the IT Manager role. This heavy concentration ultimately short-changes focus on the other five roles, the researchers said. CIOs from medium growth firm were evenly balanced across all roles.
CIOs in high growth firms were also balanced, but peaked on three aspects, Visionary, Business Leader and Pragmatist roles, at the expense of IT Manager. This meant they spent significantly more time on these aspects rather than keeping the lights on and cutting costs, which are the keynotes of IT Managers.
"These peaks correspond to high growth CIOs' heavy emphasis on proposing innovative change, collaborating with colleagues across the business, and putting innovation into practice, respectively," they said.
The findings showed that CIOs earned their seats in the boardroom firstly by running basic IT operations well, and secondly using that credibility plus a convincing analysis of information to help generate innovative solutions to problems or opportunities in other areas of the business.
The researchers said CIOs could improve their performance in all aspects, especially communicating IT's true value to the organisation.
But how effective their moves prove depends on the company culture and management beliefs. The study found that 63% of high growth CIOs expect their business models to be well-established, unique and hard to copy in five years. Just 49% of low growth CIOs felt the same.
Action points
To become more visionary CIOs need to:
• Push business and technology integration
• Champion innovation
• Extend CIO influence
• Enable the corporate vision
• Make working together easy
• Concentrate on core competencies.
To raise the ROI of IT, CIOs need to:
• Make the data "sing"
• Reach customers in new ways
• Enhance integration and transparency
• Standardize to economize
• Centralize the infrastructure
• Keep cost reduction a top priority.
To expand business impact, CIOs need to:
• Know the business
• Get involved with business peers in non-IT projects
• Present and measure IT in business terms
• Cultivate truly extraordinary IT talent
• Lead the IT forces
• Enhance the data