More questions and answers from SAN School lesson # 5
Here are additional questions and answers from SAN School Lesson 5: Designing a SAN. The questions cover topics ranging from how to determine an effective SAN design to meet your needs, to the differences between fabric switches and loop switches.
This Article Covers
RELATED TOPICS
SAN School: Lesson 5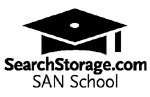 ---
"Designing the SAN"
In this fifth lesson of SAN School, you learned that when it comes to designing a SAN, there are many important things that you need to consider before jumping into it. In this lesson, you learned how to tell which components fit together best when choosing a SAN design that will work for you. Chapter five also covered important design aspects and walked you through the process of creating a template design. In addition, Christopher Poelker also shared some tips from his experiences with building SANs as well as best practices he's learned along the way.
Since so many of you asked Chris Poelker questions during this SAN school Webcast, he didn't have time to answer them all. Therefore, we sent those questions to Professor Poelker and are posting them along with the answers for you here.
Here you'll find answers to questions pertaining to:
Back to the SAN School table of contents
Question: What's the basic difference beween a fabric switch and a loop switch?
Professor Poelker: A "loop switch" can also handle the FC-AL protocol, and allows the attachment of older FC-AL based SAN gear (like tape drives) to the fabric. The switch assigns a unique WWN for each FC-AL ID on the connection, so that fabric based devices can address the FC-AL based device. Brocade was one of the first to provide this functionality through their "quickloop" protocol in the original 2800 switches.
Question: From what I could draw from available sources is that loop switch as well as fabric one has point to point, non-blocking architecture. How is FC-AL implemented in a loop switch?
The switch provides a translation mechanism in a daemon running within the switch firmware. When an FC-AL device is attached to the switch port, the switch will assign a WWN to the FC-AL device based on an offset of the switch ports WWN. This way, each FC-AL ID also gets a WWN.
If you missed lesson fiveof SAN School, view it anytime here
About Christopher Poelker:
Aside from being an author and a SearchStorage.com SAN expert Christopher Poelker is a storage architect at Hitachi Data Systems. Prior to Hitachi, Chris was a lead storage architect/senior systems architect for Compaq Computer, Inc., in New York. While at Compaq, Chris built the sales/service engagement model for Compaq StorageWorks, and trained most of the company's VAR's, Channel's and Compaq ES/PS contacts on StorageWorks. Chris' certifications include: MCSE, MCT (Microsoft Trainer), MASE (Compaq Master ASE Storage Architect), and A+ certified (PC Technician).
** The difference beween a fabric switch and a loop switch ** How FC-AL is implemented in a loop switch