Slick smartphones dominate 2006
Mobile devices in 2006 took on a new shape and style, many making the transition from clunky and utilitarian to stylish fashion accessories.
Style won out in 2006 as a host of cool new mobile devices hit the streets and broke their way through the enterprise walls, edging out many of their clunky brick-styled counterparts.

It started with the Motorola Q, a shiny little candybar form factor that runs a Windows Mobile platform. BlackBerry maker Research In Motion Ltd. (RIM) entered the slick and sleek game not long after with its introduction of the Pearl, the smallest BlackBerry to hit the market and the company's first with a camera and music player. Soon Nokia upped its coolness factor with its 9300 or E62.

Download this free guide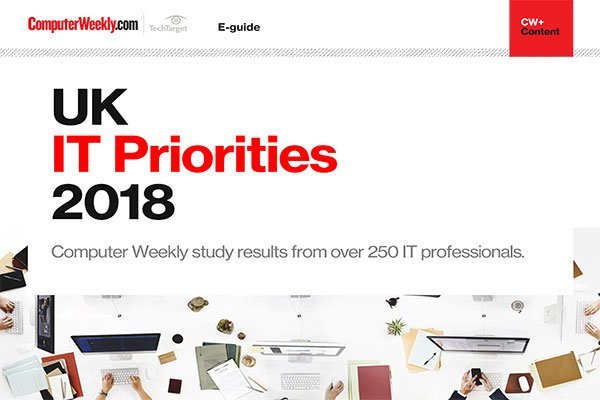 UK IT Priorities 2018 survey results
Download this e-guide to discover the results of our 2018 UK IT Priorities survey, where IT leaders shared with us what they are going to be investing in over the coming 12 months.

By submitting your personal information, you agree that TechTarget and its partners may contact you regarding relevant content, products and special offers.

You also agree that your personal information may be transferred and processed in the United States, and that you have read and agree to the Terms of Use and the Privacy Policy.

Small streamlined devices have obviously had a Pavlovian effect on gadget-loving masses. But 2006 was the first time that these types of devices were geared toward mobile professionals, who often have to sacrifice aesthetics for functionality.

According to Shelly Sofer, public relations director at RIM, BlackBerrys were historically geared toward the enterprise user, leaving out a massive segment of the market.

"A lot of enterprise users are also consumers," Sofer said. "We're seeing a lot of people out there who have a phone, want mobile email and don't want to lose functionality."

As for coolness, "the market demands it," Sofer said. The secret behind the Pearl is its ability to hit consumers, enterprise users and the ever-elusive pro-sumers, a combination of the two.

"For a device like this to be successful, it has to appeal to the pro-sumer space," Sofer said. "It has to be slightly left of center."

But along with the consumer gizmos like a camera, expandable memory and a music player, the device still has to function as a business tool, Sofer said. With the Pearl, those extra consumer-leaning features can be disabled or controlled by IT.

Tony Arroyo, senior distributed technology engineer for MetLife, started using a Pearl when it was first released in September. At the time, Arroyo, a self-proclaimed device lover, called the Pearl both slick and useful.

"Everybody, of course, wants the best, the latest and the glitziest device," he said, later adding that the Pearl and Q are both functional "eye-candy."

Jack Gold, president and founder of J.Gold Associates, a Northborough, Mass.-based research and advisory firm, said many device manufacturers opted to start peddling slick devices to business users because, quite simply, they'll buy them.

Gold said technological advances in the device manufacturing industry have made it simpler for makers to cram a whopping amount of functionality into a small and often attractive package.

"They're making them because they can," he said, adding that advances have allowed phone makers to "pack in a lot more stuff" than they could before.

For example, Gold said, everything necessary to operate a smartphone can now be put on one or two chips. In the past, 15 chips would be needed to run a smartphone. A reduction in device prices also opens the door for users and companies to adopt them without breaking the bank, according to Gold. For the most part, the latest slick devices retail around $200 with a new contract.

Also, the proliferation of broadband has more users moving more data across more networks, Gold said. All that motion has made users come to expect the ability to connect from anywhere at any time, and accept nothing less.

Between broadband expectations and smaller chips adding boosted memory and better displays, Gold said, enterprises are sort of being painted into a corner, where they have to choose the latest hot device to get all of the functionality they want and need.

"It's all coming together," he said, "People are no longer looking at these devices solely as utilitarian … in that they just serve one purpose. These are now lifestyle devices. People have gotten used to the coolness factor. The only problem is, cool changes every week."

2006's introduction of slick devices will open the door for more, similar devices in 2007, according to Gold.

"I think more and more devices will come out next year," he said. "They'll be more complex, with music and video. People still want thinner and lighter. These devices open the market to people who wouldn't have bought an older device because they're not very cool."

And, only half-joking, Gold said he wouldn't be too shocked if one of the major device makers debuted a two-way videophone by the end of 2007.

Still, first and foremost, these mobile devices are just phones. The rest of the add-ons -- email, messaging, calendaring, video, music and photos -- are secondary. Gold said this latest crop of toys-as-business-tools can also serve to broaden deployments to SMBs and employees at large companies who use phones solely for voice but would also like the option of mobile email.

"People still want to talk," he said. "Despite what they look like, they're phones first, everything else second."

Daniel Taylor, managing director of the Mobile Enterprise Alliance, echoed Gold, saying that enterprise device users are both workers and consumers. In the past, slick devices couldn't make it into enterprise environments, he said, because potential users would be shot down by IT departments that didn't want to support additional devices. Now, Taylor said, IT departments are giving a little more consideration to supporting various devices.

"I used to side with the IT department who said, 'We're going to provision these devices and that's it,'" Taylor said. "Now, many IT departments are saying, 'We're not going to support your phone, we're not going to give you behind-the-firewall access, but we'll give you a mobile email address.' I believe today that there will be many environments like that."

That kind of compromise, Taylor said, has led to the slick phone revolution, because end users can now get the popular phones they want and -- though it won't be fully supported by IT -- get a certain level of business functionality out of it.

"The devices are just phenomenally better than they used to be," Taylor said. "And it's not just the phones themselves, it's also an understanding that you don't need a QWERTY keyboard for mobile email. You don't need to buy a smartphone to do mobile email. I can do mobile email on the device that Cingular gives me for free."

The influx of cool devices is "a perfect storm of capabilities and critical mass of users," Taylor said.

"I see the enthusiasm for mobile devices," he said. "That enthusiasm is a much greater force of energy than the IT department saying they're not going to support that."
Read more on IT for small and medium-sized enterprises (SME)