Teenaged TalkTalk has growing pains, spots, is also an octopus
Following a net loss of 25,000 customers and the axing of over 500 jobs, TalkTalk chief exec Dido Hardinghas thrown her hands in the airand admitted to the Financial Times that the business was like a teenaged octopus. And about time too! Inwhat stands as by far and awaythe most original statement o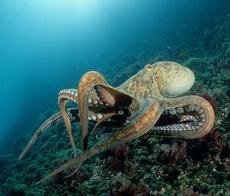 Following a net loss of 25,000 customers and the axing of over 500 jobs, TalkTalk chief exec Dido Harding has thrown her hands in the air and admitted to the Financial Times that the business was like a teenaged octopus.
And about time too!
In what stands as by far and away the most original statement on a company's financial health that Network Noise has ever seen, Harding said: "Like companies that have grown very fast ... we don't have control of our arms and legs, like a gangly teenager. And we have a lot of arms and legs.
"The teenage octopus will take a while to grow up."
Comments on Ms Harding's Gerald Ratner moment aside, the current brouhaha centres on the acquisition of basket case Italian ISP Tiscali in 2009.
TalkTalk has a history of acquiring troubled ISPs - having previously bought customer service disaster zone OneTel a few years back - and the integration of Tiscali has not gone entirely to plan.
Besides taking close to two years, TalkTalk buggered up the billing process for Tiscali customers last November, which caused a swathe of households to receive bills for cancelled services totalling hundreds of pounds apiece and prompting an Ofcom investigation.
The loss of customers on this scale is a serious problem for the ISP in the current climate, agree analysts following TalkTalk's progress.
Their concerns stem from the fact that rivals BT and BSkyB have both been doing very well lately.
A customer survey referenced by the FT, which was carried out by financial services house Espirito Santo, suggests that 40% of TalkTalk's customers take Sky TV and as such are vulnerable to cross-selling by the rivals.
TalkTalk will rightly be under pressure to take action, and in all seriousness, we're not convinced that glib little quips when jobs are at stake really cut the mustard..
MicroScope+
Content
Find more MicroScope+ content and other member only offers, here.