Switching off the users brings great returns says ScriptLogic
Calculatingthe return on your investment should be easy. ScriptLogic has created this tool for that very purpose. Does it makes things easier? We're not sure... Did you know that desktops are idle for 58 per cent of the working day. If that wasn't bad enough, 64 per cent are left on overnight. Scrip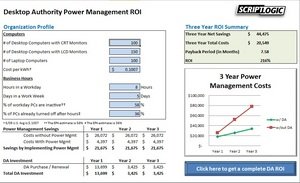 Calculating the return on your investment should be easy. ScriptLogic has created this tool for that very purpose. Does it makes things easier? We're not sure...
Did you know that desktops are idle for 58 per cent of the working day. If that wasn't bad enough, 64 per cent are left on overnight.
ScriptLogic offers a way to end this madness without pain.
Its new power management system, Desktop Authority tackles the problem in two ways. It automates a giant cattle product, suspended from the ceiling, that finds the errant user and gives them a short sharp sock.
Then it issues them with an on the spot fine and, if they don't have the money, it frog marches them to the cash point.
No hang on, it doesn't really do that. It should do, but instead, the designers of Scriptlogic take a much gentler approach.
Firstly, the manage Power Settings during working hours so that IT administrators can have granular control over IT equipment. Even the stuff in the data centre (where the worst offenders skulk around guiltily).
Secondly, it shuts down inactive machines, which helps reduce power consumption overnight when there is no activity. It also annoys users no end, which is always a bonus!
Cost? $20,549 (I wonder what that is in English pounds?)
How much does it save?
Desktop Authority's ROI calculator says an organisation with 350 desktops and laptops that are used 8 hours in a 5-day workweek can save over $44,000 over a 3-year period.
MicroScope+
Content
Find more MicroScope+ content and other member only offers, here.