No network noise on the Underground
Look at the people in this photo. Look closely.They're passing the time in contemplation, lost in thought. Maybe winding down or grabbing a few minutes of blessed peace before their working day begins. One of them's even reading a book! Fancy, in this day and age! Although they don't know it, they'r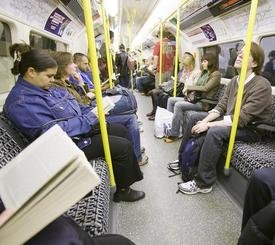 Look at the people in this photo. Look closely. They're passing the time in contemplation, lost in thought. Maybe winding down or grabbing a few minutes of blessed peace before their working day begins.
One of them's even reading a book! Fancy, in this day and age!
Although they don't know it, they're clearly bored and restless. Clearly they need electronic stimulation. Happily BT is at hand to provide it...
From 1 November, BT Openzone will be taking steps towards ending this senseless deprivation when it launches trials of Wi-Fi access at Charing Cross Underground station.
Both the ticket hall area and the Northern and Bakerloo line platforms will become fully Internet-enabled, with FON and OpenZOne customers able to log on for free "while they are passing through the station".
I can't help but be amused by the mental image of a carriage full of suits scrambling for their iPads and BlackBerries as the train pulls in, only to have to put them away again seconds later as it leaves the station. Surely there won't even be time to navigate past the welcome screen?
No, until the trains and tunnels are wired up, I can't see this being much use. And to be honest, do we need it?
You see, I'm all for networks and mobility on the go, but this just seems like a step closer to being able to make mobile phone calls on the Underground, and that is one of my worst nightmares, just behind the recurring one where I'm chased by giant NetApp resellers.
Evidently I'm in a minority. Kulveer Ranger, transport advisor to Boris Johnson himself, says: "An ever growing commuter populous has been clamouring to be able to check their emails and browse the net on the go."
"This is an important step towards seeing how this can be achieved and is part of the Mayor's ambition to examine ways in which we can use technology to adapt the city's transport system to meet the needs of those using it."
But I say, come on Boris, give us five minutes of freedom from the matrix!
Photo courtesy Ashley Cooper, SpecialistStock, SplashdownDirect, Rex Features
MicroScope+
Content
Find more MicroScope+ content and other member only offers, here.