Metropolitan Police Firearms Unit gets Bunker training
The Met Police are using an underground data centre to train for a possible terrorist or hostage situation.The Bunker Secure Hosting is allowing the world famous Metropolitan Police Firearms Unit to use its underground lair of data centres for armed police training purposes."I am delighted the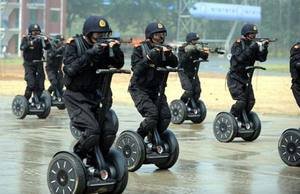 The Met Police are using an underground data centre to train for a possible terrorist or hostage situation.
The Bunker Secure Hosting is allowing the world famous Metropolitan Police Firearms Unit to use its underground lair of data centres for armed police training purposes.
"I am delighted the Bunker has been chosen as a training site for the Metropolitan Police Firearms Unit to practice scenarios including Data Centre takeover situations," said Paul Lightfoot,The Bunker's CTO.
I bet he is.
I feel sorry for the technicians, who have to carry out their duties, tinkering with the cooling system and minding the airflow, while police officers are throwing their weight around. If an SO19 fires a smoke canister into a data hall, you've only got seconds before the cloud makes all the servers crash. If that wasn't bad enough, they're likely to follow that up with a stun grenade, followed shortly after by an armed invasion. There's got to be something about that in the health and safety handbook.
There's a bigger question here. Are data centres likely targets for terrorists?
"The site's complex security systems and unusual layout enables us to practice realistic training scenarios," said a senior firearms instructor at the Metropolitan Police Firearms Unit.
Did anyone spot any song titles in that answer?

MicroScope+
Content
Find more MicroScope+ content and other member only offers, here.