'Hello! I'm searching my computer... on the train!'
Simplexo claims to have invented a tool that allows you to use your mobile to search your desktop computer. So if you'recrawlingup thewestcoast main lineand suddenly remember a document you need, you can scan the office computer for it with your mobile. Is that right? You'll have to ask Simplexo. Al
This Article Covers
RELATED TOPICS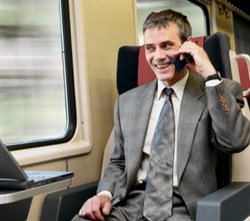 Simplexo claims to have invented a tool that allows you to use your mobile to search your desktop computer. So if you're crawling up the west coast main line and suddenly remember a document you need, you can scan the office computer for it with your mobile.
Is that right? You'll have to ask Simplexo. All they've told me is that their 'SearchYourDesktop' web app for smartphones is a handy tool for businessmen and woman on the move.
If so, then it is the first mobile search application that enables you to remotely search and access files on your desktop. It can search for information on social media services and email accounts, from a mobile device.
The application can be used on a wide range of devices such as iPhone, iPad, Android, Blackberry 6, with further device support planned in the future.
Once installed on your home or work PC, 'SearchYourDesktop' allows users to find files such as documents, presentations, photos and media files.
You can create playlists for remote playing of music. It also concurrently searches the web, leading social networking sites such as Facebook, Twitter and Linked In, and securely connects to Microsoft Exchange and SharePoint servers. Results are presented in a single 'unified search' interface.
Check out their site for more information on 'SearchYourDesktop'.
We're going to have to review this and see if it lives up to its billing!
Photo courtesy: Hemera Technologies/ThinkStock
MicroScope+
Content
Find more MicroScope+ content and other member only offers, here.