Doom and Gloom Report. Mobile Operators to collapse under weight of traffic
The sky is about to fall in, the seas will boil and there will be much wailing and gnashing of teeth, if we've interpreted a new report from Cambridge Broadband Networks accurately.A bulletin, sent to this column, predicts that with global mobile data traffic set to grow 32-fold in the next four yea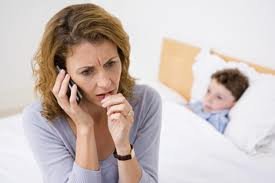 The sky is about to fall in, the seas will boil and there will be much wailing and gnashing of teeth, if we've interpreted a new report from Cambridge Broadband Networks accurately.
A bulletin, sent to this column, predicts that with global mobile data traffic set to grow 32-fold in the next four years, some operators will be on their knees by the end of the year.
"The operator with the greatest network capacity will have a distinct advantage and consumers will flock to them," warns Graham Peel, CEO of mobile network backhaul specialist Cambridge Broadband Networks.
Meanwhile some operators will have their heads in the sand, he says.
One possible way for averting this catastrophe would be to buy some network backhaul capacity. Cambridge Broadband Networks sells it.
Oh my god. Won't someone please think of the children? They're our future. For goodness sake, you operators, buy some network backhaul capacity. From a reputable Cambridge based supplier.
Peel has made some other predictions too. Not all of which dovetail with his company's marketing plans. Here they are, cut and paste in their entirety.
• The operators with the best network quality in 2010 will fall down the list in 2011 - their leadership will attract new data hungry customers but the additional data load will compromise the very network quality that attracted new subscribers in the first place.
• There will be further adoption of data offload strategies - via femtocells and wifi - but the compromises inherent in using third party networks will become obvious to operators and their customers.
• LTE adoption in the radio access network will accelerate - it has to!
• Fibre won't provide the answer for backhaul - speak to any mobile operator privately and they will tell you that fibre is either impractical or too expensive to comprehensively implement.
• Microwave, and particularly next generation microwave designed to handle the dynamic loads typical of mobile data use, will see even greater adoption throughout the world.
• There will be an 'AT&T experience' in the European market. At least one operator will be crippled by the data load and suffer massive churn as a result.

MicroScope+
Content
Find more MicroScope+ content and other member only offers, here.