Comment: Resellers can profit from helping buyers cut costs
The winners in storage selling in 2009 will be suppliers that convince customers that storage products and services will help them cut costs. Through this year, the stronger customers will want to cut costs and look to prune expenses or deliver greater cost savings elsewhere through IT.

Download this free guide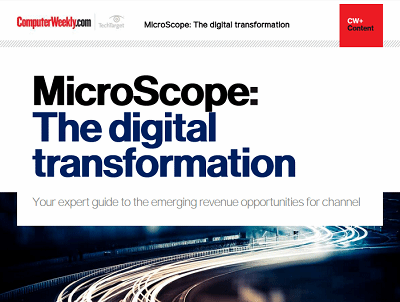 Emerging revenue opportunities for the channel with digital transformation
Digital transformation is a phrase that means many things to many people but for it to have any real relevance to the channel then it needs to mean a chance to make money. This guide will share some of the recent developments in the channel and the latest thoughts about the issue.

By submitting your personal information, you agree that TechTarget and its partners may contact you regarding relevant content, products and special offers.

You also agree that your personal information may be transferred and processed in the United States, and that you have read and agree to the Terms of Use and the Privacy Policy.



The winners in storage selling in 2009 will be suppliers that convince customers that storage products and services will help them cut costs.
Through this year, the stronger customers will want to cut costs and look to prune expenses or deliver greater cost savings elsewhere through IT. The weaker ones will need to make major savings. For them, an outsourcing or IT as a service idea will be appealing.

For customers with capital tied up in technology, and unbearable operating expenses, releasing cash by making a big switch and buying IT as a utility service will be attractive.

What about the others – the ones under less severe pressure? They will want to cut costs from purchases. What can you offer? Think about deals to retire old assets from the datacentre and help the IT department cut the bill.

Ending physical server sprawl with virtualisation is a solid offer to customers which have not started down that path. Its necessary corollary is to consolidate storage for the consolidated servers, the standard and/or blade servers running under hypervisors. If it is a fibre channel customer, use the existing San. If not, iSCSI is a great bet with a scalable and affordable storage back end.

Consolidated filers can also be used, but I daresay the unstructured data growth nightmare story will have to wait, except for the most hard-pressed customers. Filers with future scalability and a thin provisioning or pay-as-you-grow model look a good idea.

Customers putting back-up data on disk and not de-duplicating it have got to be great prospects for a de-dupe sell. De-duped archiving of unstructured data resulting in a big cost saving through cutting the primary drive array estate could be popular. Archiving e-mails and Sharepoint documents onto a de-duplicated disk-based archive and discarding primary disk capacity will appeal to customers with over-active staff sending many e-mails and collaborating with enthusiasm.

Sell the benefits
What about tape? It is cheap, but if its total cost of ownership is bulked up with a tape library taking up datacentre floor space then a de-duplicated and spun-down virtual tape library (VTL) could be cost-effective.

A VTL approach offering the VTL as a cache between servers and the tape library might be a hard sell unless the costs of long back-up windows and slow and unreliable tape restores are great and it is obvious that a caching VTL will cut them. Otherwise sell VTLs as tape library replacements that also cut back-up windows and stop customers suffering unreliable tape restores.

Removable disk back-up could be a good sell into low-end tape using shops. As you go beyond the tape method, costs look to be less than the removable disk cartridge ones.

Tape upgrades could work for customers facing end-of-life and creaking older formats. But they may be so hacked off with tape that a super-whizzy LTO4 product gets outclassed in their eyes by a de-duping VTL.

Content management system sales will not boom in 2009. This will not be a priority for customers. Solid state storage? The same applies. You must demonstrate savings or revenue increases. If a flash-boosted storage array can enable your customer to avoid a server or mainframe upgrade or discard some servers or high-end drive array shelves it may be in demand, but not otherwise.

What about drive arrays? The year ahead will feature a lot of trading down, both in product class and between suppliers. Customers will avoid buying or expanding monolithic arrays, turning to modular ones. Perhaps mid-range enterprises will start looking at SME arrays.

Customers may consider using SAS drives instead of fibre channel, maybe flash-cached Serial Advanced Technology Attachment (SATA) arrays if they are available so they can get cheap disks and performance. Redundant Array of Independent Disks (RAID) controllers are cheap and high-capacity drives are available and getting more capacious. Arrays from Nexsan, Infortrend and IQs may have extra appeal because of cost compared with major storage array suppliers.

In short, it is going to be a spend money to save money year, a back to basics year, and a year in which marketing fluff gets blown away.

MicroScope+
Content
Find more MicroScope+ content and other member only offers, here.
Read more on Storage Virtualisation Solutions and Services