Comic Relief for networking channel
It's good to see that the channel was out in force last Friday, raising money for Comic Relief. Staff at business comms provider Daisy threw themselves into the spirit of things, with staff at its Essex-basedServassure division (pictured) coming to work in their pyjamas, while at its Lancashire HQ e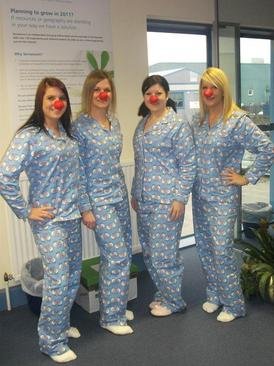 It's good to see that the channel was out in force last Friday, raising money for Comic Relief.
Staff at business comms provider Daisy threw themselves into the spirit of things, with staff at its Essex-based Servassure division (pictured) coming to work in their pyjamas, while at its Lancashire HQ employees paid to throw wet sponges at the HR department.
For those of a less extroverted bent - and the ones that don't wear pyjamas - the ever-popular cake sale provided ample opportunity to shed a few pounds, 1,396 of them at the last count.
Network security reseller Integralis also wrote a big cheque following the runaway success of a directors' car wash and a sponsored mens' leg waxing.
Meanwhile, engineers at Avaya-partner Intrinsic Technology took a very hands-on approach and spent Friday evening providing technical support to their customer, SME marketing firm Yell.
Intrinsic's technical bods were on hand throughout the evening as Yell staff manned a Red Nose Day contact centre, taking calls and recording donations from the general public.
They even stayed on afterwards to ensure a seamless switch back to business-as-usual when the lines closed.
MicroScope+
Content
Find more MicroScope+ content and other member only offers, here.