Cleaner unplugs the Internet in Egypt
Arbor Networks has sent usthis diagram, showing us how internet traffic suddenly plummeted in Egypt on January 27th. If you want to know why this has happened, there are plenty of 24 hour online news resources, all cutting and pastingand interviewing each other. Experts are speculating that, after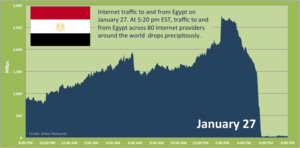 Arbor Networks has sent us this diagram, showing us how internet traffic suddenly plummeted in Egypt on January 27th.
If you want to know why this has happened, there are plenty of 24 hour online news resources, all cutting and pasting and interviewing each other.
Experts are speculating that, after 30 years of rule by President Hosni Mubarak, something has changed in the Egyptian psyche. As the groundswell of protests has increased, communications have closed down. All routes to Egyptian networks are closed and there's nothing on the routing tables.
But on this column, we like to investigate the old fashioned way. So we rang the Egyptian Embassy for an explanation. We're not sure who we talked to, but they said that possibly a cleaner might have unplugged the Internet by mistake.
For a different explanation, you might want to visit our own Network Noise blog, check out Herdict.org or (even) ComputerWeekly.com.
MicroScope+
Content
Find more MicroScope+ content and other member only offers, here.