Anti-social CRM concept gaining traction on Topman site
Social CRM (Customer relationship management) has produced mixed results for retail giant Arcadia after angry consumer complaints against its Topmanbrand were made public by its social CRM systems. After dozens of customers posted angry responses on its web site in response to an obnoxious new t-sh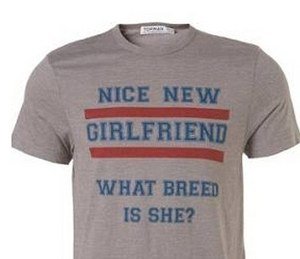 Social CRM (Customer relationship management) has produced mixed results for retail giant Arcadia after angry consumer complaints against its Topman brand were made public by its social CRM systems.
After dozens of customers posted angry responses on its web site in response to an obnoxious new t-shirt range the company was forced to clear its shelves.
One garment appeared to glamourise domestic violence by celebrating excuses such as 'You provoked me'.
Another caused offence on a different level with the slogan 'Nice New Girlfriend: What Breed Is She?'.
The feedback from shoppers informed Topman executives that these deliberately un-PC marketing messages might backfire.
Presumably, the thought never occurred to them until then. Blimey, the things CRM can teach you!
'Apparently Topman think domestic violence makes a hilarious T-shirt slogan,' said one poster on the website.
Another told Topman 'you should be ashamed of yourselves.' Er, hello? Shame?.
Sensitive Arcadia marketing executives seem to have held a swift meeting and decided that the market isn't ready for celebrations of violence. So in one respect, social CRM is doing a brilliant job, by giving 'customer-centric' and 'people-focused' executives some valuable feedback.
On the other hand, social CRM puts these sentiments on public display, and naturally the Daily Mail has also brought the story to a much wider audience.
The word is spreading on Topman and Topshop. The idea that they are ghastly and tasteless is (as they say in marketing terms) 'gaining traction'.
MicroScope+
Content
Find more MicroScope+ content and other member only offers, here.