Column: Honestly, you treat this cloud like a hotel!
Having been wrongly convicted as a spammer, I'm a bit nervous about the whole issue of automated business. (My email IP address is still on Trend Micro's blacklist, but service provider Strato says it's not their fault.
Having been wrongly convicted as a spammer, I'm a bit nervous about the whole issue of automated business, says Nick Booth.
(My email IP address is still on Trend Micro's blacklist, but service provider Strato says it's not their fault. I wonder how many infant online businesses will choke as their online carers point their fingers at each other across the cloud!)

Download this free guide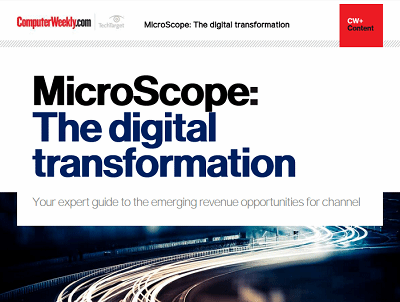 Emerging revenue opportunities for the channel with digital transformation
Digital transformation is a phrase that means many things to many people but for it to have any real relevance to the channel then it needs to mean a chance to make money. This guide will share some of the recent developments in the channel and the latest thoughts about the issue.
By submitting your personal information, you agree that TechTarget and its partners may contact you regarding relevant content, products and special offers.
You also agree that your personal information may be transferred and processed in the United States, and that you have read and agree to the Terms of Use and the Privacy Policy.
Meanwhile, another of the guardians of the internet has delivered another rant. You treat this blimming cloud like a hotel, said Andrew Hillier, chief technical officer and founder of CiRBA (not his exact words, I'm paraphrasing).
Naturally I ignored him; blimming adults, always think they know what's best for us. But, having matured considerably since he first delivered his lecture (a week is a long time on the internet) I'm now starting to appreciate his wisdom.
It turns out that treating the cloud like a hotel is good advice. Hillier wasn't moaning. He was imploring us all to do it, because we still don't use the cloud properly. We treat the cloud like it's home - banks insist on having their own one and filling it with their junk. Which is why they don't always enjoy the full efficiency dividend on their IT spend. (I used to think banks would know about investing wisely). There are bezillions of folders stuffed with things - like pictures - that nobody will look at.
If we treated the cloud like a hotel, on the other hand, we'd only pack the stuff that was necessary for each journey. If we need an extra pair of CPUs or some storage, the hotel will provide and they might actually be cheaper! (No promises on that one, mind)
We need a hotel mentality, argues Hillier, because they are far better at pooling resources. They have to be because rooms and tables and facilities are booked and used on a fairly regular basis, so you'd expect them to have evolved an efficient and safe model of management.
No hotel would operate without a reservation system for its assets (its rooms and facilities). Reservation systems tell staff how much demand will be placed on shared resources, how best to allocate them and how to balance customer satisfaction with profitability. Much can be learned from the way they juggle supply and demand.
Hillier seems like the ideal man to help you find a good cloud hotel and get the best out of it.
Here, for what its worth, is my tip. Don't be tempted to use any adult channels while staying in the hotel cloud. Somebody, somewhere, will get to see the bill.
The last time I used a hotel, Concur Technologies was picking up an award at The Markies, which are described as the Oscars of the business automation industry. As a technology company, you would expect Concur to be good at automating business processes (I mean, isn't that what they do?) but nevertheless, they were awarded the Oscar for Best Alignment of Sales & Marketing in Europe.
The award for best newcomer went to SwissPost who actually turned up to collect the award, instead of getting the producer, DemandGen to pick it up for them (if it was our Post Office they would have slipped a While You Were Out note under the door).
Surely though, marketing is no longer an art, so it shouldn't be compared to the Oscars. As Marketing has been computerised, it's dominated by analysts, maths geeks and technologists. So maybe the Markies are a science affair, they're more Nobel Prize than Oscars. So it's business, without the fluff and nonsense.
Sponsor Eloqua is missing a trick. It should call its awards night the No Bull Prize.
MicroScope+
Content
Find more MicroScope+ content and other member only offers, here.
Read more on Cloud Platforms