Resellers warned BYOD will disrupt support services
The bring your own device trend is set to reach a £2bn opportunity in the UK softwaare and IT services market by 2016 but could spell problems for those resellers who fail to move with the times. The latest survey of the BYOD market from TechMarketView highlights the growth in the market but
This Article Covers
RELATED TOPICS

The bring your own device trend is set to reach a £2bn opportunity in the UK softwaare and IT services market by 2016 but could spell problems for those resellers who fail to move with the times.

The latest survey of the BYOD market from TechMarketView highlights the growth in the market but comes with a warning that those channel players that fail to adapt business reliant on hardware and support services will lose out.

"Regradless of the potential opportunity on offer for software and IT se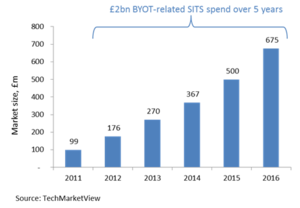 rvices suppliers to provide advice and auditing as businesses transition to BYOD, the threat to desktop and mobile hardware suppliers is undeniable," said Phil Coding, research director at TechMarketView.

"The BYOD trend is a double-edged sword - whilst rapid and sustained adoption will lead to a £2bn opportunity for the UK IT market, it will be a huge disruptor to supplier partnerships and business models," he added.

Where there will be opportunities is around consulting, integration and software implementation with users looking for help dealing with security and management issues.

"Significant downward pressure will be applied to support and hardware suppliers where personal devices replace centrally-owned kit," added Codling.
MicroScope+
Content
Find more MicroScope+ content and other member only offers, here.