RM asleep at the wheel during education spending crisis
RM has admitted that it was caught napping during the slowdown and failed to fully appreciate the scale of thecrisis thanks to the mitigating effect of the cancelled Building Schools for the Future (BSF) programme. The education providerblamed an "unsuccessful international expansion programme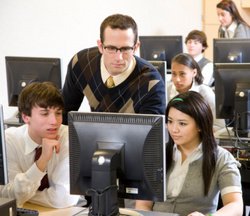 RM has admitted that it was caught napping during the slowdown and failed to fully appreciate the scale of the crisis thanks to the mitigating effect of the cancelled Building Schools for the Future (BSF) programme.
The education provider blamed an "unsuccessful international expansion programme and a lack of innovation" after swinging to a pre-tax loss of £23.4m.
In a statement to the City today marking its 14-month results to 30 November 2011, RM said it had created "few new growth opportunities in the core UK market ... to offset the foreseeable decline in BSF."
RM, which has waved goodbye to two managing directors, Terry Sweeney and Rob Sirs, in the space of the last six months, says it has now completed its restructuring process, carving a significant chunk out of its cost base, as sales dropped by £30m to £350.8m.
As a result of the cost-cutting exercise, 17% of its workforce has been made redundant and the firm has exited a number of foreign ventures, dumping its AMI business, its American hardware operation, getting out of its LEGO Education Europe JV and abandoning Australia altogether.
It has now retrenched into four divisions, Education Techology, supplying hardware, networks, internet services and related installation and support; Managed Services, comprising implementation, management and support of IT infrastructure within schools and colleges, including remaining BSF contracts; Education Resources, which consists of TTS, a small classroom supplies VAD business and RM-Spacekraft, focused on special needs pupils; and Education Software, which supplies back-end school management systems and front-end education software packages, among other things.
In spite of the turmoil, RM said its underlying business remained profitable, reporting £10m of adjusted operating profit and generating cash from operations of £24.8m, and insisted it had now established a stronger platform for the future, even being so bold as to hint at the possibility of making acquisitions this year.
"Despite the market environment and the internal organisational changes, RM has maintained its unparalleled position in the UK education market, a reflection of the resilience and commitment of the management and staff throughout the Group.
"There are already several innovative new opportunities being evaluated which, in the medium term, provide potential to leverage the unique relationship between RM and its customer base," the Group said.
Image courtesy: Jetta Productions
MicroScope+
Content
Find more MicroScope+ content and other member only offers, here.