Server sales down slightly across EMEA
Sales of servers in EMEA underwent a slight downturn during the third quarter, according to the latest market figures from Gartner, but the 0.5% dip was easily absorbed by stronger worldwide growth of 5.2%.B Western Europe was the worst performing region worldwide, analysts said, down 4.9%, while gr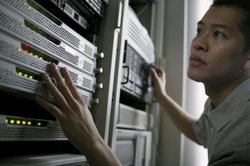 Sales of servers in EMEA underwent a slight downturn during the third quarter, according to the latest market figures from Gartner, but the 0.5% dip was easily absorbed by stronger worldwide growth of 5.2%.B
Western Europe was the worst performing region worldwide, analysts said, down 4.9%, while growth of 27.4% in Eastern Europe pushed the regional average back up.
"The market recovery faltered this quarter as challenging economic conditions in Western Europe dragged down spending levels for the overall region," said Gartner research director Adrian O'Connell.
"The third quarter of 2011 marked three years since the start of the downturn, and despite a relative recovery during the last few months, both volyume and revenue remained lower than in the third quarter of 2008," he added.
Altogether, 606,300 units were shipped into EMEA in Q3, up 4.3% and representing a total market value of $3.25bn (£2.08bn). Over 250,000 (42%) of these were HP, down 1.3%, while Dell grew 9.8%, claiming 19.8% of the market and third placed IBM accounted for 11.1%, down 5.4%.
The final two places in Gartner's quarterly top five were filled by Fujitsu, with 6.5% of the market, up 1.8%, and predictably Oracle, down 10% to 1.5%, shipping just 9,088 units.
By key segments, x86-based servers grew 6.5%, but RISC/Itanium Unix systems were down 8.2% following a recent strong replacement cycle.
"Vendors reliant on these segments will face increasing challenges as the combination of a weak economic environment and platform migrations will continue to exert pressure," said O'Connell.
"EMEA has [had] a relatively strong RISC/Itanium Unix base, however the performance of this segment is increasingly challenged by migration to other platforms. We forecast single-digit growth for both revenue and shipments next quarter," he explained.
Image courtesy: Comstock
MicroScope+
Content
Find more MicroScope+ content and other member only offers, here.