Cisco to competitors: no more Mr Nice Guy
Cisco CEO John Chambers has told investors that the firm's turnaround plan is hitting its stride, and warned of more aggressive transformation to come, laying into his competitors and suggesting he had gone easy on them up to now. "We're just beating our competition. We are more aggressive on t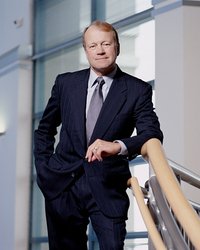 Cisco CEO John Chambers has told investors that the firm's turnaround plan is hitting its stride, and warned of more aggressive transformation to come, laying into his competitors and suggesting he had gone easy on them up to now.
"We're just beating our competition. We are more aggressive on the competition [and] we are going to be tough on our competitors, whether they're Juniper or HP and Huawei and Avaya, and it's something that I think we were a little bit too general on in the past," said the outspoken CEO.
Chambers paid special attention to its nascent Chinese rival Huawei, which is ramping up its worldwide partner programme and has been busily poaching Cisco execs, saying he would take the fight to them in their home market.
"We are seeing some aggressive acts, maybe [out of] desperation by some people to try to get orders. We have seen complete offers to be given away. So you are seeing some aggressiveness in that. Huawei will always compete on price, they're going to be tough on us in the long run," said Chambers.
"We can't let them make their profits in China and then do a breakeven around the rest of the world," said Chambers. "They're probably the one that will be our toughest competitor four to five years out, if we make our transition right."
During the first quarter of its fiscal 2012, Cisco booked a 7.9% year-on-year slide in GAAP net income to $1.9bn (£1.19bn), but also saw total revenues rise 5% year-on-year to $11.26bn, handily beating analyst expectations.
An optimistic Chambers said the firm was beginning to see "how the restructuring and organisational changes" were beginning to benefit shareholders and customers, and praised the work of Cisco staff, who have seen their numbers slashed as part of the firm's reorganisation.
"Our challenges last year call[ed] us to make some needed changes, but as you would expect from Cisco we will not stop here," said Chambers. "We will be aggressively continuing to change and transform. We will maintain our laser focus on creating value for our shareholders, customers, partners and employees."
MicroScope+
Content
Find more MicroScope+ content and other member only offers, here.