RM warns investors of "unpredictable" times ahead
Education sector specialist RM has warned shareholders to expect a "potentially difficult and unpredictable period in the near term" after admitting it will likely miss its financialtargets as it undertakes a comprehensive business review to try to get its house in order. In an interim man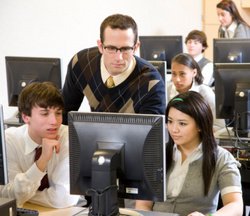 Education sector specialist RM has warned shareholders to expect a "potentially difficult and unpredictable period in the near term" after admitting it will likely miss its financial targets as it undertakes a comprehensive business review to try to get its house in order.
In an interim management statement covering the period from 1 April to 21 July, which was released to the City this morning, the firm said that conditions in the education market remained difficult.
It said that although it was hard to predict with any accuracy how the current period would turn out due to the sector's seasonality, RM conceded that "the balance of probabilities suggests an outcome that may be below the Board's previous expectations."
The outcome of the business review, which began two months ago, is anticipated sometime in late autumn.
RM said it had an "unrivalled" position in the education market with "many excellent and committed employees" adding that it would start to reap the benefit of its part investment in the now-cancelled BSF programme int he coming years.
"These factors should enable to group to adapt to the anticipated decline in education expenditure," it said.
TechMarketView analyst John O'Brien said new chairman Martyn Ratcliffe, who joined the firm from Microgen in May, would need to "keep the ship steady" during the coming months.
"He will undoubtedly be tough in his actions," said O'Brien.
Photo courtesy: Jetta Productions/ThinkStock
MicroScope+
Content
Find more MicroScope+ content and other member only offers, here.