Apple boss Steve Jobs to take medical leave
Apple CEO Steve Jobs is to temporarilystep back from the day-to-day running of the company for medical reasons, handing over control to COO Tim Cook. In an emailcirculated amongApple employees, Jobs said: "At my request, the board of directors has granted me a medical leave of absence so I can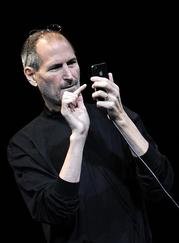 Apple CEO Steve Jobs is to temporarily step back from the day-to-day running of the company for medical reasons, handing over control to COO Tim Cook.
In an email circulated among Apple employees, Jobs said: "At my request, the board of directors has granted me a medical leave of absence so I can focus on my health. I will continue as CEO and be involved in major strategic decisions for the company.
"I have great confidence that Tim and the rest of the executive management team will do a terrific job executing the exciting plans we have in place for 2011.
"I love Apple so much and hope to be back as soon as I can. In the meantime, my family and I would deeply appreciate respect for our privacy," Jobs said.
Jobs has been dogged by concerns over his health for over six years, after being initially diagnosed with pancreatic cancer in 2004.
Although he survived his brush with the disease, speculation about his poor health continued after a series of appearances at Apple events during which he appeared visibly ill.
Almost exactly two years ago he took a six month leave of absence, which Apple claimed was due to a "hormone imbalance." He underwent a liver transplant in April 2009, and returned to the helm in June of that year.
Apple's latest news was slipped out during a US public holiday, presumably to lessen any impact on its stock price.
Photo courtesy: KeystoneUSA-ZUMA/Rex Features
MicroScope+
Content
Find more MicroScope+ content and other member only offers, here.