Coalition sets out broadband policy
The programme for government published this week by the Liberal-Conservative Coalition has set out the new government's plans for the ongoing roll-out of super-fast broadband across the UK. Although lacking in specific detail, the statement includes proposals to force BT and other infrastructure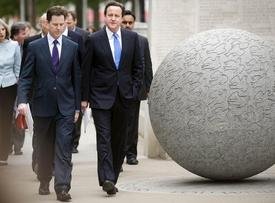 The programme for government published this week by the Liberal-Conservative Coalition has set out the new government's plans for the ongoing roll-out of super-fast broadband across the UK.




Although lacking in specific detail, the statement includes proposals to force BT and other infrastructure providers to allow the use of their assets to deliver broadband and raises the possibility of top-slicing a portion of the BBC TV licence fee to fund broadband access in remote areas that the market is unwilling to reach.




The licence fee currently stands at £145.50, a portion of which is already used to fund the digital switch-over process. Once the switch-over is complete in 2012 the money will be diverted into the broadband project.




The Conservatives originally outlined this proposal back at the

start of February

, when it still seemed as if they were on course to win an overall Commons majority, and the policy has clearly survived the negotiations between David Cameron and Nick Clegg,




Labour had

previously announced

a plan to add a 50p levy on landlines, but quietly scrapped it in the run up to the election.




Ed Vaizey, Conservative MP for Wantage and Didcot, will be in charge of the plans.
MicroScope+
Content
Find more MicroScope+ content and other member only offers, here.