Disruptive networkers spy opportunity on UK shores
Cisco boss John Chambers seems to have got it right. While the industry panics in the face of withering IT demand Chambers has hunkered down and stuck to his theory that as technological innovation carried the vendor through the murky days of the dotcom crash.

Download this free guide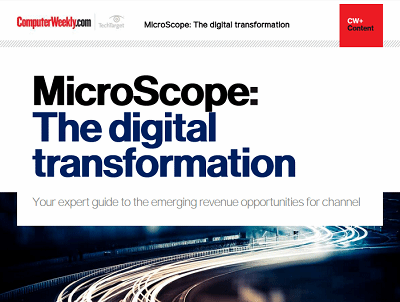 Emerging revenue opportunities for the channel with digital transformation
Digital transformation is a phrase that means many things to many people but for it to have any real relevance to the channel then it needs to mean a chance to make money. This guide will share some of the recent developments in the channel and the latest thoughts about the issue.

By submitting your personal information, you agree that TechTarget and its partners may contact you regarding relevant content, products and special offers.

You also agree that your personal information may be transferred and processed in the United States, and that you have read and agree to the Terms of Use and the Privacy Policy.



Cisco boss John Chambers seems to have got it right. While the industry panics in the face of withering IT demand Chambers has hunkered down and stuck to his theory that as technological innovation carried the vendor through the murky days of the dotcom crash, now is the time to push into previously unexplored technological spaces.

Of course, Cisco is a true networking juggernaut and even in a downturn it can afford to take a punt on something a bit different. Logically, it is new start-ups or two guys building something in a garage who might be expected to fall by the wayside. However, a spate of entrants into the UK networking sector is proving that there is still something resilient about start-ups.

So why are they coming, and why now? One start-up that recently fetched up on British shores is SME unified communications software specialist Unison Technologies, which got its start in the US in 2006 when its founder became disillusioned with how large software firms such as Microsoft were dealing with the comms space.

Working out of a development centre in Russia, Unison is going to market in the UK with its server and desktop solution. Unison is pitched at the 10- to 2,000-seat market and the hook is that the solution is free - or rather it comes in both free ad-supported and paid ad-free flavours.

"Pitching it as a free solution brings down the cost of the project for the reseller and makes it easier for them to get their foot in the door - an important factor in the recession" explains Unison chief marketing officer Rurik Bradbury.

Unison claims its Linux-based software can be deployed for up to 85% less cost than Microsoft's equivalent Exchange and OCS solutions. It is urging SME resellers to ditch proprietary unified comms solutions for free offerings, as expensive deployments of unified communications software from established vendors become less attractive in the downturn.

"The enterprise business software model has ended up spending a vast amount on sales and marketing and little on research and development," says Bradbury. "Our goal is to be disruptive and bring about a more logical business model."

Cause a nuisance
Gareth Green, EMEA vice-president of controller-less WLAN architecture vendor Aerohive, which arrived in Europe a little over a year ago, agrees that setting out to cause a nuisance and get noticed is important for start-up vendors.

Aerohive's technology cuts out control switch hardware costs and puts network intelligence into the access point. Its business model can be seen as a direct attack on large network infrastructure firms such as Cisco, and it is already gaining favour in the public sector.

"Obviously it is a tough economy for everyone and there is more of an element of risk associated with being a start-up," says Green. "But if you can come in with a compelling ROI and disruptive technology, and you can prove it with customer wins, then as a start-up there is always an opportunity."

Others believe that instead of angling to take market share from the big guns, you should develop something useful that the market leaders will want to include in their solutions.

California-based Agito Networks, which is in the process of launching in the UK, is taking that approach. Its pièce de ­résistance is its Roam­Anywhere Mobility Router, a solution that enables end-users to reduce their expenses with dynamic least-cost routing technology and use of VoIP over WLAN.

Agito, which this month announced a partnership with Dimension Data, has made its gear interoperable with high numbers of handset vendors and infrastructure specialists to get bundled into larger deals. It is also an accredited partner of both Avaya and Cisco.

Mobile opportunity
Pejman Roshan, Agito co-founder and vice-president of marketing and product, says US mobility start-ups view Europe and the UK as an opportunity because mobile standards are more established here, and coverage is generally better than in the US.

Roshan believes start-ups still need to assess their market and reveals that Agito has been putting feelers out in EMEA for about a year and building relationships with the channel before going to a wider audience. The firm has also brought ex-Juniper man Paul Donovan on board as European vice-president.

"Donovan gave us certain warnings about Europe, such as don't just think you can drop a box out here and expect success as it doesn't work that way," says Roshan. "Our CTO and engineering managers came over to work with the large integrators on the PBXs we will be dealing with, and we now have that understanding of localisation issues around numbering plans, for example."

It is clearly unlikely that the recession will spell the end for the niche network technology vendor. However, resellers should be selective and choose the cream of the crop, looking for the ones that can demonstrate that they have researched their new markets and are offering a clear recession-beating benefit.

MicroScope+
Content
Find more MicroScope+ content and other member only offers, here.
Read more on Network Infrastructure Solutions and Services