Five minute interview: Simon Shorthose, Readsoft UK
MicroScope puts its questions to Simon Shorthose, managing director at ReadSoft UK What is the best/worst advice you have received and from whom? Someone once told me, "Everybody has to sell themselves." I don't remember who it was, but it is advice that has helped me throughout my care
This Article Covers
RELATED TOPICS
MicroScope puts its questions to Simon Shorthose, managing director at ReadSoft UK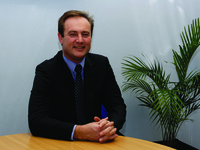 What is the best/worst advice you have received and from whom?
Someone once told me, "Everybody has to sell themselves." I don't remember who it was, but it is advice that has helped me throughout my career.

Tell us something most people do not know about you.
When I'm not at work, I coach rugby.

Describe yourself in one sentence.
I am energetic and challenging.

What temptation can you not resist?
Nothing is more tempting than a glass of wine after a long day.

What is your most elusive goal?
One day I'd love to travel around Australia in a Winnebago. If only I had the time...

What was your first car and how does it compare with what you drive now?
My first car was a Peugeot 205 GTI. Compared with the BMW I drive now, it was fast, fun and dangerous.

If a grizzly bear and a silverback gorilla decided to have a no holds barred fight, which would you put your money on and why?
I think I'd have to put my money on the grizzly bear.

Why are you good at your job?
I'm good at my job because I have a belief in the people and solutions that ReadSoft provides, as well as my personal determination to succeed.

If you could be any animal for a day, what would you be?
A cat. It would be great to be selfish, lazy and do what I want for a day.

Which bit of technology would you want with you if you were stranded on a desert island - and why?
My BlackBerry (no, not really).

Who helped you get to where you are today?
I had several early mentors who were very helpful in getting me to where I am today.

Whom would you least like to be stuck in a lift with?
Gordon Brown.

Describe your perfect night out.
My perfect night out would probably be the pub, followed by a curry, and then perhaps a rugby match on the TV.

Do you prefer cities or the countryside? Explain why.
I prefer the countryside because I like to get out into the open air.

What do you believe in most?
I believe that passion plus effort equals results.

Do you have any pets? If so, what are they and what are their names?
I have a dog. He's a Samoyed, named Max.

If you could be someone else for a day, who would you be and why?
I'd be playing rugby for England.

What would be your perfect holiday?
My perfect holiday involves sun, sand and scuba diving.

MicroScope+
Content
Find more MicroScope+ content and other member only offers, here.