Will 2009 be the year of the netbook?
During 2007 notebooks outperformed desktops for the first time in sales, and the future of the laptop looked bright. But 2008 brought a new trendsetter with the arrival of the netbook. As a result there are differing views over what trends are predicted for resellers as we move into 2009 and beyond.

Download this free guide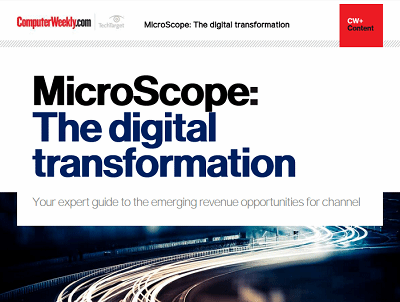 Emerging revenue opportunities for the channel with digital transformation
Digital transformation is a phrase that means many things to many people but for it to have any real relevance to the channel then it needs to mean a chance to make money. This guide will share some of the recent developments in the channel and the latest thoughts about the issue.

By submitting your personal information, you agree that TechTarget and its partners may contact you regarding relevant content, products and special offers.

You also agree that your personal information may be transferred and processed in the United States, and that you have read and agree to the Terms of Use and the Privacy Policy.



During 2007 notebooks outperformed desktops for the first time in sales, and the future of the laptop looked bright. But 2008 brought a new trendsetter with the arrival of the netbook. As a result there are differing views over what trends are predicted for resellers as we move into 2009 and beyond.

Nigel Trevena from Avanquest Solutions is mindful of the current economic downturn and that companies will, inevitably, be keeping a closer eye on spending as a result. "Desktops are likely to be replaced more and more by notebooks as, being portable, they can double up as a desktop computer," he suggests.

Trevena points out that the notebooks themselves will need to be increasingly protected from theft and the resulting downtime. "Forward-thinking resellers should be taking the initiative by offering promotions on notebooks bundled with encryption programs and computer security locks. While reseller margins may need to be reduced to reach sales targets due to the restrictions on corporate spending, overall profits should be maintained, if not bettered, through increased orders," he says.

Russell Blackburn, UK country manager for Parallels, says the main trend is declining margin and demand. "Over the next few years businesses will start to move to virtual desktop infrastructures (VDIs). End-user desktops will reside on the server with users connecting to them from any networked device. The networked device could be an old PC or it could be a cheap thin client device," he says.

Blackburn predicts firms with a vast PC estate will opt for a VDI rather than buying new PCs when it comes to upgrading. "VDIs enable resellers and distributors to claw back significant margin from declining PC and server revenues," he says.

Dinesh Chand, product marketing manager at Samsung Electronics, sees the positive impact of corporate renewals gradually fading in 2009, affecting desktop volumes in particular: "With increased connectivity enabling professionals to work outside the office, we see the notebook market continuing to grow as the desktop market declines," she says.

Chand also predicts the emergence of telecoms operators in the notebook market. "This approach to sales is taking a model similar to that used by the phone industry – sign up to a contract and we will give you a subsidised or even a free notebook," she says. Resellers and/or operators can subsidise the cost of the equipment through the cost of the contract and use this model to entice new customers to own products that they might previously have perceived as expensive. "The combination of notebook PC demand and multi-location internet access represents a significant opportunity for resellers to promote operators' mobile broadband contracts and notebooks," Chand concludes.

A peripheral view
Yehia Oweiss, UK regional director at Logitech, takes a broader view of the market and looks towards the trends for sales of peripherals with the core hardware. "We see two dynamics driving the peripheral market at the moment. Firstly, businesses are increasingly turning to the notebook computer in preference to the desktop computer, with notebook shipments tipping above desktop shipments across Europe. Secondly, the notebook computer has some inherent limitations which peripherals can resolve: small, low resolution screens; cramped keyboards; tiny touchpads; and low quality speakers," Oweiss says. These dynamics, he argues, make it ideal for the reseller to stock notebook peripherals.

Mobile working effect
Michael Buck, EMEA channel marketing director for Dell, is in no doubt the mobile working effect will have a huge impact on the notebook market through 2009. "The channel has a huge opportunity to enable this mobile revolution by delivering the technology and services which are a key part of this," Buck says.
Surprisingly, given the undoubted success of the cheap netbook phenomenon, Buck warns the channel should look to the high end for profit. "There is a trend to very high-spec laptops. Mobile power workers require the same levels of performance they can get from a desktop computer, so these digital nomads and road warriors should be on the channel's radar in 2009," he says.

Security matters
A recent IDC report suggested that in every company, from the smallest to the largest, the vital data stored on individual PCs sits at around 60%. With less than 8% of users backing up that data, security becomes an issue in the hardware sales channel.
Ian Moyse, channel director at
Webroot, agrees security is an imperative as well as an opportunity in the desktop and notebook channel: "Resellers do not need to be experts in complex security solutions to offer this service, they can now offer SaaS security," he insists, concluding that security is expected to buck the trend of the recession and form a great part of spend in 2009.
Indeed, in the annual Global State of Information Security Survey by consultancy Pricewaterhouse‑
Coopers, it is suggested that 44% of IT professionals will increase spending on security.

The netbook effect
Dinesh Chand, product marketing manager at Samsung Electronics, says market-driven change has been at the heart of the company's strategy, which is why it recently entered the netbook market.

"The netbook market is one of the most exciting to emerge in recent years. The technological convergence of lower cost, more power-efficient components and a true need for "on the go" connectivity triggered the emergence of the netbook market over the past 12 months. So we expect that, with the continuing migration to online activities and collaboration, the netbook will emerge as the perfect tool to access all these web benefits. It is likely to exist side by side with traditional notebooks, which serve different sets of user needs for mobile lifestyles," she says.

Nigel Trevena from Avanquest Solutions puts a lot of the netbook's success down to the arrival of cloud computing, which allows much of the resource requirement to be removed from the hardware itself. He predicts that netbooks will "continue taking over from both desktops and notebooks in future years".

MicroScope+
Content
Find more MicroScope+ content and other member only offers, here.