Planning for tough times ahead
What's the difference between a recession and a depression? For some people, I bet there's no difference at all. If you end up losing your job or business, your house and your hope, it doesn't matter if we're talking about a six month recession or a two year depression, the distinction is academic.

Download this free guide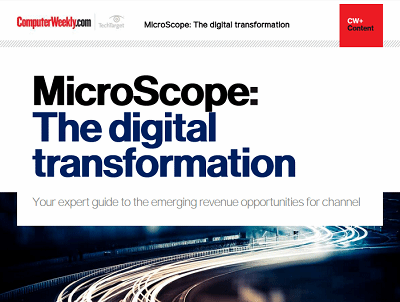 Emerging revenue opportunities for the channel with digital transformation
Digital transformation is a phrase that means many things to many people but for it to have any real relevance to the channel then it needs to mean a chance to make money. This guide will share some of the recent developments in the channel and the latest thoughts about the issue.

By submitting your personal information, you agree that TechTarget and its partners may contact you regarding relevant content, products and special offers.

You also agree that your personal information may be transferred and processed in the United States, and that you have read and agree to the Terms of Use and the Privacy Policy.



What's the difference between a recession and a depression? For some people, I bet there's no difference at all. If you end up losing your job or business, your house and your hope, it doesn't matter if we're talking about a six month recession or a two year depression, the distinction is academic.
Anyhow, it's interesting to hear Steve Brazier, CEO at market research company Canalys, cautioning people against over-exaggerating the current gloomy economic situation.

"There is no point running a business expecting to go into a great depression," he told MicroScope, arguing the best thing was to assume the recession would last for a particular period of time and to work towards being in the best position when the recovery arrives.

In some respects, he's right. One of the big dangers facing any company trading through an economic downturn is to try and get the balance right between trimming its sails to navigate in more difficult financial waters while, at the same time, ensuring whatever cuts take place do not leave it ill-placed to take advantage of whatever opportunities arise. In other words, cut too much and there's a real danger your company might end up starving to death.

Getting a clear picture
There are two big complications, however. The first is that no one is really sure if the afflictions battering the global economy are going to be confined to a recession or whether they could spill over into a full-blown depression.

So, if a company opts to plan to survive a recession, it could find itself in a very sticky situation if a depression does develop. But let's assume we're going through a recession that will not degenerate into a depression. The next big question is how long will it last?

We can all make assumptions but none of us, or even those who are more qualified to make the judgement on our behalf, have a clue at the moment. It's all guesswork, educated or otherwise.

It's all in the planning
So now the problem is what happens if you get your calculations wrong? What happens if you think the recession will last until the autumn, plan accordingly, and then find it's still here when 2010 begins?

For that matter, what happens if it ends sooner than you thought? On one level, that's got to be great news, but you could find yourself in the same position as someone planning for a depression who actually finds themselves in a recession.

All this demonstrates that it is very difficult to plan at a time when the economy is in a sorry state and no one knows just how far it will fall. But what is the best approach to take? Should you start from the glass half empty point of view so that whatever happens you will either be vindicated or pleasantly surprised? Or should you accentuate the positive because it might make a difference?

Let's not forget there are always winners as well as losers in a recession, it's just that there are more of the latter than the former. The best course of action is to focus on the essentials, identify a limited number of potential growth areas (or at least sectors where the business might be less susceptible to the economic downturn) and get on with it.

The main point is that if you can tailor your business to survive and maintain itself in times of hardship, you should be in a strong enough position when the upturn comes.

Also, it's worth bearing in mind that when the recovery does come, there will be a few companies that go to the wall because they won't be able to switch gears quickly enough from retaining business to gaining it. If you can get a feel for when the transformation is on its way, you could be in an even stronger position. Easy, isn't it?

MicroScope+
Content
Find more MicroScope+ content and other member only offers, here.
Read more on Finance and Credit