In depth: Tips for starting your own business
There are three relatively easy ways to money: win it, marry it, or steal it. The passage of time should have taught you that there is almost no chance of winning it, it is probably too late for the second, and as for theft, prison is not an attractive prospect.

Download this free guide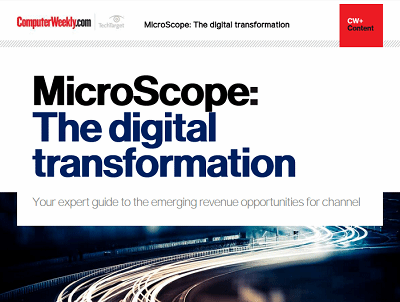 Emerging revenue opportunities for the channel with digital transformation
Digital transformation is a phrase that means many things to many people but for it to have any real relevance to the channel then it needs to mean a chance to make money. This guide will share some of the recent developments in the channel and the latest thoughts about the issue.

By submitting your personal information, you agree that TechTarget and its partners may contact you regarding relevant content, products and special offers.

You also agree that your personal information may be transferred and processed in the United States, and that you have read and agree to the Terms of Use and the Privacy Policy.



There are three relatively easy ways to money: win it, marry it, or steal it. The passage of time should have taught you that there is almost no chance of winning it, it is probably too late for the second, and as for theft, prison is not an attractive prospect. That leaves only a fourth option: earning it.

So you have worked for a vendor or reseller for years, and either circumstance or a keen desire to be master of your destiny is leading you to set up your own business. Starting a company is certainly not for the uncommitted, especially those with a family, mortgage or debts to service. It is also not as hard as you might think, and can be incredibly rewarding, but there are steps to follow.

Create the identity

You have to decide which type of business vehicle to create. In simple terms, the most likely are sole trader, partnership or limited company.

Sole trader (or self-employment) is the simplest, in which you work on your own account, either under your own name or a different trading name. You are entitled to all profits, but are personally liable for all debts. Costs are low as formation is free and financial accounts do not have to be audited or filed at Companies House. You draw money from the business as required and pay tax on the net annual profit.

A partnership consists of two or more people (or entities) carrying on the same business together. You are each dealt with separately for most tax purposes, but are jointly and severally liable for partnership debts. You might choose a partnership for the same reason as being a sole trader except that you have a more formal structure conferred in a written partnership deed. Partnerships can be limited (in liability for debts).

Limited companies are the most common because a limited company is registered under the Companies Act and is therefore a separate legal entity, and the liability of its members is normally limited to the amount of share capital they have contributed. But there are costs attached, such as for accounts and registration, and companies are taxed on their profits, and their members and employees are taxed separately on remuneration and dividends received from the company.

Whichever you choose, take advice from a good accountant or lawyer, because each has different methods of creation and the associated problems.

Legal and regulatory matters

You also need to consider the legal and regulatory elements of trading. You must tell HM Revenue & Customs that you are trading for tax and national insurance purposes. You may also need to register for VAT. Registration is voluntary if your turnover is under the VAT threshold of £68,000, but this is a rolling 12-month threshold so if it is possible that your turnover could exceed the threshold at any point over the next 12 months, you must register for VAT. Miss this and you will be penalised for not registering, charged the missing VAT and be left without recourse to charge that VAT back to your customers. By choosing to register voluntarily, a business can make savings by reclaiming VAT on purchases. In addition, making quarterly VAT returns instils discipline in account keeping.

With regard to VAT, HMRC offers numerous schemes to make life easier. These include a flat rate scheme where you only pay VAT on a flat percentage of your turnover (but you cannot reclaim VAT on your purchases) – a simpler process that, if you are on the right side of the averages, will make you money; cash accounting, which means you only pay (reclaim) VAT on monies actually paid rather than invoiced – great for cashflow and instant relief on VAT should you get a bad debt.

One vital piece of advice is to never, ever be late paying a tax bill or returning statutory documents to HMRC. Not only will you get automatic penalties, but you also open up your affairs to an inspection should HMRC so desire it.

Employing staff is often a cause of problems. Many employers automatically lose in tribunals because they make assumptions based on law they think is true. It is far better, and cheaper, to take good advice before making a decision.

Choosing advisors

The company you worked for before would have employed people to do all the paperwork for you – tax, VAT, payroll, contracts and so on. But now you are responsible, so you need help. This means choosing a good accountant and lawyer.

Accountants – If you do not have anyone in mind or are not sure where to look, start with the professional bodies. Several organisations (see list below) exist to help and protect the public, as well as regulate the accountancy profession. The main two are the Institute of Chartered Accountants in England and Wales (ICAEW), and the Association of Chartered Certified Accountants (ACCA). For Scotland and Ireland, there are two separate but associated bodies to the ICAEW – the Institute of Chartered Accountants of Scotland (ICAS), and the Institute of Chartered Accountants of Ireland (ICAI).

To join the organisations mentioned above member have undergone training and examinations. They are professionally qualified, and are bound to uphold the very high standards of business ethics that their organisations maintain. Each organisation has its own method of supervising members and complaints handling should you ever have a problem. For members of the ICAEW, look for the letters ACA or FCA after their name; ACCA for ACCA members; ACA or FCA for ICAI members; and CA for ICAS members. Interestingly, anyone can offer accountancy services.

Lawyers – The process for choosing a lawyer is similar to that for an accountant. Apart from personal recommendations, your best bet to find a good lawyer is to consult one of the two professional bibles: The Legal 500 and the Chambers and Partners Directory. Both are useful as they are a review of lawyers for clients. They each list firms by region and their specialities, together with firms' own editorial. Experience, fees, partners' names and firms' addresses are also listed. Alternatively, you could contact The Law Society for names of firms with known expertise in given areas.

Remember that documents are the stuff of life as far as the law is concerned; you must keep all documentation (letters, memos, minutes of meetings etc) filed properly. Check that when you copy contracts, that you also copy the reverse - the terms are often printed overleaf.

Finance your future

You will need to open a business bank account. The degree of difficulty, especially in today's trying times, will largely depend on whether you intend to borrow or not. You will need various forms of documentation, including several forms of identity for yourself, and for the company or partnership if appropriate. Each institution will let you know what they need.

The key part of opening a bank account is to find a bank that provides the products and services you require. Also, despite what you may have heard, you do not have to pay bank charges. For example, the Royal Bank of Scotland Business Banking Direct charges nothing for cash and cheques deposited, automatic debits, and automatic and non-automatic credits. Nor is there a standing charge. NatWest operates business accounts in much the same way – look for its Advantage Business Account.

An alternative is the Co-operative Bank. Its Clarity account allows £4,000 in cash to be deposited free every month, then charges 75p per extra £1,000. There is no charge for automatic and non-automatic debits, non-automatic credits and cash withdrawals. There is, however, a monthly £15 standing charge. Of the mainstream banks, Barclays is among those that offer two years' free banking on accounts while in credit.

Another benefit of being self-employed is that taxes, National Insurance and VAT are paid in arrears, so once invoices are settled, you can take the VAT and a fixed proportion of the net and put it into a savings account with a higher rate of interest so that money can work for you. It also means you keep to one side the money you need to pay your taxes to HM Revenue & Customs when they are due.

Seek expert advice

Being employed brings plenty of benefits, including a company pension, health care and death in service benefit. But once you set out on your own, you will have to fend for yourself. An independent financial advisor can help.

You will need at the minimum critical illness cover, which pays out a lump sum on any one of a set of illnesses or diseases; income protection insurance, which pays a monthly allowance based on your income where you cannot work because of illness or disablement; life insurance, which pays your estate if you die; and if in business (partnership or company) with someone else, keyman insurance, which pays a sum sufficient to allow you to buy out your partners' share of the business should they die. Bear in mind that the state pays the absolute minimum, if anything, so scrimping here could hurt later.

If you want general business advice or someone who can help point you in the direction of government help, grants or loans, call your local Business Link. Sponsored by the government, it offers plenty of information, much of which is free.

Finally, you will need support, especially in the early days. Being self-employed or starting a company can be exciting, but lonely, so try to make a point of meeting others in the same situation. You will have bad days and you will get hacked off.


---

Useful links:

HMRC
Companies House
ICAEW (accountants)
ACCA (accountants)
ICAS (accountants)
ICAI (accountants)
Law Society (lawyers)
Legal 500 (lawyers)
Chambers and Partners (lawyers)
Compare banks
Business Link
Find an IFA

MicroScope+
Content
Find more MicroScope+ content and other member only offers, here.
Read more on Finance and Credit