Putting a brave face on Britain's economic freeze
We have all grown accustomed over the last few months to gloomy economic conditions (isn't it depressing how every day seems to bring even worse news than the day before?) so it makes a change (pleasant or not) when the dominant theme becomes something else.

Download this free guide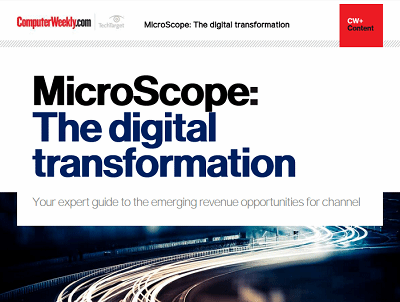 Emerging revenue opportunities for the channel with digital transformation
Digital transformation is a phrase that means many things to many people but for it to have any real relevance to the channel then it needs to mean a chance to make money. This guide will share some of the recent developments in the channel and the latest thoughts about the issue.

By submitting your personal information, you agree that TechTarget and its partners may contact you regarding relevant content, products and special offers.

You also agree that your personal information may be transferred and processed in the United States, and that you have read and agree to the Terms of Use and the Privacy Policy.



We have all grown accustomed over the last few months to gloomy economic conditions (isn't it depressing how every day seems to bring even worse news than the day before?) so it makes a change (pleasant or not) when the dominant theme becomes something else, as it has over the past two weeks with the weather.

On one level, you could view the heavy snow and cold weather, which has so badly disrupted everyday life in the UK, as nature's equivalent to the credit freeze currently afflicting the economic life of the country. You might look at the government's efforts to restart the banks in the same light as its attempts to clear roads, runways and railway tracks.

It is difficult to say which the government has been more effective in tackling, but in both cases it is hard to escape the feeling that there is only so much that can be done in the short term, beyond which we must wait for it to pass.

The big freeze
When it comes to the weather, for example, I doubt the UK can really function much above 75% while snow is falling. The same is probably true of the credit freeze. Until the issues that brought us to this fairly desperate point are cleared, it is unlikely there will be a sustained recovery.

Whatever measures the government takes in the short term will probably be covered by the next wave of bad financial news, in much the same way as the next snowstorm will re-cover a gritted road.

In this light, it is weird to see calculations thrown around about how much the inclement weather has cost UK business and the City of London. In a BBC report on 3 February, the Federation of Small Businesses estimated the cost could be more than £1.2bn. Douglas McWilliams, chief executive at the Centre for Economic and Business Research, suggested the bad weather could cause an extra 2,000 to 3,000 businesses to fail because of the disruption caused to their cashflow by delayed payments.

I find these types of calculations questionable. For example, even if companies have borne the costs of paying people who could not get into work, does that mean people were not able to do any work from home? Is there no chance they might make it up later? If the workers did not make it in, is there not also every likelihood customers did not either? Even if they did make it in, would there be any customers for them to serve or suppliers to talk to?

As for those businesses with disrupted cashflows, why would the same not apply to them and the people they are paying? The other issue normally brought up in these instances is output, but here again I agree with William Keegan who wrote in The Observer that he tends to take concern about lost output with a pinch of salt because "lost output can easily be made up – if there is any demand for it".

From a technological point of view, the big freeze served to underline the value of home working and the importance of the internet for taking and processing orders. Quite a few employees unable to get to work were able to work from home and customers were able to place orders online irrespective of whether there was someone in the supplier's office.

To some extent, the weather and economy dovetailed nicely at this point, because if credit is, to all intents and purposes, frozen and demand is down, a disruption to the supply process is unlikely to have the same consequences as in a time of strong demand and high growth. It is a small mercy, admittedly, but we should take them wherever we find them.

MicroScope+
Content
Find more MicroScope+ content and other member only offers, here.
Read more on Finance and Credit