A hard sell in tough times
Reading the business section (and often the front page) of a newspaper has become something of a penance of late and, unlike the religious variety, which is reputed to be uplifting, it's a depressing penance. Perhaps the first tip should be to stop reading them. This is not pure flippancy.

Download this free guide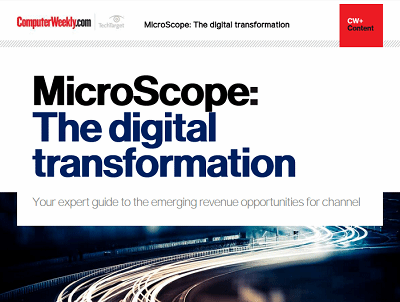 Emerging revenue opportunities for the channel with digital transformation
Digital transformation is a phrase that means many things to many people but for it to have any real relevance to the channel then it needs to mean a chance to make money. This guide will share some of the recent developments in the channel and the latest thoughts about the issue.

By submitting your personal information, you agree that TechTarget and its partners may contact you regarding relevant content, products and special offers.

You also agree that your personal information may be transferred and processed in the United States, and that you have read and agree to the Terms of Use and the Privacy Policy.



Reading the business section (and often the front page) of a newspaper has become something of a penance of late and, unlike the religious variety, which is reputed to be uplifting, it's a depressing penance. Perhaps the first tip should be to stop reading them. This is not pure flippancy.

National newspapers come from London (many of them written just down the road from the City) and invariably give great prominence to what's happening in EC2. But does that reflect the day-to-day events and business climate in Portsmouth or Walsall or Leeds? Maybe not.

It would be churlish to suggest that banks in crisis and tumbling share prices don't have a wide impact. Everyone in the channel who specialises in selling to financial institutions – and it's a big sector – has already felt the icy blast of
recession, and the financial results from the IT market in the last few months have been far from uplifting.

So what are people in the channel finding? The overall view is that yes, it's a challenging environment. Business is not walking through the door, but at the same time there are not the tales of woe you might expect.

Those operating in certain key verticals are continuing to weather the storm. But of course people are listening to the negative talk and while
they are not blind to the situation, they are still seeing growth across
the whole portfolio.

Ian Kilpatrick, chairman of Wick Hill, has noticed some diversion of budget, especially away from discretionary spend. In particular he stresses that security is a growth sector especially because it's not part of discretionary expenditure and it applies to companies of all sizes.

At Script Logic there are changes affecting the market with purchasing decisions being restricted by extra tiers of decision-making at lower budget levels. End-users are becoming more cautious and, although
people are trying to be optimistic, they need to plan for the unknown so they're right not to rush.

Robert Billington, director of sales EMEA at Script Logic, also says that management sign-off levels are being constrained and therefore the sales cycle is slowing, but he adds that there is a solution: good, old-fashioned sales technique – qualify leads, stay on the case and close.

Richard Chapman, business development manager at Magirus UK, sees 70% of customers adjusting their spend; priorities are changing, and cuts are hitting high end products. He says customers are planning more carefully and looking more closely at what they get for their money. As a whole the market is solid, although those in financial services are set to struggle.

The really big recommendation is simple: don't cut your marketing budget. That's easy to say, because it's sitting there – an inviting target that any accountant could pick on. But it's so important.

Kilpatrick has been through two previous recessions and knows that those who cut back were those who suffered. At the same time Wick Hill recommends that chasing the sale for the sale's sake and ignoring margin and profitability is as bad as doing nothing.

Script Logic recommends you choose products very carefully – in particular, choose vendors who operate 100% in the channel, which by no means applies across the board. Competing with non-channel products is tough and unnecessary.

In the same way it is vital to pick your distributor partners with care. Do they bring a combination of value-added and knowledge-based skills that add to the vendor's underlying proposition? The right combination of vendor and distributor is about far more than mitigating a credit risk.

12-point marketing plan
Take a look at the report by Experian: Marketing success in a slowdown (www.experianim.com/slowdown). It covers 12 actionable recommendations, including the following:
● Continually update your level of customer insight
● Analyse and segment the prospective customer base
● Continually re-evaluate the customer proposition
● Integrate how you communicate with customers.

At the minimum, it's a useful planning tool. Chapman stresses the need to differentiate yourself. The channel has to move to selling solutions to specific, defined business needs rather than selling technology. Magirus looks for those elements where they can help add to a reseller's core expertise. Remember – the customer doesn't care what brand they're offered; they want a solution to a problem or an opportunity fulfilled.

You might consider directing your efforts at the public sector, which is more proof against recession. Michael Wilks of Scyron, which operates in the counterterrorism sector, offers cautionary guidance.

"Once you're in the market and established, fine, but it takes a long time to get there – a minimum of one year and maybe two. Certainly the long-term benefits are huge but it involves a major commitment of time and money and you need expertise in the sector."

Right now the magic ingredient in a sales pitch is cost saving, according to Script Logic. If you can demonstrate, as it has done, the centralised management benefits that produce more results from the same number of people then you are also selling free time for people to do things that impact on the bottom line. As ever, sell return on investment. It's the key story and the green benefits of well used IT are also a valuable element of a pitch.

Mike Morgan, chief operating officer at FNL, agrees that customers want solutions, not products. He says there are three key areas that are easy for the IT manager to justify: an improved customer experience, reduction in revenue leakage and improved operational leverage.

In short, the reseller should go in front of the client, asking how they can help that business be more cost-effective, and get more return for less cost. That's not easy, but it's what applies in a tough environment. Morgan also predicts cuts in head count: "Resellers should be looking for ways that technology can help".

Change in pitch
The sales pitch will need to change. As more tiers of decision-making come on stream, the level of IT specialism will tend to decline so it's more critical than ever to sell benefits. Put in the building blocks and create the product bundle over time, going back to the customer with logical solution developments.

Constant contact builds better long-term business relationships
than selling up-front a product bundle that is complex and inflexible. As
Billington says: "If you're not wooing your woman, someone else is".
It is also extremely short-sighted to think that, having done a good and complete job on a major sale, there won't be additional requirements and opportunities coming through the pipeline.

Selling service isn't sexy but, says Chris Bard, client director at bChannels, it's good for all parties and, above all, it's profitable. Bard also says that many resellers' business is based substantially on the bosses' historical experience, rather than today's commercial demands. Instead of trying to repeat the past, he recommends looking for sales that generate regular income – annuities, rather than one-off, big commission sales.

Along with others, Scyron recommends targeting the safer
business sectors (although nobody is entirely sure what they might be).
Develop long-term relationships above all and accept that you may need to swallow lower margins for a while. Resellers should be looking really hard at the help they get from suppliers and squeezing every pound's worth of value from it.

Pre-packaged support
Wick Hill runs a lead creation and management programme with a tacking process that enables partners to focus effort on areas of success. It has pre-packaged campaigns for resellers, pre-sale and post-sales support plus demonstrations. It also provides extra credit for resellers who are growing and can't get it from their bank (in a credit crunch that's the sort of practical help everyone needs).

Kilpatrick says Wick Hill hasn't changed what it does because the needs in a slowdown are the same as in normal times. In a static market it is experiencing 30% growth partly by encouraging resellers to concentrate on achieving a high level of renewals, which is a high margin strategy. Not everybody gives that focus to existing customers, which leaves them vulnerable to a downturn.

The IT industry is still full of young people. Any graduate under 35 has never worked in a recession so the current environment is new to them. They are going to find out how good they are – their skills are going to be properly tested and it will be critical to listen to the voice of experience. Some training from those experienced players would be an excellent start: tell people in no uncertain terms what happens, what to expect. Those who weather the storm will be the better for it – they really will have graduated.

Tricks of the trade
One of the tricks they are going to have to learn is that every single lead is a good lead. All the best salespeople treat a lead as a £50 note, and rightly so. It truly is a sin to have spent time and money creating the opportunity and then fail to even talk to the prospective customer, which no doubt is still happening.
Trick number two (which hopefully won't be advice arriving too late) is not to invest all your time and energy in too narrow a spread of clients. This also applies within each client company. During a downturn, some businesses go to the wall; if you are dependent on one that suffers this fate, you're in trouble, too. Equally, get to know a range of people within each client organisation. If 90% of your contact is with an individual who is made redundant, that account is under severe threat.

Millions of pounds worth of marketing support from vendors is regularly not taken up. When business is walking through the door, that's perhaps understandable but it still looks like a huge missed opportunity.
Typically, what happens is that it's the same resellers who make requests with well-worked, cogent arguments. Meanwhile, others complain that they get nothing, but they don't ask. At the same time there are resellers who lack the sales skills because they are very technically orientated.

Billington says Script Logic gives them the skills and resources to help fill the gap, but he admits it can be difficult. Nonetheless all resellers should be talking to their trading partners to take full advantage of available funding; surely this is a no-brainer; equivalent to buying £1 for 50p.

FNL and Magirus both say that resellers looking for support from vendors forget they need a business fit. If your strategy isn't aligned with the vendor's aims, you cannot expect enthusiasm or finance – simply shoving the begging bowl under a vendor's nose is going to achieve nothing.

Morgan adds that reacting with "I can't be bothered" is a major error. Some of the processes that vendors put in place may be complex, but the money is there, so go and get it. bChannels' experience is that spending money on Google ads definitely works. Bard says 30-50% of demand starts there.

Choosing products
What products should you be looking at? The vendors naturally stress their strong points, but strong points are what you need. Anything that is a "must do" has to be a good starting point.

Wick Hill says security solutions apply to companies both large and small and are not discretionary, plus its approach offers significant cost savings by reducing numbers of appliances.

Magirus says virtualisation is a big business driver and it expects it to be even more so in the current climate. Scyron's evidence management system is selling well to government bodies and although tendering is time consuming, selling to systems integrators offers access to a valuable market.

bChannels says sales of videoconferencing facilities are growing rapidly; no surprise when businesses want to cut travel costs and get more from fewer people.

MicroScope+
Content
Find more MicroScope+ content and other member only offers, here.
Read more on Salesforce Management