Five minute interview: Robert Furnivall, SAP UK
MicroScope puts its questions to Robert Furnivall, head of channel, SAP UK What is the worst advice you have received and from whom? "You can carry on playing the rest of the match, your fingers are not broken as you can bend them."
This Article Covers
RELATED TOPICS

Download this free guide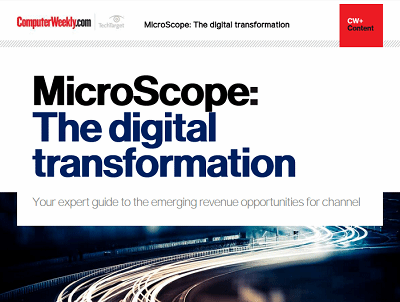 Emerging revenue opportunities for the channel with digital transformation
Digital transformation is a phrase that means many things to many people but for it to have any real relevance to the channel then it needs to mean a chance to make money. This guide will share some of the recent developments in the channel and the latest thoughts about the issue.

By submitting your personal information, you agree that TechTarget and its partners may contact you regarding relevant content, products and special offers.

You also agree that your personal information may be transferred and processed in the United States, and that you have read and agree to the Terms of Use and the Privacy Policy.

MicroScope puts its questions to Robert Furnivall, head of channel, SAP UK

What is the worst advice you have received and from whom?
"You can carry on playing the rest of the match, your fingers are not broken as you can bend them." That was in the first half of a rugby match from a non-medically qualified second row. An x-ray the following day showed I had three broken fingers.

What is the best book you have ever read?
Chuck Yeager's autobiography. Chuck is a retired general in the US Air Force and is generally thought to be the first pilot to travel faster than sound.

What was your first car?
A bright green Hillman Avenger. The steering wheel was on the right.

Do you have any pets? If so, what are they and what are their names?
Do Tropical Fish count? I have not got round to naming them.

What temptation can you not resist?
Jam doughnuts.

Where is the one place you would like to visit before you die?
New Zealand. I have heard so many wonderful things about it and have friends who live near Wellington.

Which bit of technology would you want with you if you were stranded on a desert island?
iPod Touch. I love listening to music and books and watching films.

Who helped you get to where you are today?
My dad was a huge influence on me. He was amazing and instilled in me a sense of pride in what I do.

What do you believe in most?
My family.

If you could be someone else for a day, who would you be and why?
Jeremy Clarkson. He seems to enjoy his life at work and at home.

Who would you least like to be stuck in a lift with?
Any politician.

Why are you good at your job?
I am fairly practical, I try to get what I can done and try not to worry about things I cannot.

If you were shipwrecked, who would you like to have with you and why?
Ray Mears. I think he could create a very comfortable and fun existence and I might learn something.

Name three items (smaller than a fridge) that you would like to have with you if you were shipwrecked
A computer, broadband access to a film and music library and all seven series of The West Wing.

If you could be any animal for a day, what would you be?
A buzzard, because they float above the world.

Do you prefer cities or the countryside?
Definitely the countryside. I hate the noise and bustle of cities. I much prefer the quiet life.

Describe your perfect night out
Drinks with my wife and friends in a local pub, followed by a curry.

What would be your perfect holiday?
Being teleported to a tropical island - no need for airport waiting lounges - with perfect weather and a lot of books.

Sum up the IT channel in one sentence
The IT channel is a place where you can collaborate with other businesses to provide the best solution for users.


---
MicroScope+
Content
Find more MicroScope+ content and other member only offers, here.
Read more on Sales and Customer Management