Analysis: Combating counterfeit consumables
The world is full of counterfeit products. Walk through any street market and you will find stalls full of 'designer' clothes, watches and handbags at unbelievable prices. The prices are too good to be true because so are the labels.

Download this free guide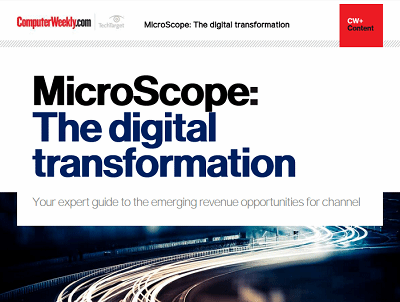 Emerging revenue opportunities for the channel with digital transformation
Digital transformation is a phrase that means many things to many people but for it to have any real relevance to the channel then it needs to mean a chance to make money. This guide will share some of the recent developments in the channel and the latest thoughts about the issue.

By submitting your personal information, you agree that TechTarget and its partners may contact you regarding relevant content, products and special offers.

You also agree that your personal information may be transferred and processed in the United States, and that you have read and agree to the Terms of Use and the Privacy Policy.



The world is full of counterfeit products. Walk through any street market and you will find stalls full of "designer" clothes, watches and handbags at unbelievable prices. The prices are too good to be true because so are the labels. According to some estimates, the counterfeit goods industry is worth around $200bn.

In the computer industry, counterfeit software is an obvious component of this trade, but another lucrative area is printer consumables.

This is hardly a surprise when you consider that printer ink is, millilitre for millilitre, one of the most expensive commodities on the planet.

According to some estimates, as much as 3% of consumables are fakes.
Vendors have several measures to combat the trade in counterfeit consumables. By far the most important are efforts to promote awareness of the issue. Confusion among customers is understandable when they may not be aware of the distinction between compatible consumables (which are legal) and counterfeit.

The confusion has arisen partly because the messages vendors use to draw a distinction between their own products and compatibles can sometimes seem fairly similar to the ones they use for counterfeits. Nevertheless, there is one big difference: counterfeit product pretends to be something it is not. When a customer buys a compatible cartridge, they know it is not an original cartridge.
Andrew Gardner, Lexmark worldwide brand protection manager, says most people do not realise they are buying a counterfeit product because it has what appears to be a genuine label and is packaged in a Lexmark box. "You do not know what the origin is until something goes wrong," he warns.

Andrew Forsyth, UK and Ireland director at HP's Laser Enterprise Solutions Organisation, says although refilling or remanufacturing cartridges is an open and accepted practice, misleading the purchaser with packaging that makes it look like an HP original takes it into the realm of counterfeit.

Where do they come from?

But where do these products come from and how do they get into the supply chain?

Forsyth says they typically originate in the Middle East and Asia and feed into the market through some form of sub-distribution.

Gardner says counterfeits get into the supply chain from international brokers who sell products around the world. "One of the most common vehicles is to mix it with grey product. It leaks into the distribution channel that way," he says.

Most vendors are at pains to stress that resellers should buy consumables only from authorised tier-one distributors.

To combat the sale of counterfeit toner in the channel, Kyocera recently introduced a Consumables Direct Partner Programme for distributors and a Consumables Business Partner Programme for resellers.

Charlotte Elmer, consumables and spares sales manager at Kyocera, says the programme is designed to ensure that partners can provide customers with a clean supply chain for consumables. The company is also preparing to introduce a scheme that allows customers to purchase through resellers direct from the Kyocera website, in another attempt to close the supply chain to outside interference.

HP has been running programmes against counterfeit products for three years now to protect its brand and prevent customers from unwittingly buying fake product. Forsyth says HP's terms and conditions allow the vendor to audit partners' inventories without warning – a measure which he claims gives partners and customers confidence that the vendor is working hard to detect counterfeit product in the supply chain.

"The more you can catch at source, the less gets into the supply chain," Forsyth says. "If you are buying through recognised routes to market, you expect an HP original."

He hastens to add that, if such products are detected, in many cases they have got into the supply chain without any malicious intent by the partner.
Forsyth says partners are very open in providing information about the source of suspect product. "The ultimate goal is to find the source," he says.

Gardner stresses the importance of buying from authorised distributors. "Because they are buying direct from Lexmark, the supply chain goes directly from us to them," he says.

The danger of buying counterfeit product increases when partners start dealing with goods that have been aggregated from multiple sources.

"When somebody offers product into the channel at a significant discount, if the price is too good there is a reason why," warns Gardner. "If you know what the products sell for and somebody offers 40% off the list, it is probably not because Lexmark said, 'Hey, we want to make you a really good deal.'"

How to spot a fake

Vendors have several methods to help resellers and customers differentiate genuine product from fakes. Most of them put holograms and serial numbers on their products and packaging, so it is a question of training people to recognise them and look out for the differences.

Forsyth says HP tries to ensure that warehousing staff know what to look for, but he admits that counterfeiting can be very sophisticated. "You can take two products, one original and one counterfeit, and the packaging can look alike. It can be down to very fine, very small detail," he says. "It could be using the packaging we used three years ago. Ink has a lifecycle, so if you are looking at packaging from three years ago, it raises a question."

Gardner says security labels and serial numbers help to verify the authenticity of cartridges and make it possible for Lexmark to track product and see which partners it has been sold to. There are also programmes that allow channel partners to send product back to OEMs to analyse their authenticity. They can submit information directly or anonymously.

In addition, Lexmark makes open market purchases to see what is out there and people send it offer sheets from brokers around the world.
"Channel partners do not mind competing among themselves, but it should be on a level playing field," Gardner says. "Our goal is to make sure nobody is trying to upset that."

One of the biggest things Lexmark concentrates on is driving awareness through reseller channels worldwide. "We work closely with marketing and sales teams around the world and every supplies marketing manager has the tools to talk about counterfeit product," Gardner says.

Education

Forsyth believes that training and education about counterfeit product gives partners confidence that HP is "proactively and aggressively trying to address the situation".

In addition, partners become more aware of the existence of fake products and the potential illegality.

Another area where vendors are busy is in training customs officers. Elmer says it has been training officers at Heathrow and Felixstowe. Lexmark and HP are doing the same.

"We get a lot of calls and leads from customs officers in airports and sea ports," Forsyth says.

Gardner says, "Lexmark works very closely with customs organisations around the world so they are aware of what to look for and how to identify counterfeit products. They know where our products are manufactured and our ports of entry… we are making people aware of counterfeit products in the world. Printer supplies do not come to the top of their minds, so our goal is to drive awareness."

All vendors believe the best route to prevent fake products is to stop them from getting into the supply chain, which is why educating all the links in the process – vendor, distributor, reseller and customer – to be aware of the issue and know how to spot the differences is so important. It also accounts for the focus on pushing resellers to buy from authorised distributors and customers to buy from authorised resellers.

Education should help to drive awareness to the same levels that people have over other fake goods.

Gardner says, "If you go to the city and you buy an 'expensive' watch for $25, you know what you are getting." The challenge is to ensure users and channel partners are able to apply the same understanding when confronted with cheap consumables that claim to be genuine.

MicroScope+
Content
Find more MicroScope+ content and other member only offers, here.