In-depth: The value of events
Bringing customers to your door has to be a very efficient way of turning them into clients. The person who has seen how you operate and met the team is far likelier to give you work.

Download this free guide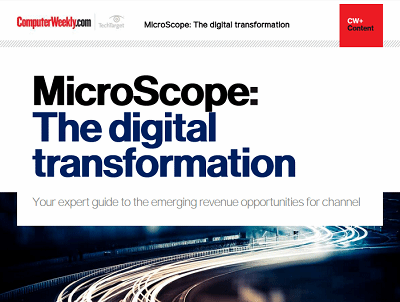 Emerging revenue opportunities for the channel with digital transformation
Digital transformation is a phrase that means many things to many people but for it to have any real relevance to the channel then it needs to mean a chance to make money. This guide will share some of the recent developments in the channel and the latest thoughts about the issue.

By submitting your personal information, you agree that TechTarget and its partners may contact you regarding relevant content, products and special offers.

You also agree that your personal information may be transferred and processed in the United States, and that you have read and agree to the Terms of Use and the Privacy Policy.

Bringing customers to your door has to be a very efficient way of turning them into clients. The person who has seen how you operate and met the team is far likelier to give you work. If you've also shown them some new ideas, some business opportunities, and entertained them you are a long way ahead of the game, writes Paul Clapham.

However, creating a customer event is not a gimme. Event management professionals say that there tend to be two widely divergent attitudes: either, that putting on such an event is a doddle or that it's terribly difficult, where do you start? Essentially, both views are wrong.

For the IT channel, events are doubly important. As well as a valuable sales tool for your own business, there is an immediate business opportunity. Event management is a relatively new marketing sector with its own university courses established within the last ten years. Specialists are growing in number at a dramatic pace as businesses in all sorts of sectors find events a highly cost-effective way to sell. The potential for selling targeted and packaged IT to a new expanding sector is not to be ignored.

Start with a plan. Why are you doing this and what do you want to get out of it? Liz Rowden of Nutmeg Events says, "without defining that, you won't know if it was a success". Then define the audience. This could be local business owners in a particular sector, it could be IT managers from a wider area or it could be a very narrow specialist group from the whole country (or internationally).

Above all you have to answer their question 'what's in it for me?' Just 'come and see us we're wonderful' won't get a result. There needs to be a clear benefit to the invitee, something that will help their business.

As ever, great care is required regarding which individual to invite. Sometimes it's obvious - it's the IT manager and the marketing manager, say. More often the convenient box doesn't exist or your customers don't have the relevant title. Invite the wrong people and it impacts on your response.

I have commented before that the IT world as a whole is inclined to 'think technology'. It's understandable, but this is marketing so you should 'think market' and more particularly 'think benefits'. An invitation that offers, big savings or new business opportunities first and foremost is going to attract far more response than one that focuses on technology.

Get your timing right. In general the pros say that morning events are better attended but your target audience may regard that as key work time. To bring them to you after work, you have to have a very good reason (see above). Also be very conscious of issues like school and religious holidays.

Get your invitation right. It can be done by phone, in person on a printed card, by letter or by e-mail. Reflect your audience in which you choose - for the essentially youthful hip audience a funky e-mail is good. For an older more traditional audience, the written version tends to work better.

Avoid a deathly dull Powerpoint presentation (that's most of them). Instead print up some large format posters with key images and messages. Yes, you will have to spend money on more than canapés and wine. Talk to suppliers about what they have available, including any video footage.

If your premises have excellent presentation facilities and plenty of opportunity for hands-on experience for delegates, you could use them for an event rather than booking a hotel. But look at the practical issues. Are you easy to get to? Do you have enough space to seat all the attendees and, indeed, enough chairs? Be conscious of insurance and any of the dreaded 'elf 'n' safety issues that may be involved in having a group of visitors to your premises.

What about employing an expert? The key benefits are that they help you make the right decisions (as above). They also save considerable management time because they know the suppliers you need and are practised at the necessary logistics. That can also save you money although clearly they will be charging a fee.

Selling via events is a highly personalised marketing tool. You can structure the whole process precisely to fit the needs of you and your audience. Since most resellers are looking for a relatively small number of additional regular clients, getting face-to-face time in an environment you control is extremely valuable. The big benefit that comes through repeatedly is that one presentation to the right group of thirty people generates far better results than any amount of telephone and e-mail time.

Natasha Dougall at Wheldon Events suggests you take a scientific approach - aim, method, conclusion. If you're using a location other than your premises, check it out, in person, in detail. (Obvious? It should be, but at the last event I attended a huge chandelier blocked part of the screen for half the delegates) Make sure you're not competing with other events (that includes the likes of major sporting events). Don't expect attendees to come up with a host of questions; plan some prompts to get discussion active.

Natasha also says have a realistic budget and don't sign up for any part of it until you're happy with the promise. She says that a professional event organiser will better achieve attention to detail and make the event cost-effective.: "Remember, participants don't want blah, blah, blah - they want inspiration, innovation, education, value with a sprinkling of wow!"

Some simple dos and don'ts, which all the experts sign up to, are as follows. Don't leave the logistical organisation too late - these events take a lot of time and effort; don't pick a Friday; don't aim for a hard sell - prospective customers see these events as educational; don't plan just to sell your services and prices because nobody will come; unless you've re-invented the wheel, don't expect everyone to turn up.

If you're considering bringing in a professional event manager there is plenty of choice. The website Free Index has a section on event managers which lists over 500 suppliers. Likewise look at Event magazine's website. The directory section has a similar listing. The relevant trade body is Eventia, which can provide details of managers, locations and support services.

If you are planning to make events a central part of your marketing activity, you might consider training your own in-house expert. RJA GB run a one-day seminar which costs from about £40 per delegate. It covers a wide range of issues 'from the invitation to the post event follow-up'. It's very much a hands-on workshop addressing specific problems and opportunities. - 'a workshop not a talk shop'. Richard John stresses that a key element of the training is to keep delegates focused on 'WIIFM' - what's in it for me - because consistently answering that question for your attendees throughout the whole process makes for a successful event.

So what's the experience of other business sectors? General point: talk to your suppliers! Apply some of that MDF muscle. They will all have contacts who might well be interested in attending. If you demonstrate a commitment to this marketing method your suppliers may (should) come to you with ideas of how to explore opportunities.

C8 Consulting are normally talking to an IT savvy audience. MD Paula Elliott says that the key up-front issue is to understand the audience. Be clear about why they are there in front of you and don't get carried away with the technology. Yes, such an audience will understand you and be interested in the technological benefits you are presenting. But - and it's a big but - unless you relate that to their personal circumstances and needs, you can find your audience's eyes glazing over.

Time was, says Paula, that people could be persuaded out of their offices relatively easily. Those times have passed. People have to justify time away from their desks. Your event has to be relevant to projects and issues they are addressing now, this week or month. Try canvassing a few contacts by way of research. They'll probably be good contacts and if they're not enthused by your idea, maybe it's notso hotso.

Then there are the basic marketing errors that impact on events. How good is your database? If it hasn't been cleaned regularly, you'll be inviting lots of people who have moved up, sideways or on. Pick your timing carefully - a clash with a major trade show is like throwing time and money away. Check what the competition is doing eg in this magazine.

C8 create a group on Linked-In. they also recommend plenty of Tweets and featuring on your blog and trade magazines events' diaries. Then you have to work hard. Much as you might think your event is of earth-stopping importance, your prospective audience won't. You have to keep in touch, especially with those who have said 'yes'. Send a registration form, then travel options, then ask about dietary needs. Lock them in. And you'll still be disappointed. From those carefully targeted invites, maybe 40 will say yes and 20 will turn up. That's dispiriting but a whole lot better than well under 2% via direct mail. Even ticking all those boxes, you might have a complete lemon. If only a handful of people say 'yes', cancel - far better than an embarrassing public failure.

Paul Trowbridge, director of EVITO says that the logistics of events are easy - any organised person could fulfil them. The crux is the content - a clearly defined justification for delegates' presence, with educational value key to that. Paul sees a 50% turn up rate, too in the UK but far higher in Germany - up to 80%. He doesn't see charging as a solution.

To improve levels of attendance, link your event with another. Being next door to the up-coming Olympics would be a case, especially if there is product relevance. Trowbridge says that having put lots of effort into creating an event, it makes sense to roll it out or repeat it and plan for that as part of your return.

Typical costs would be £75-90 per delegate in central London and £50-70 in the provinces. The cost of expert speakers and a designed invitation would be on top. EVITO charge a fee and then operate an open book on costs with no mark-up. Some agencies will be charging a mark-up on hotel costs and earning a commission on them as well. They may also have a special rate which they don't mention, so clearly some savings can be made.

Natalie Buckley marketing manager at Frontier Technology is involved in regular events. The company hosts co-funded seminars monthly or bi-monthly. Natalie says it's their most profitable marketing tool. She stresses that the hook has to be a business- building proposition with broad relevance. Frontier, who are London based, have had success with events based on turning the Olympics into an opportunity.

Natalie says that 30 or so delegates is ideal but repeats that 50% turn-up rate. Ho hum. Still, you get quality face-time and remember that attendees get an excellent networking opportunity (worth featuring in your invite). Talk to your vendors and see who has the most positive take, not to mention the richest MDF deal. She quotes Citrix as the most positive, involved and proactive.

Finally, do it right and keep it simple. A quality event presenting the benefits your business can offer stays with attendees in the long term - the opposite applies, too. One or two really convincing examples of how those benefits can be achieved works far better than an extended tutorial on the wonders of your specialisation. Create a success and you can re-use it around your area, region or the whole country.






MicroScope+
Content
Find more MicroScope+ content and other member only offers, here.
Read more on Salesforce Management