In-depth: Selling digital displays
Given the slow-down in corporate and domestic spending, the AV market has held up surprisingly well in the past 12 months. Although product pricing at the bottom end of the screen and projector market is very competitive, budgets for schools and colleges have remained stable.
This Article Covers
RELATED TOPICS

Download this free guide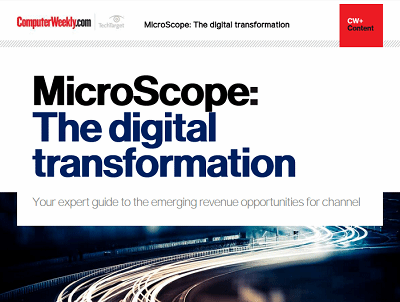 Emerging revenue opportunities for the channel with digital transformation
Digital transformation is a phrase that means many things to many people but for it to have any real relevance to the channel then it needs to mean a chance to make money. This guide will share some of the recent developments in the channel and the latest thoughts about the issue.

By submitting your personal information, you agree that TechTarget and its partners may contact you regarding relevant content, products and special offers.

You also agree that your personal information may be transferred and processed in the United States, and that you have read and agree to the Terms of Use and the Privacy Policy.



Given the slow-down in corporate and domestic spending, the AV market has held up surprisingly well in the past 12 months. Although product pricing at the bottom end of the screen and projector market is very competitive, budgets for schools and colleges have remained stable.

Vendors have found that they cannot compete unless they offer a wide range of products, or identify niche products that are new and exciting. Sales of visualisers – electronic products that project an image of small products and text onto a screen – are forecast to grow by 56%.

But there have been casualties. Sharp announced its departure from projector sales in the summer, and Toshiba stopped selling projectors at the end of September.

Toshiba blames a fall in the overall market. In a statement, the company said: "In response to the steady decline of the B2B projector market in Europe, Toshiba has announced that it will cease to distribute its range of traditional lamp-based projectors." The company declined to make any further comment.

Colin Messenger, senior analyst at AV market research firm Futuresource Consulting, is not surprised. "If Toshiba is not in the top six brands for a sector, then it does not want to play. The company will focus on areas where it can do better."

Sharp's commercial AV sales manager, Helen Sheldrake, says Sharp has stopped selling projectors in the UK – but not elsewhere in Europe – because of price competition. "We wanted to focus on areas where we see strong growth, such as the commercial panel market. The projector market has become a volume-driven, low-margin model."

Benq's product and marketing manager Royce Lye declined to comment on Toshiba's decision specifically, but confirms that competition at the low end of the projector market is very difficult. "It is driven by margin. Just peddling entry-level products makes it incredibly tough – you have to be cheap, sell in very large volumes and do so consistently."

Lye says that Benq has decided to move its projector brand and price points upmarket, and will no longer sell at the bottom end of the market. "Projectors used to be sold according to the brightness of the lamp. But I don't want to play in the SVGA market any more. I have an affordable short throw product, the 515ST, selling for an end-user price of £350. We still sell product at the £280 mark, but what we are not doing is the £199 whiz bang."

According to Lye, the brand itself has become all-important. He says that it becomes more difficult to sell Benq's most expensive projector, a 6,000 ANSI lumens model designed for large auditoria costing around £4,000, if the company is best known for selling projectors for less than £200.

Benq will widen its projector range from 24 models to 35 over the next six months, aiming to meet demand from education, professional AV, small business and larger corporate markets.

Mainstream technology

Mark Tildesley, Maverick Presentation Products' general manager, says AV products have become part of mainstream IT, rather than a niche sector. "Projector installation is an important part of the sale, but there are emerging opportunities for managing projectors on line."

He says projector prices have increased slightly in the past six months, and that Maverick's minimum projector sale price is now in the £210 to £250 bracket. "Our bread and butter projector range is the 2,000 to 2,500 ANSI lumens products at around £400 to £450."

The well-established base for projectors has led to a lucrative market in replacement projector bulbs. Midwich's specialist projector lamp division says that its business has increased eight-fold since its launch a year ago.

Its success has attracted competitors selling compatible bulbs. But Tom Sumner, product manager at Whichlamps, says that if resellers sell compatible lamps, they risk invalidating projector warranties. "It is important to understand that compatible and copy lamps are not made by the manufacturer of the projector, and they have not gone through the manufacturer's own long-term suitability and testing programmes. If a reseller supplies copy or compatible lamps rather than original lamps, they could unwittingly invalidate their customer's projector warranty."

Whether the market will take any notice remains to be seen – experience suggests that cheaper prices will win. That appears to be the case in the screen market, where vendors say their main effort is to persuade business customers to opt for the longer warranties, better connectivity and more robust product qualities available in professional models.

Commercial strength

Speaking at the Midwich digital signage showcase last month, NEC channel account manager Scott Aslett said his biggest challenge is to show resellers the advantages of commercial displays over consumer models. "If consumers buy a consumer screen it may fail in six months and the reseller will replace the screen under warranty. They can afford to do that two or three times, but they overlook the hidden costs of de-installing, re-installing and the environmentally responsible disposal of screens," he says.

Digital signage opportunities are driving strong sales of the NEC LCD4020 screen, a 40in slim bezel model, he says. The 'bezel' refers to the frame surrounding the screen – so-called 'slim bezel' models have frames of just 3.5mm, compared with standard screens where 15mm or 30mm frames are common. The slimmer the bezel surrounding a screen, the less obtrusive the bezel appears when screens are locked together as video walls used for digital signage.

Daniel Rose, projector product manager at Panasonic, says that the HDMI, DVI and HDSI connectivity standards available in the company's commercial range of screens, as well as a specified performance of continual 24-hour usage every day, are a better bet for resellers looking at digital signage.
"The margin on consumer screens is 3-4%, compared with 10-20% for commercial products," he says.

Rose says the company will launch a £30,000, 85in screen in November, aimed at the advertising poster market. The screen will be lighter than its current 64in model and equivalent to four 42in screens.

Sony's head of commercial operations, Stuart Pemble, says there is "a huge market race to create the digital poster replacement, at 65in or bigger". The company launched its first 65in screen, the GXD-L65H1, in April, hoping to attract customers who want an outdoor public display.

As part of that push into digital signage, the company has also launched Ziris Canvas. Based on Playstation Cell technology, Ziris Canvas allows creative directors to design video wall displays where screens can be hung separately, and at any angle, while simultaneously displaying the same image. In conventional video walls, the screens are hooked together.

"We are using the power of the Playstation Cell processor, which makes the product competitively priced and of very high quality," says Pemble. "This means we can use the space between screens to mix audiovisual content with print content to great effect."

Service opportunity

One training company at the Midwich event observed that unless users are trained properly, they will pester the resellers which have sold them digital signage products, claiming they do not work properly. It suggested many users are overawed by the potential of digital signage and unless they are given software templates to get them started they will find the products baffling.

"The biggest challenge we see is that systems such as Samsung's MagicInfo come with no software applications and won't work 'out of the box', says one reseller. "There can also be network problems and router configuration problems, which the company's IT department has to solve – and it may not wish to if it has not been consulted in advance."

Jason Cremins, chief executive of Signagelive, says that selling digital signage as a service is a more lucrative route for resellers. The company runs a 220 digital display service for Harrods, and 1,300 site service for Camelot promoting the National Lottery over 10.4in screens in retail outlets.

Digital signage content is held on a central server run by the company, and accessed over the web through a simple web browser. "People have historically had Lan-based digital signage solutions, but they give them major restrictions in the way they manage their content," he says.

"With a Lan, or standalone, player-based solution, there has to be a physical station within the installation where digital content is managed. But corporate users and university campuses do not run like that, nor do smaller schools. They have people around the installation who want access to content."
Resellers selling signage contracts can expect 30-40% margins, repeat business, and can sell other services such as a help desk and live chat, says Cremmins.

At the Midwich signage showcase, Cremmins demonstrated the company's latest announcement – updating a digital display via Twitter and an iPhone. "We have been using outbound SMS for years, and have extended that to Twitter because Twitter is everywhere. The Twitter service means anyone with an iPhone and an approved Twitter account can update the company display system instantly – which can be very valuable."

Graham Wylie, group product marketing manager for Steljes, |says digital signage is one of the markets helping to move the company beyond its roots in education and interactive whiteboard (IWB) sales. It is distributing MediaTile, a software-as-a-service digital signage kit based round a Vodafone SIM card. "Mobile SIM means that a reseller does not have to wire a whole building to install digital signage," he says.

Meeting software such as BridgIt was another element in the push for corporate markets, Wylie adds. "BridgIt software allows teams to collaborate, standing at large screens on which they can draw and annotate diagrams. You cannot do that so easily with a WebEx type alternative," he says.

Educational requirement

Steljes competitor Promethean says the education market is tough in the UK, but new products which build on the huge installed base of IWBs already in schools continue to attract interest – and a slice of the educational budget. More than 600,000 UK classrooms now have some kind of interactive educational technology installed.

"Children like technology – they now expect it in the classroom, as do parents. Teachers need it as part of the school's administrative reporting and timetabling systems," says Ian Curtis, head of UK and Ireland operations at Promethean. Learning software systems and response systems are popular, and sales are growing.

He adds that increasingly IWBs are sold with a projector as part of a bundled package rather than a standalone deal. For example, the company's recently launched 78in IWB, which sells for £2,649, includes an LCD projector.

Both Steljes and Promethean say the government's Building Schools for the Future programme has benefited them: a recent £60,000 contract win by Promethean saw the company install 100 IWBs in West Midlands-based Walsall College. "The college has installed IWBs throughout the new buildings, even in the dance studios. It has even banned the use of dry whiteboards," notes Curtis.

Promethean says its distribution partner Maverick had made over £1m of sales by July, twice the amount forecast when the distributor was signed in early January.

The company adds that it supported a recent standards initiative from Becta, the educational ICT agency, which should allow teachers who create content for one IWB to use an application on a rival supplier's IWB, something they have not previously been able to do.

The Becta initiative means new suppliers have a chance to try their luck in the UK replacement market for IWBs, says Peter Olsson, business development manager at IWB supplier TeamBoard, which intends to launch the IWB TeamBoard range in the UK in January.

Olsson acknowledges that the effort to dislodge the main suppliers will be huge, but points out that TeamBoard products will cost 30% less than the market leaders. "If we could win a couple of per cent of the UK market for IWBs, it would still be good business," he says.

Big business

Selling AV products requires effort, but complex installations can be lucrative for even the non-AV specialists because the technology is becoming easier and standardised.

And there is always the chance that the reseller could meet the next wealthy individual prepared to shell out £100,000 for a giant 108in display from Sharp. "They were on display in Harrods but are now available through Psco distribution," says Sharp's Sheldrake. "We have sold single numbers to sites with large meeting rooms and auditoria, as well as global consumers."


MicroScope+
Content
Find more MicroScope+ content and other member only offers, here.
Read more on Sales and Customer Management