In depth: Lessons from BETT 2010
Heavy snow, icy pavements and frozen roads only heightened the buzz at last month's BETT show at London's Olympia. The world's largest annual technology in education show, the event had 750 exhibitors - 50 more than the previous year - and attracted Google as a sponsor.

Download this free guide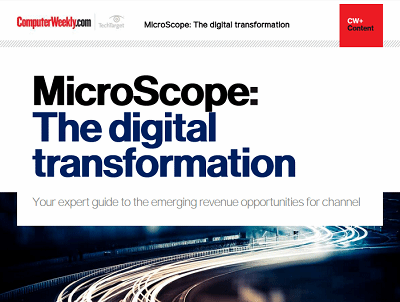 Emerging revenue opportunities for the channel with digital transformation
Digital transformation is a phrase that means many things to many people but for it to have any real relevance to the channel then it needs to mean a chance to make money. This guide will share some of the recent developments in the channel and the latest thoughts about the issue.

By submitting your personal information, you agree that TechTarget and its partners may contact you regarding relevant content, products and special offers.

You also agree that your personal information may be transferred and processed in the United States, and that you have read and agree to the Terms of Use and the Privacy Policy.



Heavy snow, icy pavements and frozen roads only heightened the buzz at last month's BETT show at London's Olympia. The world's largest annual technology in education show, the event had 750 exhibitors - 50 more than the previous year - and attracted Google as a sponsor.

For the first time in several years, there were suggestions at the show that schools' IT budgets are to be cut.

In its annual technology outlook survey, the British Educational Suppliers Association (BESA) noted that the average ICT budget for primary schools in 2010 is expected to be £13,380, compared with £15,850 in 2009, and in secondary schools it will fall from an average of £68,000 to £62,970. A survey by educational technology supplier The Stone Group found that 82% of schools expect budget cuts this year.

Exhibitors were on the whole putting a brave face on the prospect of reducing funds for their goods and services, pointing out that other reports suggest that schools have been guarding their IT funds, and may be encouraged to spend it quickly before the end of March, giving rise to a mini bubble IT sales to schools.

In any case, suppliers in the market know that there is still a large sum of funding to play for - BESA predicts that in 2010/11 UK primary and secondary schools will spend £556m on ICT, just £30m less than the £586m spent in 2009.

Around the world, spending on educational IT is big business - Intel, which last year launched its range of portable Classmate PCs for education, said it had since sold two million devices, many of them through large one-off government-backed schemes. Portugal, for example, distributed 500,000 Intel Classmates to primary schools last year, subsidising the purchases with the proceeds of an auction of 3G licences to telecoms providers.

A survey sponsored by Intel, which interviewed teachers in 15 countries, found that technology improved pupils' interest in learning, and that teachers backed its introduction in the classroom.

"There has been a perception in government and among the public that teachers are not ready to introduce technology, and have taught in the same way for 100 years," said Lila Ibrahim, Intel's general manger for emerging markets. "We were excited to learn that teachers are interested in bringing technology into the classroom."

On the floor of the show, vendors said they hoped that Windows 7 would give sales executives a new reason to persuade schools and colleges to upgrade or replace their XP-based machines, while schools were keen to look at virtualisation products that would allow them to cut the administration and energy costs of running IT.

Web-based platforms
Web-based platforms that allow parents to log on to schools' pupil administration systems were also popular, encouraged by government policy.
Capita, for example, which sells software and services to 22,000 schools and 150 local authorities, demonstrated a new range of self-service tools that allow parents to report their children's absence online, update their contact details and check children's homework.

Serco, a major supplier of outsourcing to the public sector, was promoting its Progresso web-based software, which allows local authorities and primary schools to view the same pupil data and, like Capita, to encourage parents to view their children's progress online.

The government hopes that families with low incomes will benefit from its new Home Access scheme, a £300m project to provide laptops and broadband access to disadvantaged families. Some 270,000 families are expected to benefit from the Home Access scheme, which will be administered by five suppliers, including Centerprise International, Positive IT Solutions and RM Education.

"Research from Becta has shown that if children have access to a laptop at home, it can lead to a two-grade improvement at GCSE," said Vernon Coaker, minister of state for schools and learners. "And I believe that the national roll out of our Home Access programme will help those students where deprivation and low attainment are entrenched through generations to realise their potential."

Home Access is not the first computer scheme for families promoted by the government - in March 2006 the government pulled its successful, seven-year-old Home Computing Initiative, which allowed families to buy home computers through a payroll scheme run by employers. Several IT companies found themselves without a business after the government concession for employees disappeared in the last Budget.

The education market was similarly rocked last year when problems sprung up with the Building Schools for the Future programme, which left further education colleges unable to continue with new building projects worth millions of pounds.

"The lesson for the channel is that these things happen," said Graham Wylie, Steljes' group product marketing director, who said the company had not lost money as a result of the collapse.

"We had to work closely with reseller partners and colleges that had started the process to provide them with a level of continuity. A lot of those organisations have now secured alternative funding. Quite clearly there are some projects that will not go ahead as planned."

Wylie said he had noted concerns about cuts to education budgets in general, but schools are still spending.

"If there is a change of government, we are starting to see subtle nuances in the way money might be spent - there appears to be less emphasis on architecture and buildings and more on teaching and learning. That works well from a technology point of view," he said.

At the BETT show Steljes promoted its Smart685IX, an interactive whiteboard and short throw projector, as well as announcing a cut in the price of its handheld Response System.

"We think that Response Systems will be a significant growth category in 2010. When we launched these classroom systems they cost £1,800. We have reduced the price of a 32-handset system to £599. Smart software allows the handset to integrate with other devices in the classroom," said Wylie.

Microsoft
Ray Flemming, Microsoft's education marketing manager, said a dozen UK schools had rolled out Windows 7 before its official launch, taking advantage of volume licensing arrangements, and educational establishments were keen to exploit the power saving features in the operating system.

"We reckon that a typical secondary school can save £10,000 a year on its electricity bill with the help of Windows 7," he said. "It has much more aggressive power saving modes, as well as a group policy mode which allows a system administrator to make changes to 300 linked machines from a management console, rather than going to each machine individually, as they do with XP."

Flemming said running and electricity costs can be reduced through the use of virtualisation - in one secondary school in Wootton Bassett the school's IT manager has cut the number of physical servers from 13 to three, running 10 servers as virtual devices. He claimed the school saved £18,000 on electricity costs, £5,600 on support contracts and £24,000 through not having to buy new servers.

Another Microsoft service, Live@edu, offers schools free hosted e-mail and Office Outlook applications, with SharePoint set to be offered later this year.
These savings are attractive to deputy heads looking at IT strategy for a school, said Flemming, adding that the loss of hardware and support contracts did not represent a loss of business for the channel. "We know that several specialist educational VARs are finding new service revenues in schools. Some, for example, are integrating Live@edu services with identity management software run in the school," he said.

Interactive whiteboards
More traditional sales wins continue to underpin the educational technology market. Promethean, for example, recently won a £150,000 order to equip Walsall College with 100 Activ Classroom suites, selling in a mixture of 78-, 87- and 95-inch interactive white boards. It also persuaded Southampton City Council to equip 77 primary and secondary schools with a Promethean learning response system in a deal also worth £150,000.

"We think there are more of these sized deals around," said Ian Curtis, Promethean head of UK and Ireland. He noted, however, that the sales cycle for very large deals can be as long as three years, especially if they involve a completely new building.

The interactive white board market still forms 70% of the company's ­revenues, said Curtis, but response systems and visualisers are an increasingly important part of the company's growth plans. The company launched its first visualiser, the Acti­View 322, at BETT. Promethean hopes that its sales will follow visualiser market forecasts from FutureSource Consulting, which suggest UK market growth of more than 50%.

Promethean was also promoting its Activ Inspire software, available as a free download in its basic form, or at £299 for its professional version, which allows screen and sound recording, as well as handwriting recognition. "We have begun to see instances of schools taking our software and running it on competitors' boards," said ­Curtis.

LG exhibited at BETT for the first time this year, keen to develop sales to education as part of a new business-to-business marketing initiative. Barry Guy, general manager for business solutions, admitted that LG had no previous experience of the educational sector, but was confident that its new range of educational products would allow the company to build a credible presence in the market. Guy left NEC in November, where he was head of large-format displays.

"The network monitors we are launching at BETT have been designed for education," he said. "We think that power consumption and ongoing services costs are two of the biggest issues facing education today. With the LG network monitor we can remove 10 PCs for every 10 monitors."

Guy said he hoped to sell 5,000, 19-inch units this year. Among the other monitors on the LG stand were a 3D, 42-inch model, and the M3800S, a stretched model designed for displaying school administration messages overhead in corridors.

Thin client
Wyse, which Guy said is the company to beat in the thin client area, launched its X90CW, a thin client mobile device, as well as WSM 3.0, the latest version of its centralised, multimedia streaming software.

"We are seeing more and more schools and colleges saying they need PC functionality but don't want to live with PCs as they are too painful in a classroom environment, are hard to manage, and are easily broken," said David Angwin, director of marketing at Wyse.

Chris Hamman, managing director at Pano Logic, who until last October was regional director of VMware, is another desktop virtualisation enthusiast. He said Pano Logic was at BETT to promote the experience of its US educational customers, who had found that deploying its zero client devices had reduced energy and administration costs significantly.

"Our device draws next to no power - just three watts - compared with a thin client device that typically uses 8 to 18 watts. It sits on virtualisation back-end server software from VMware," he said.

Education resellers who work to introduce the product into UK schools are likely to find that although a single Pano device is not very expensive - it retails for $329 - it will usually bring in additional sales of VMware licences and other services, according to the vendor.

Cabling
Another company hoping to persuade resellers that infrastructure sales into education are worth pursuing was Cables To Go. Although the increasing adoption of wireless technology should mean a reduction in cabling sales, Bill Diederich, president of Cables To Go, said cabling prospects continued to flourish in UK schools and colleges.

"We have watched the proliferation of wireless with a jaundiced eye, expecting it to reduce our opportunities, but as wireless grows, wired continues to grow alongside it," he said.

Although some new buildings were specified with the latest HDMI standard in mind, there was continued demand for VGA and USB cabling, said Diederich. And he added that although educational establishments would fight hard to negotiate the best deal on PCs or laptops, they frequently had little idea of what to pay for cabling.

"Cabling is price-sensitive, but not in the single-digit margins that hardware resellers are used to. Cabling gives resellers the opportunity to get some margin back into the deal," said Diederich.

Deals are there to be had in the education market - but they may be about to become a lot harder to close if the funding for technology begins to erode as expected.

MicroScope+
Content
Find more MicroScope+ content and other member only offers, here.