In-depth: Clouds on the horizon
Cloud computing has been one of the hottest topics over the past few years. Cloud conferences fill expo centres and hotels across the world.

Download this free guide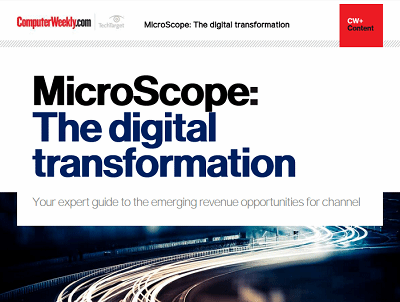 Emerging revenue opportunities for the channel with digital transformation
Digital transformation is a phrase that means many things to many people but for it to have any real relevance to the channel then it needs to mean a chance to make money. This guide will share some of the recent developments in the channel and the latest thoughts about the issue.

By submitting your personal information, you agree that TechTarget and its partners may contact you regarding relevant content, products and special offers.

You also agree that your personal information may be transferred and processed in the United States, and that you have read and agree to the Terms of Use and the Privacy Policy.

by Linda Endersby

Cloud computing has been one of the hottest topics over the past few years. Cloud conferences fill expo centres and hotels across the world. Press announcements are made almost daily by the major technology vendors of new investments and software, which will make it easier to migrate our services to "the cloud".

But what is the reality? Is it really so easy? Are the offerings trusted and embraced by organisations on the ground?

Industry research and mainstream analysis are predicting substantial growth in the area, with recent findings by IDC showing that cloud IT services are currently worth £10.7bn globally, and estimated to grow to about £27bn by 2013.

Forrester recommends that "application developers should embrace cloud computing platforms in 2010, because it will speed delivery of custom applications and is well suited to web apps".

However, while advising that embracing cloud technology where possible is something CIOs should be considering, there seems to be a collective view that investment in the private cloud is both more likely and more advisable while the public cloud offerings mature.

IDC predicts that "private clouds will become increasingly important to enterprises in 2010, and the next three years will see fundamental changes within the information and communications technology market as more users consistently adopt externally sourced services from cloud or managed service providers".

According to Gartner, "private cloud services will be a stepping stone to future public cloud services and, over time, will span both private and public cloud resources in a
hybrid manner".

The analyst firm adds that "investments in private cloud computing will prepare the enterprise for public cloud computing... investments in not just technology changes but process cultural and business interfaces changes... which potentially make for an easier transition to public clouds later on".


Overhyped technology?
So are these predictions reflected when talking to businesses about thetransition? There are those who believe that cloud computing is not thegreat revolution for which the hype makes claim, and that intranetswithin large organisations already embrace the ideals of the cloud
offerings.

There are those, too, who believe their specific business needs may betoo restrictive to work with the applications and platforms available.The biggest issues for many are the security implications of moving topublic clouds and external, perhaps overseas storage, and if that isnever going to be suitable for their business, why invest now in aprivate cloud in
readiness for an uncertain future?

A survey by Commvault of 535 companies of all sizes echoes theseconcerns, with 75% expressing qualms about moving to a cloud storagemodel. Security and privacy were the greatest concerns, with 30% ofparticipants citing them as their number one issue.

AT Kearney, too, says the main barriers for its clients centre on datasecurity concerns, but also the loss of power of the IT organisationand a lack of internal readiness.

Those offering cloud services are quick to allay such fears. KeithGnagey, managing director, EMEA, and vice president of the WorldwideProServ Business Unit at i365, a Seagate company and on-premise andcloud connected storage provider, says, "None of these issues are newissues in the IT world; they have surfaced and been addressed throughmany iterations of technology. Data loss can occur within enterprises,within datacentres; it always has - it is not a cloud-specific problem.It's the same with encryption keys - ever tried to get data from anarchive?

"We have been providing cloud storage for 12 years and we believe thatexperience is paramount to being able to provide a reliable andaccessible storage solution. We approach cloud storage as a logicalevolution of storage technology, with our security hats on to ensurecustomers are offered the best possible services while ensuringbusiness continuity."

Peter Bauer, CEO of Mimecast, says investment in software-as-a-service(SaaS) email is on the increase. Over the past three years customerstorage has almost doubled, with the average company now storing inexcess of 70GB a year. Mimecast expects this to double again this yearas more organisations begin to store their email data within a unifiedemail management SaaS model.

To show increasing confidence in the security area, Mimecast refers tothe legal sector leading the way in adoption of SaaS email: "The factthat so many of these inherently risk-averse firms are entrustingcritical email to SaaS providers... speaks volumes about the reliabilityand robustness of the technology."

As Atos Origin launched its cloud services solution, Atos Sphere, inJanuary, it offered "a range of cloud infrastructure services hosted inits own datacentres and taking on board all security featuresrecognised as a key asset of Atos Origin".

The company echoed Gartner and IDC research by giving clients a choice"between private cloud, to get access to the flexibility and thescalability of cloud technologies while still maintaining a dedicatedand well-defined hardware platform; and shared cloud to take advantagefrom full resource sharing benefits", allowing that stepping-stoneapproach to iron out any concerns.

At Microsoft's November launch of Windows Azure and SQL Azure, the core elements of the vendor's cloud services, the emphasis was on the ease of development for the next-generation application model utilising the cloud.

Bob Muglia, president of the server and tools business at Microsoft,described the key investments as enabling developers to moveapplications to the private, hosted and public clouds, enhancing themwith additional services and transforming them to take full advantagesunique to cloud computing.

Drivers for adoption
Of course, data security, suitability for the business model and lossof power within the organisation are significant barriers to adoptingthe strategy.

However, the drivers are cited as cost and increasing storage volume.While some investment is necessary to ready a business, the promised reduction in total cost of ownership resulting from decreased hardwarecapital expenses, reduced datacentre footprints and the opportunitiesto leverage flexible pricing models is encouraging many CIOs to lookfurther at the possibilities. The cost of growing data volume and theideals of off-site storage as well as the increased disaster recoveryoptions are also major contributing factors.

In the Commvault survey, only 17% of respondents cited start-up costs as a barrier to moving forward.

IDC insists that following the financial turmoil of 2009, CIOs had toevaluate new service delivery and pricing models, with a focus ondecapitalising IT in the face of resulting budget constraints.

"As a result, the financial model of the cloud became more attractive,"said the research firm. "This has set the scene for the shift fromtraditional enterprise hardware and software vendors to the servicesplayers, particularly in cloud services. In 2010, organisations thatcan successfully integrate these new models into their existingtechnology architecture and roadmaps will be best placed to ride therecovery wave."

Andy Burton, CEO of Fasthosts, says, "With budgets tight and access tocapital difficult, investment in IT for many businesses has beenfrozen, if not in decline. This has naturally led many organisations toconsider the efficiency savings that cloud-based services afford byenabling them to partner with a service provider to deliver baseline services, while freeing up stretched IT personnel to focus on delivering competitive edge and agility."

With many taking on board this advice (the Commvault survey showed more than half of respondents areconsidering utilising cloud services now or in the future), there is ahuge melting pot of vendors offering the software and/or consultancyfor building cloud platforms and applications, those offering completehosting packages for infrastructure as a service (IaaS) or SaaS, andthose offering a seamless transition to the cloud for your ownapplications.

As with all IT providers, the challenge is to provide transparency andclarity to encourage interest and gain trust. Selecting any provider isa long and arduous process in such a market, with an overwhelmingvolume
of information.

Burton is chairman of the Cloud Industry Forum (CIF). In December 2009, he spoke about the benefits of a code of conduct.

"CIF is still a new organisation but its aspirations are clear andrelevant," he said. "We aim to assist customer choice and confidence inthe use of online services by providing transparency around theoperation, governance and professional conduct of the businesses behind the services offered."

Pioneering approach
While there is understandable caution and a tendency to wait for offerings to mature and bodies such as CIF to help withstandardisation, there are notable exceptions, with someimplementations already underway.

AT Kearney reports that one of its industrial services clients is inthe process of rolling out Google Apps globally, with a large number ofusers already migrated, while a consumer goods client is planning tomigrate its desktop to Microsoft Azure this year.

In the US, at Microsoft's launch of Azure, Kelly Blue Book, the vehicleconsumer information company, stated that the Windows Azure platformenables it to provide the right environment for consumers searching forvehicles, providing them with the most up-to-date information needed tomake informed purchasing decisions, regardless of whether 10 or 10,000users are on the site at the same time.

The uptake of SaaS email and out-of-the-box CRM solutions seem highest, with Mimecast and Saaspointciting several successful implementations, with companies such asPlantronics, Thomas Eggar, Lewis Silkin and International Asset Systemsproviding evidence of the benefits they have received.

Meanwhile Citrix forecasts that 50% of its channel partners will have some form of cloud offering by the end of 2010.

But what of the majority who are still assessing the technology?

Tom Bittman, vice president of Gartner, admits that every business -indeed every service - will have its own roadmap for the future. "Someshould be focused on tighter integration, intimacy customisation anddifferentiation for the business", making them clearly more destinedfor private cloud investment for the long term, if at all, while others"should be focused on independence, easy interfaces, standardisationand eliminated customisation" and therefore future public cloudcandidates.

To make such choices, Bittman says large organisations will need tocreate dynamic sourcing teams that make day-to-day decisions aboutsourcing. These teams will orchestrate the services in the cloud tomeet the business requirements and therefore will need to be bothbusiness and technology savvy.

Smaller businesses are unlikely to have these skills or resources. Instead they will use resellers that will take responsibility for the service level requirements within the business, likely to be skilled in specificindustries and having deeper knowledge of the cloud market to find thebest deals and keep costs as low as possible.

Forrester too advises that IT shops start learning what cloud computing holds for their development organisation, and then formulate a strategy to put this new generation of platforms to work. IT organisations are beingexpected to do more with less and less. As they look to implement lean principles, embracing the cloud should be at the top of the list of changes that Forrester recommends for this year.

So despite the hype and the promises, it seems there is still some wayto go until we reach a true, market-wide hybrid of existing technologywith private clouds.

It also seems we are years away from the shift to the public cloud fora wide spread of services, despite email as a service and some CRM andmarketing areas testing the water with some success.

However, with IT costs under greater scrutiny than ever, chiefinformation officers should be doing more than simply contemplating if,indeed how, a future in the clouds will work for them.

MicroScope+
Content
Find more MicroScope+ content and other member only offers, here.
Read more on Cloud Platforms