Analysis: Can SAP rise to the SaaS challenge?
SAP reported poor third quarter results last month as attendees of its TechEd summit in Vienna saw a company at pains to show how it plans to reinvent itself and stave off the many challenges to its once unrivalled position in the enterprise. It was a fitting location.

Download this free guide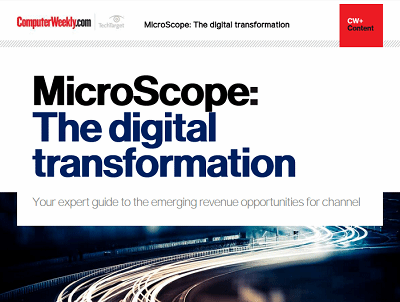 Emerging revenue opportunities for the channel with digital transformation
Digital transformation is a phrase that means many things to many people but for it to have any real relevance to the channel then it needs to mean a chance to make money. This guide will share some of the recent developments in the channel and the latest thoughts about the issue.

By submitting your personal information, you agree that TechTarget and its partners may contact you regarding relevant content, products and special offers.

You also agree that your personal information may be transferred and processed in the United States, and that you have read and agree to the Terms of Use and the Privacy Policy.



SAP reported poor third quarter results last month as attendees of its TechEd summit in Vienna saw a company at pains to show how it plans to reinvent itself and stave off the many challenges to its once unrivalled position in the enterprise.

It was a fitting location. Once the capital of one of Europe's great empires, Vienna is now an important historical footnote. And with such stark financial evidence of SAP's waning influence, many were starting to mutter whether the German software maker may be headed the same way.

The company delivered below expectations, reporting a drop in total revenues for the third quarter of €300m (£265m). Software revenues alone fell 31% to €525m, while professional services revenue dipped 25% to €564m. SAP also adjusted its software sales forecast for 2009, saying that it expects revenues to fall by 6-8%. The company's share price took a battering on the news.

Only six months after the departure of joint CEO Henning Kagermann, Leo Apotheker offered a positive slant to the financials and poor outlook by saying that SAP's volume business was improving. By volume business, he means the SME end of the market, which is where the company knows it needs to make headway if it is to return to growth.

Software sales slump

And as recession-weary companies deepen their aversion to large and expensive software roll-outs, competition in this area from enterprise players such as Oracle is intensifying, while the likes of Salesforce.com and Netsuite continue to inspire cheeky start-ups which recognise the opportunities for selling business applications via the web.

A recent survey conducted by a UK SAP user group revealed growing concerns about the time and cost needed to upgrade SAP enterprise software, with many users indicating they would be delaying the process. Only 35% of UK user organisations surveyed said they had moved to SAP ECC 6.0, the latest version of the software.

SAP's acquisition of Business Objects two years ago was seen as an important addition to the company's technology portfolio. Business Objects is about affordable, flexible business intelligence solutions for SMEs and the company has done a good job of getting the story out in the market.

Braced for change

Analysts note, however, that there is still a major piece of the puzzle missing, and it would seem that there is a sense of urgency at SAP to find it.
Keen to show that the company is bracing for change, executive board member Jim Hagemann Snabe remarked at TechEd that the traditional relational database may soon be a thing of the past – a big statement for a company which is virtually founded on the technology.

SAP's recently announced partnership with Teradata helps to explain the rationale. Teradata specialises in so-called in-memory data analytics, which eliminates disc access by storing and manipulating data in the main memory without the need for caching. SAP is working on similar projects with renowned Berlin-based technology think-tank Handelsplatt.

SaaS strategy

But this revolution is some way off. What investors and analysts really want to hear from SAP is a coherent strategy for software as a service, or subscription-based offerings, which is where the market is heading.

SAP's first, yet somewhat belated, attempt at this came two years ago in the form of Business ByDesign. Touted by the company as a billion-dollar concern with potential for 10,000 customers next year, it has since been scaled back dramatically and appears to be floundering.

And nothing that was said in Vienna indicated that much had changed. One analyst at TechEd described SAP as being "in a bit of a holding pattern". To be fair, SAP has shown that it does want to hang with the cool kids, for instance announcing recently that it is working to develop applications based on Google's new Wave communications application.

Acquisitive rival

Nothing to worry SAP's main rival Oracle, whose recent financial results were in stark contrast to the German company, indicating that it is making real ground in key and emerging markets. It is also about to acquire Sun Microsystems – a move seen as both bold and astute, not to mention bad news for SAP.

SAP derives almost 10% of its total software sales from bundling arrangements with Sun hardware. But more worrying for the company is the prospect of a united Oracle and Sun taking over control of the Java platform, upon which much of SAP's technology depends. The two companies have also made clear their intentions to go hard for the small end of the market.

These are trying times for SAP. Besides needing to do something clever – and soon – with its technology roadmap, the company also needs to ingratiate itself with the channel to improve its chances of winning the hearts and minds of more frugal clients in the future.

Signs of success

But it is making moves in the right direction. In August, SAP announced that it had successfully moved all its software solution partners to its PartnerEdge programme and is ready to ramp up provision of new tools and services to its partner network. It has also put out a call for new partners, even using social networking sites such as LinkedIn to recruit capable consultants.

But it is going to take more than a spot of twittering for SAP to emerge from these dark times.

Of course it could, and no doubt has, considered doing what Oracle has done and find a large friend to partner with. For years, Microsoft has tried to bust into the enterprise market with very little success.

CEO Steve Ballmer recently rejected persistent rumours that he was looking at buying SAP, but the recently exposed vulnerabilities of the German company could make it both an appealing and willing partner.

It would certainly be one way for SAP to reach the channel.

MicroScope+
Content
Find more MicroScope+ content and other member only offers, here.
Read more on Business Intelligence Tools and Services