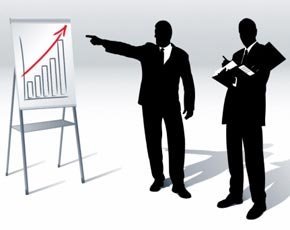 In this Accenture supplier profile you will find a special nine page report from Computer Weekly analysing the challenges facing Accenture, along with figures about its financial performance, the services it offers, its place in the market and what the future may hold for the supplier.
You will also find up to date news and tips on Accenture in addition to further Accenture resources and whitepapers from TechTarget's research library.
Overview of Accenture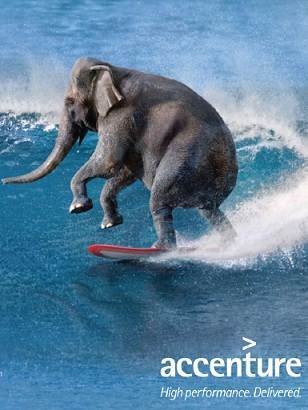 Accenture's $20bn business grew out of Arthur Andersen, one of the top five accounting firms, some 20 years ago. Arthur Andersen set up Andersen Consulting as its IT consulting and systems integration arm in 1989.
Both operated as groups of independent partnership, under contract to a Swiss holding company, Andersen Worldwide Societe Cooperative (AWSC). Andersen Consulting expanded quickly and within a decade had annual revenues greater than $9.5bn and a staff of 700,000 people worldwide.
Tensions between Andersen Consulting and Arthur Andersen grew as Andersen Consulting expanded and overtook its parent organisation. Andersen Consulting resented paying up to 15% of its profits to Arthur Andersen. It was also unhappy that Arthur Andersen had set up its own computing consultancy operation, Arthur Andersen Business Consulting.
In 1998 the dispute reached a climax when Andersen Consulting claimed breach of contract against AWSC and Arthur Andersen. The two companies spilt after an arbitration decision by the international Chamber of Commerce. Andersen Consulting paid $1.2bn to Arthur Andersen, and changed its name to Accenture in January 2001.
Accenture abandoned its formal partnership and became a public limited company listing on New Year Stock Exchange later that year. The company switched its place of incorporation from the tax haven of Bermuda to Ireland, citing the helpful legal and tax regime in the country.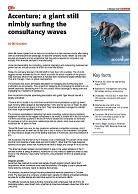 This special nine-page report from Computer Weekly analyses the challenges facing Accenture, its financial performance, the services it offers, its place in the IT market and its future strategy. Packed with graphs and diagrams, the report is essential reading for any organisation already working with, or thinking of working with, Accenture
Click here to download the report.
See all research from ComputerWeekly.com
Key Facts about Accenture
• Revenue: $21.58bn for the year ending 2009.
• Specialisms: Management consulting, technology services, outsourcing.
• Employees: 190,000 plus, in more than 120 countries including 4,500 senior executives.
• Customers: 96 of the Fortune Global 100 firms and three-quarters of the Fortune Global 500 firms.
• History: Began trading as Andersen Consulting 1989. Became Accenture in 2001.
London Offices
20 Old Bailey
London
EC4M 3BD
Tel: +44 (020) 7844 4000
Fax: +44 (0) 20 7844 4444

More on Accenture from the TechTarget network
• IBM, Accenture top SAP implementation partner rankings, but smaller SIs strong
• Accenture enhances self-service portal with "natural language" rules engine
• NetApp, Accenture combine for cloud storage, data centre optimisation
• Accenture, Detica: Big data to drive business, trigger privacy concerns
More on Accenture from ComputerWeekly.com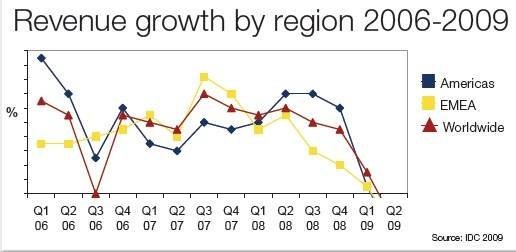 Accenture whitepapers from TechTarget's research library
• Accenture Technology Vision 2012
• The future of Government operations: Digital citizen survey
• Cloud: Scaling to succeed in new business models
• European cross-border e-commerce
See all TechTarget research and whitepapers at BitPipe.com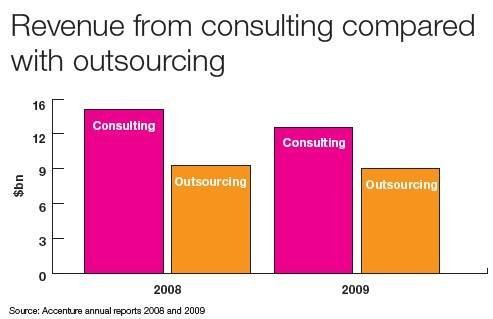 Key executives at Accenture
Key executives
Chairman and CEO – William D Green
Chief operating officer – Jo Deblaere
Chief financial officer Pamela J Craig
Key UK executives
Managing director – David Thomlinson
Technology – Jeremy Oates
Management Consulting – David Mann
Business Process outsourcing – Mark Beaton
Health and public service – mark Lyons
Financial services – Sushi Saluja
Resources – Omar Abbosh
Products – Alex Chritou
Communications and high tech – Mattias Lewren
Human Captial and diversity lead for the UK and Ireland – Ismail Amla
Key UK customers

• Alliance and Leicester
• Argos
• BAE Systems
• Barclays
• Boots
• BP
• British Sky Broadcasting (BSkyB)
• BT
• Carlsberg UK
• Compass Group
• DHL Excel Supply Chain
• Dixons
• European Bank
• Ireland Office of the Civil Service
• ITV
• Jessops
• Leading UK financial services group
• Littlewoods
• London Stock Exchange
• National Grid
• Network Rail
• Orange UK
• Oxfam UK
• Peugeot
• Prudential UK
• QinetiQ
• Revenue Ireland
• Royal and SunAlliance
• Royal Shakespeare Company
• Sainsbury's
• Seeboard
• Simplifying Passenger Travel Interest Group
• Talisman Energy UK
• Thomas Cook UK and Ireland
• UK Department for Work and Pensions
• UK Government
• UK Ministry of Justice
• Unilever
• Virgin Media
• Vodafone
• Volvo Construction Equipment
• Xelector
Accenture videos from the TechTarget video library
Accenture revenue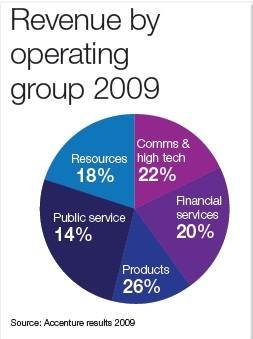 Latest announcements from Accenture