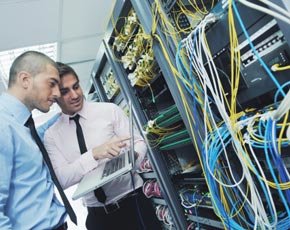 iSCSI storage area networks have been around for more than a decade now. They originally arose as a cut-price alternative for smaller organisations that needed block storage but couldn't run to the cost and complexity of Fibre Channel.
For some time they were the SME-targeted little brother to market leader Fibre Channel in terms of performance and reliability. But, iSCSI SAN products are now a fully-featured part of most storage array maker's product ranges and with the speed of 10Gbps Ethernet and careful network design can be the equal of Fibre Channel.
This ComputerWeekly.com guide walks you through the basics of iSCSI SANs, iSCSI SAN implementation, iSCSI and virtualisation and iSCSI networks, switching and security.
iSCSI SAN fundamentals
iSCSI SAN: Reliable shared storage without Fibre Channel's costs
The iSCSI SAN is a block-level shared-storage alternative to Fibre Channel that is becoming increasingly popular among SME organisations.
iSCSI storage area networks explained
One of the reasons iSCSI SANs are popular for smaller businesses that often have fewer staff members with technical expertise is because they are easy to set up and maintain compared to Fibre Channel SANs. In this article, learn about the features of iSCSI storage area networks.
Fibre Channel SAN drops in buying intention survey; iSCSI SANs make gains
FC SAN loses the title of top overall storage platform choice in our Purchasing Intentions survey, yet it still leads in the server virtualisation space. iSCSI SANs, meanwhile, continue to make gains in market share.
Fibre Channel vs. iSCSI
There are a many misconceptions about Fibre Channel and iSCSI SAN technologies. This article clears up some of the most common misconceptions about Fibre Channel vs. iSCSI SANs and also helps you choose which technology is best suited for your environment.
More on storage from Computer Weekly