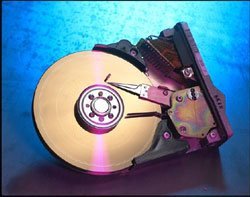 This guide has been designed to help storage managers with their storage software and hardware decisions. It contains information on managing, implementing and maintaining storage technologies to help IT professionals with their storage software and hardware purchases.
This guide to buying storage hardware and software covers hard disks, tape drives, disk storage, and virtual storage.
Hard disks
A hard disk stores and provides access to large amounts of data. The data is stored on an electrometrically charged surface and recorded in concentric circles. The storage of the data is referred to as different tracks within a set of stacked disks.
Laptops remotely wiped and tracked at Camden Borough Council
automated alerts let the IT manager know when the user's hard drive is becoming full. When free space drops below 10% the user can be contacted about an assessment and maintenance.
How to manage Virtual Hard Disk data with encapsulation
If you think encapsulating Virtual Hard Disk data is the best way to manage Hyper-V storage, pass-through disks might be an easier option for you. Find out how pass-through disks can backup and restore huge VHD files.
A how-to on Hard-disk erasure: HDDerase and Secure Erase
Learn the importance of correctly sanitising a drive, in order for all sensitive electronic data to be destroyed.
If hard disk drive areal density is limited, how much further can a spinning disk go?
A hard disk is limited by the number of edges and transitions between states, so we take a look at how much further a spinning disk can go.
How to justify the cost of a solid-state drive (SSD)
We put solid-state drives up against hard disk drives and work out the best use cases for SSDs. Learn why applications, designed to impact revenue, are a perfect fit.
Tape drives
A tape drive is designed to store computer data on a magnetic tape. This is typically used for backup and archiving. A tape drive works on the same basis as a tape recorder, in the fact that both record data on a loop of flexible material. This data can be read and erased from the tape drive. Recording and playback is recorded in two different ways onto a hard drive – either through a helical scan, where the tape's heads touch the tape or through linear tape technology where the head never touches the tape.
Personal data of 34,000 customers misplaced by Morgan Stanley
Morgan Stanley's compact disks went missing, with the details of 34,000 customers on them. The password protected but not encrypted disks disappeared whilst in transit.
Bid of £2.6 billion for Hitachi Global Storage Technologies from Western Digital
Tape drive vendor Western Digitaloffered a bid of £2.6 billion to purchase Hitachi Global Storage Technologies. The bid saw an end to the Japanese HDD vendor's previous preparations for an IPO.
Is mainframe tape backup: out dated nowadays?
According to this systems integrator, the UK will start to abandon its out dated 1980s-style backup technologies soon.
Why firms are avoiding encryption on backup tapes and databases
Companies are ignoring database and tape encryption due to cost and complexity, according the results of this survey.
Zurich receives data breach fine
After Zurich Insurance UK outsourced some of its customer data to Zurich Insurance Company South Africa Ltd, the company had to admit to the loss of 46,000 records during a routine tape transfer. The unencrypted back-up tape was lost in August 2008, and as a result Zurich Insurance Plc was forced to pay a recording fine.
A technical guide to your tape backup
If you don't believe tape is dead, here's a guide to how best use the technology for backup.
Disk storage
Disk storage refers to data that is recorded on a surface layer. The data is stored and recorded by electronic, optical and magnetic methods. As it is recorded the data lays across one, or sometimes, several round rotating platters.
Why folder and file encryption isn't as safe as full disk encryption
How to ensure that a lost corporate laptop doesn't cause a data breach. Full disk encryption vs. file and folder encryption – which one is safest and easiest to use?
European storage budgets remain low
Storage budgets continue to shrink with the most having to be spent on disk systems, according to SearchStorage.co.UK's Purchasing Intentions survey.
Head to head: Tape archive vs disk archive
At EMC World the vendor's message was "tape sucks," however several other vendors still claim tape is necessary. Find out which one is best.
The cost of disks cut by Compellent Data Progression: Radiology company case study
Read how Compellent's Data Progression software expanded data storage through to cheaper tier 3 and SATA disks save this radiology firm cash to spend elsewhere.
How to conquer virtual desktop I/O bottlenecks
Learn how to tackle virtual desktop I/O bottlenecks with flash drives and solid state disks (SSD).
Virtual storage
Virtual storage is a reference to memory being extended beyond its main storage. This is extended through to what is called secondary storage and is managed by system software. The way it is managed means programmes still treat this designated storage as if it were main storage.
VMware vSphere and HP 3PAR Utility Storage combine to make HP 3PAR Storage Systems
VMware and 3PAR have combined forces to offer sever virtualisation and virtualised storage. The tier 1 HP 3PAR Storage System is designed for virtual data centre and cloud computing environments.
How data centres have expanded to accommodate a demand for more data storage
Due to an explosion in data, data centres have had to expand to cope with more and more data storage. We take a look at how data centres have coped with this rapid expansion.
Teradata makes a SSD, hard disk and virtual storage cocktail
Teradata uses its Universe show in Barcelona to announced it new Active EDW 6680 data warehouse.
Job overlap: What exactly does a WAN manager do in terms of storage?
There are several areas where a storage manager overlaps with a WAN manager, so find out where job responsibilities overlap for data deduplication, disaster recovery (DR), remote site acceleration and optimisation.
How to implement SAN virtualisation
Best practices on how to implement SAN virtualisation. Find out about storage virtualisation and which products to consider.