Virtualisation: an essential guide
Virtualisation and cloud computing: an essential guide
1. What is virtualisation?
2. Is virtualisation a new phenomenum?
3. So why is there...
This Article Covers
RELATED TOPICS
Virtualisation and cloud computing: an essential guide
1. What is virtualisation?
2. Is virtualisation a new phenomenum?
3. So why is there such a big buzz in the industry about virtualisation?
4. Will I get more life out of my existing hardware?
5. What are the drawbacks then?
6. Who are the main companies?
7. What is the relationship between virtualisation and cloud computing?
8. Where do computing grids fit in?
1. What is virtualisation?
In the context of IT, a virtualised system refers to a way to separate an IT resource such as a network, server or data storage from actual hardware. In server virtualisation, software called a hypervisor sits between the physical hardware and an operating system such as Windows or Linux. The operating system does not need to know the specifics of the hardware, as all direct access is controlled through the hypervisor.

Download this free guide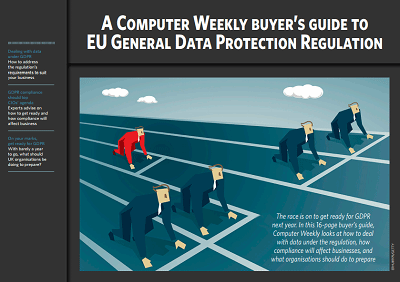 Computer Weekly's Buyer's Guide to GDPR
The race is on to get ready for GDPR next year. Computer Weekly looks at how to deal with data under the regulation, how compliance will affect businesses, and what organisations should do to prepare.
By submitting your personal information, you agree that TechTarget and its partners may contact you regarding relevant content, products and special offers.
You also agree that your personal information may be transferred and processed in the United States, and that you have read and agree to the Terms of Use and the Privacy Policy.
2. Is virtualisation a new phenomenon?
Absolutely not. Logical partitions on mainframe systems - called LPARs, have allowed mainframe users to run multiple applications - known as workloads - simultaneously, without affecting each other.
3. So why is there such a big buzz in the industry about virtualisation?
Virtualisation tackles one of the big problems in modern IT: under-utilisation of servers. Datacentres need to buy servers that are able to cope with peak demand in computational activity. So, for instance, a payroll system, must be able to handle the company's payroll at the end of each month. However, for the rest of the time, the payroll system is just ticking over. This idle time is grossly inefficient. Virtualisation lets datacentre managers use this idle time productively, by enabling the servers to run other applications when they are not busy. Less servers are required, because the existing ones can be used more efficiently, leading to a net reduction in servers in the datacentre through server consolidation. Less servers equates to greater energy efficiency and greater utilisation of existing hardware. This is why open systems server suppliers and PC server manufacturers have now jumped on the bandwagon.
4. If servers are running more efficiently will I get more life out of my existing hardware?
That would be really neat. But how would the industry be able to sell more servers? Server makers will say you need larger servers to run virtualisation. Also, only the latest Intel and AMD processors have been optimised for virtualisation, which may prevent virtualisation software from being run on existing servers.
5. What are the drawbacks of virtualisation?
You will almost certainly need to run a more powerful machine - that means faster processor, more memory and faster I/O bandwidth. Clearly, the faster the server, the greater the performance of applications running in the virtualisation environment. The other sticking point is software licensing. There is no standard way to measure usage of an application running in a virtualised environment. Some software providers will charge licences based on the performance of the whole server box, which can lead to exorbitant licence fees if the application is only running on one or two cores in a multi-core server.
6. Who are the main companies?
VMWare is the market leader with its ESX Server platform. Citrix owns XenServer, which is the second biggest provider of server virtualisation software. Microsoft has now introduced Hyper-V, which is bundled into Windows Server 2008. The Microsoft product is regarded as a major threat to VMWare's dominance. To counter this, VMWare is offering a suite of products dubbed virtual datacentre operating system, which reduces the importance of server operating systems in the datacentre.
7. What is the relationship between virtualisation and cloud computing?
It is becoming increasingly attractive to buy computer resources on-demand - where the hardware does not physically sit in your datacentre. Gartner defines cloud computing as a style of computing in which massively scalable IT-related capabilities are provided "as a service" using internet technologies to multiple external customers. In cloud computing IT resources are accessed from a pool of servers connected via the internet. Virtualisation is a key requirement to prevent one application running in the cloud from interfering with another. For instance, Amazon EC2 uses a virtual computing environment. This virtualisation software allow users to run web service interfaces to requisition machines for use, load them with a custom application environment, manage network access and run the system.
8. Where do computing grids fit in?
Computational grids and virtualisation are often seen as mutually exclusive. In a grid, a particular computational task is split into smaller pieces of work that can run in parallel on low-powered PCs and servers, while virtualisation allows an application to run across multiple processors in a single server or group of servers. While virtualisation is often associated with running a business application in a company's datacentre, grids are associated with number-crunching applications, where the servers and PCs are located on the internet.
Some people allow their spare computational capacity, called CPU cycles, to be used on the grid, when they are not using their PCs. The more servers and PCs that participate on the grid, the quicker, the work can be completed. Seti, the search for extra terrestrial life, is an early example of this approach to computing. Today, the processing power of grids is being used in places like University College London (UCL) where the grid supports the development of medication that could be more effective in the treatment of people with HIV and Cern's Large Hadron Collider (LHC) particle accelerator, where a computational grid is being used to research the origins of the universe.
Read more on Server hardware