Unlimited memory
Although it will undoubtedly bring huge performance benefits, there is a a lot of hype surrounding 64-bit Unix. Frank Booty finds...
This Article Covers
RELATED TOPICS

Download this free guide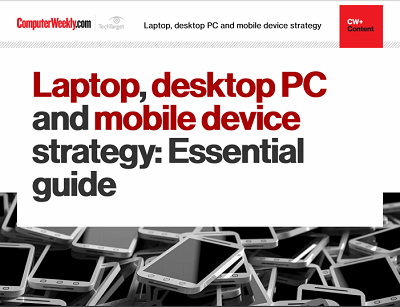 The great debate - to PC or not to PC
IT leaders have greater choice in end-user devices than ever before. The age of PC-only users is over and we have entered the multiple device era. In this guide, you can find best practice, analysis of the latest trends, and expert advice on formulating enterprise strategy in laptops, desktop PCs and mobile devices.

By submitting your personal information, you agree that TechTarget and its partners may contact you regarding relevant content, products and special offers.

You also agree that your personal information may be transferred and processed in the United States, and that you have read and agree to the Terms of Use and the Privacy Policy.

Although it will undoubtedly bring huge performance benefits, there is a a lot of hype surrounding 64-bit Unix. Frank Booty finds out what is really being offered



There are few people not excited by the advantages 64-bit Unix technology brings. Simon Robertson, IBM's northern region RS and pSeries product manager, points to 64-bit integers, large effective address space for bigger memory allocation, larger data structures and buffer pools, greater physical memory for performance and practically unlimited memory support. Reliability, manageability and scalability are all significantly superior to Wintel/Lintel systems, and 64-bit Unix technology is now competing with levels traditionally enjoyed by mainframe users.
Frederic Leonetti, HP EMEA's HP-UX programme manager, says, "64-bit provides performance and scalability gains and also reduces management requirements. The large 64-bit address space allows data to be stored in the main memory, bringing performance increases by reducing the number of disc input/output operations. Because it can make use of the 64-bit architecture of the underlying hardware and operating system, a 64-bit database is more efficient in input/ output and other operations such as memory copies.
"Large databases are easier to manage, due to the elimination of the 2Gbyte file size limit of 32-bit systems, and fewer data files are necessary to build a large database, which makes the database easier to administer."
All the major OEMs are now working on 64-bit Unix, but independent software suppliers are showing caution and will only port to 64-bit if they can see a clear advantage in doing so.
In a Q3 review in mid-December that looked at total Unix revenue for entry-level, mid-range and high-end servers, market analyst IDC found that Hewlett-Packard was running practically neck-and-neck with Sun at 28.5% and 28.8% market share respectively. IBM was in third place with 21%.
The emerging IA-64 Unix category displayed astounding figures, with HP gaining 74% of the market in revenue and 71.6% in units.
However, Mat Keep, Sun's volume server product manager, says, "HP's figures relate to Q3 announcements. Expect the roles to be reversed in Q4, when details of our announcements of Sun Fire V880 and Fire 15K systems are factored in."
Sun points to its overall top position globally in the Unix server market for 18 consecutive quarters. It has also had the greatest revenues for 11 consecutive quarters. Chris Franklin, HP's UK Unix server marketing manager, says, "The main developments in this market are larger addressable memory and speed."
Andy Walker, product marketing manager at Fujitsu-Siemens, sees seven main developments driving the market:

There are larger more cost-effective single-image servers which effectively bring up the low-end from six-way to 16-way systems.
Features are moving more into the mainframe types of functions.
Resource management allows the co-existence of applications on a single server/domain.
Logical partitioning is becoming more available in addition to physical partitioning.
All OEMs are moving up the performance scales at the high-end.
Datacentre consolidation is becoming more accepted as part of lowering the total cost of ownership of an IT operation by significantly reducing operating costs.
More e-oriented environments and applications are being developed.

Walker points out that Solaris is the only Unix supported by more than one major OEM. "All others can be considered to be OEM legacy Unix systems," he says. "Fujitsu-Siemens is committed to Solaris as the long-term strategic operating system for back-end
datacentre processing. Linux is starting to be accepted more at the front-end to present a single, heterogeneous server environment. We provide clustering solutions that cross both operating systems, allowing a flexible, cost-optimised IT infrastructure.
"It is also important to allow more application co-existence to optimise server investments. For that, a system resource manager is needed that allows efficient allocation of processor and memory resources down to application and user levels. Fujitsu-Siemens can provide a full range of machines from a single-processor server to a 128-way database engine."'
Of operating system prerequisites, Robertson says, "Both IBM's Aix v4.3 and v5L have one version of the operating system which runs on both 32-bit and 64-bit hardware." He makes the point that 64-bit applications only run on 64-bit hardware, while 32-bit applications run on both 32-bit and 64-bit hardware. Both 32-bit and 64-bit applications can run concurrently on Aix v4.3 or v5L. "The overheads on this are minimal to the system," he says.
There is still only a limited choice of software available for 64-bit systems. "Independent software suppliers will only port to 64-bit if there is a clear advantage in doing so," explains Walker. "There is some reluctance to re-port applications for the sake of it. Those applications that work efficiently in a 32-bit environment are likely only to be migrated to 64-bit when a major rewrite is undertaken."
However, there are some 13,000 applications capable of running on Sun Ultrasparc - the software is also backwards-binary-compatible. Anything can run on anything in the Sun portfolio. "This policy is continued in our roadmap through to 2006 with Ultrasparc 4/5," says Keep.
Itanium has 400 applications. The current problem in the Intel arena is that to upgrade software applications running on 32-bit Pentium to Itanium results in applications running at a quarter of the speed. That is emulation rather than binary compatibility.
One company to put resources into 64-bit applications is Microsoft, and Unix suppliers can no longer ignore the previously ridiculed chances of Microsoft making it to the core of the enterprise. Large-scale corporate applications are being targeted by the ubiquitous king of the desktop. Commentators are saying "the doze"is being taken out of Windows", with Microsoft rolling out 64-bit versions in XP - Advanced Server Limited Edition followed by Whistler, aka Windows .net, in the summer.

Gartner Group is on record as saying, "The leading server operating systems lag behind the hardware in availability." But will Microsoft's code be able to unseat 64-bit Unix? It is still too early to tell, and there is still an awful lot going for Unix.

Companies developing 64-bit Linux
Sun (UltraSparc 3) Sun offers 64-bit in everything from the sub-£1,000 Netra X1 to the 106-processor Fire 15K. IBM (Power PC) IBM has been selling 64-bit systems for several years. The RS/6000 and pSeries have offered 64-bit hardware since the S70 in 1997. All RS/6000 and pSeries servers, except the 43P-150 and B50, are based on 64-bit technology. Hewlett-packard (PA-Risc, Itanium) All HP's current HP9000 (PA-Risc) servers - PA86 and 8700 series - will be upgradeable to Itanium in the future.

Compaq (Itanium)
Compq's 64-bit Alpha is at the end of its life curve and the company has signed a deal with Intel that will see Itanium chips in all of its 64-bit servers by 2004.