The Big-e impact on Sysman tools
The e-movement has exerted a major influence over systems management tools. We assess developments with special reference to...

Download this free guide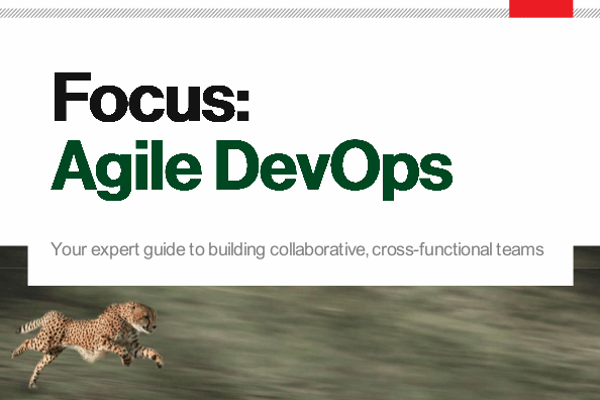 How can your business benefit from DevOps?
Let's take a look at six of the development practices that Disciplined Agile Delivery recommends for disciplined DevOps teams.
By submitting your personal information, you agree that TechTarget and its partners may contact you regarding relevant content, products and special offers.
You also agree that your personal information may be transferred and processed in the United States, and that you have read and agree to the Terms of Use and the Privacy Policy.

The e-movement has exerted a major influence over systems management tools. We assess developments with special reference to Tivoli and Computer Associates' offerings.



Over the last couple of years the leading systems management software suppliers have been rapidly extending their products to meet the demands of e-business. As Jan Lindelow, ceo of IBM's system management subsidiary Tivoli Systems puts it: 'We are moving towards total infrastructure integration, tying e-business applications into the enterprise, both within and beyond the firewall.'

A whole new market has opened up for systems management. As well as their traditional large corporate customers, the suppliers are targeting ISPs, ASPs and Managed Service Providers.

According to a September 2000 Business Wire report, Unicenter TNG was global market leader in 1999, with 23.3 per cent, followed by Tivoli Systems with 17.3 per cent. After that was BMC Software's Patrol (10.6 per cent), and HP OpenView (4.8 per cent). Other surveys make Tivoli the European market leader.

Such umbrella figures conceal the fact that the major suppliers have different strengths. CA and Tivoli are among the leaders in storage management. BMC Patrol is said to have the best integration capabilities when it comes to taking data feeds from other systems management products.

HP claims that Openview is managing 70 per cent of all devices on the internet

In some ways, the big suppliers face a much more complex task than the specialists and start-ups who concentrate on one niche offering. Their new modules must be integrated with existing products. Tivoli's portfolio includes around a hundred management modules, and CA Unicenter's over 80.

As Gartner Group research director Milind Govekar warns, old IT never dies; it doesn't even fade away. It's still there under multiple layers of newer technology. 'So not only do you have to manage MVS and client-server, but internet apps, web servers and wireless devices and access as well.'

Govekar says that in e-business and web management, the traditional systems management suppliers are trailing behind niche players who carry much less historical baggage. They do, however, have the clout, and deep pockets, to acquire the best of the best of breeds.

They also have the advantage of a framework or infrastructure designed to accommodate new or acquired modules though huge libraries of APIs. Tivoli and Unicenter have grown as much though partnership and acquisition as home-grown development. (Tivoli for example includes IBM's Netview, once the near-identical twin of HP Openview.)

As a CA white paper on its framework puts it: 'A basic assumption of the framework paradigm is that over time, most organisations choose hardware and operating systems that are best suited to the tasks at hand, creating a distributed, heterogeneous computing environment. A management framework is layered on top of this hodgepodge of systems and networks in order to provide core integration services. The customer plugs in some combination of management applications that apply to the specific mix of elements requiring management. The existence of a standard framework, with open APIs and a shared user interface, allows the customer to build a cooperative yet customisable environment.'

Positive views of frameworks are not universal. In a report on BMC Patrol published in February, Enterprise Management Associates found that medium-size to large enterprises first invested in systems management framework products, so that they could manage their internal networks. As they begin to deploy their online businesses, they are trying to use those same tools to manage the new systems. Unfortunately, these tools were not originally designed with 24x7, 99.999 per cent uptime, and 4 second response times in mind.

EMA found that virtually all large enterprises have at least one, if not two, framework enterprise management products. 'The complexity of these products means that IT staff must specialise on certain framework products, therefore removing valuable staff members from general systems management,' the EMA analysts write. EMA finds that the dream of consolidating systems management applications is largely unrealised, although they say BMC provides the best environment for this.

Other criticisms address the high cost and lengthy implementation of frameworks. Suppliers marketing material implies that they arrive on a CD, and will work 'out of the box'. The reality, as IDC and others see it, is at least a six figure investment, which for the largest corporations can rise to eight figures. IDC says companies will spend three dollars on services for every dollar spent on software licenses.

No end-user in the world uses the complete Tivoli or Unicenter portfolio, and products need to be selected, customised, and configured. Implementation can run for nine months to two years in the case of large installations, while the world they were introduced to manage is rapidly moving on.

The companies are doing their best to make it easier, with products like Tivoli Business Systems Manager, that give a total view of the environment - what's there, and what's needed - in business, rather than technical jargon.

There's a new emphasis on simplicity, backed with services, such as Tivoli's Rapid Deployment initiative. And products are being rationalised, reducing the bewildering variety. What's the difference between Tivoli NetView for OS/390 and Tivoli Manager for OS/390, for example?

Disappearing word
While CA majors on its framework, the word has disappeared from Tivoli's documentation. The core Tivoli management product suite is now called the e-business Infrastructure Management Solutions. This concentrates on security, storage, availability, and performance, operations and service providers.

Tivoli makes much of its huge stable of Business Partners, claiming that between them, they cover the full range of customer requirements. Tivoli will also work with the customer's choice of service provider.

In recent months Tivoli has concentrated on attracting web services firms to enhance its e-business infrastructure solutions. The web services Business Partners work with Tivoli to provide consulting, architecture, design, implementation, and customisation of e-business infrastructures for customers. The tools available to this new breed of Business Partner include Tivoli Web Solutions, security management, storage management, mobile e-business, and service provider management products.

Tivoli has also been hard at work bringing its traditional systems management products into the e-business world. In February they announced major enhancements to Tivoli NetView for OS/390, which they claim is already installed in 950 of Dun and Bradstreet's 1,000 key businesses. Early European users of the new release include ING Bank and British Telecom.

Tivoli Business Systems Manager combines the features of Tivoli Global Enterprise and Tivoli Manager for OS/390. 'The Tivoli Business Systems Manager solution provides us with business views and control mechanisms to manage all of our distributed IT resources in the retail banking and e-business environments - including system resources, databases, application servers, web servers and e-business applications-from one central location,' says Gerd Waechter, Tivoli Services Manager of Dresdner Bank's Global IT Services.

But the growth is definitely in the service provider sector. 'Shortages of IT personnel and increasingly complex e-commerce applications are accelerating outsourcing of web hosting, e-commerce, and other mission critical applications,' according to Ford Cavallari of management consultants firm Adventis.

Also in February, Tivoli announced a series of new partnerships with ASPs, MSPs and Security Service Providers. Over the past year, Tivoli claims to have more than doubled its solutions and services business with such 'Net Generation companies', and to have formed partnerships with over 65 service providers worldwide.

Tivoli Net Generation products include e-business management integrity solutions, which ensure viability and security of e-business infrastructure components; service assurance solutions, which support quality-of-service (QoS) objectives and service level agreements; and service enablement solutions, which enable providers to manage the entire lifecycle of a service.

Tivoli also has initiatives for B2B e-marketplaces, including Tivoli e-Marketplace Manager and a collaboration with Ariba.

Many of the third party products awarded 'Tivoli Ready' certification in the last year are aimed at ASPs, either providing them with ways of offering new services, or of making their own infrastructure more robust and secure. They include the Apache webserver, Checkpoint firewalls, Cisco routers, IBM's WebSphere Commerce Suite and MQ Series Integrator, JSB SurfControl, Marimba's Castanet, and Microsoft IIS 4.

But Butler Group analyst David Burman thinks CA has done a better job of moving into new markets. 'Computer Associates appears to have positioned Unicenter TNG more effectively, not purely in the enterprise space.' Unicenter 2.4 includes management capabilities specifically tailored for the Managed Service Provider market. CA is also offering licensing terms specifically tailored to emerging MSP business models.

CA groups its solutions into three categories, e-business Process Management, e-business Information Management and e-business Infrastructure Management, which certainly makes their strategy easier to grasp for those with a business, rather than technical, background.

'Managing the next generation of e-business involves managing the e-business processes that flow across organisational boundaries, with an ever-increasing number of stakeholders,' says Allan Andersen, CA vp for enterprise management. 'The complexity of these environments is compounded by new technologies, such as wireless PDA devices, and Wap phones. This must all be managed to receive the same level of security, availability, reliability, and performance we have come to expect from traditional IT.'

There are two key new technologies in Unicenter. The object database management system Jasmine ii, long regarded as a brilliant solution looking for a problem, has found a role as a platform for seamless integration of e-business systems. It also provides services, such as messaging, XML and Java object management.

Embedded in the Unicenter framework is a patented CA technology called Neugents, which performs the monitoring and filtering tasks, on which the control functions are built. 'Neugents are agents built upon neural networking techniques,' Butler's Burman explains. 'Knowing that an e-business server is likely to fail in 12 hours, if corrective action is not taken, is absolutely crucial in the 24 x 7 x 365 business world of the 21st century.'

Whatever the criticisms, the future of the Tivoli and Unicenter frameworks seems assured, not least because because they are inextricably woven into a huge installed base. They also provide a fixed point in a turbulent world.

Figures from Gartner and others suggest that there are around 200 companies providing systems and network management products, but that this figure masks a volatile situation, with around a third of these companies disappearing and being replaced every couple of years. There will always be a place for genuine best-of-breeds, but most organisations will continue to use a core technology from Tivoli, CA, BMC, or HP to make sense of them.

Market set to double
Revenues in the worldwide enterprise system management software market jumped 23 per cent in 1999, to nearly $12bn. IDC estimates the market will increase another 117 per cent by 2004. Storage management is the fastest growing sector, followed by performance management

According to IDC vp Paul Mason, factors behind this expansion include e-commerce growth, the IT skills shortage, the deployment of storage area networks, and the increasing popularity of non-traditional IT devices. 'Additionally, if suppliers can show the middle market that system management software is cost effective, these firms will give the market a big boost.'

ASP case study
Tivoli is providing cross-platform systems management solutions to UK ASP Keytech. The Tivoli enterprise management software will drive new outsourced management business for Keytech, with existing customers being transferred to the Tivoli system. Tivoli products will handle software distribution, user administration, distributed monitoring, remote control and inventory services. Keytech customers include Sharp Electronics and William Hill.

Not in my back end
Management of traditional distributed network and client-server systems is moving away from customer premises, and back to a remote mainframe-like model of datacentre delivery. According to IDC, a new type of service provider, the networked infrastructure management services (NIMS) provider, is emerging.


'NIMS providers will be delivering management services for a broad range of networks - including local and wide area networks, intranets, extranets, the internet, and virtual private networks - and networked servers, applications, and clients that are part of these systems.'

Mobile and wireless
IBM has got together with Symbian, the supplier of next-generation mobile phone platform software used by Nokia, Ericsson, Motorola, Psion among others, to provide management software that will enable wireless devices to be integrated into corporate infrastructures. The new offering takes mobile device management from Tivoli, and components from Lotus and DB2 Anyplace.

Tivoli mobile device management allows wireless devices to 'talk' to corporate IT systems and infrastructures. The Tivoli software enables automatic configuration of software and services, and manages software downloads and installation. The first complete implementation of the IBM/Symbian solution will be shipped on the Nokia 9210 Communicator.

Tivoli has a similar initiative with Ericsson, to develop a comprehensive set of solutions which will enable third generation (3G) mobile devices to be manageable out-of-the-box, and supported and updated remotely. Ericsson and Tivoli will propose a set of international standards for managing 3G devices, and will collaborate with other leading suppliers to establish them.

There's also the Tivoli Smart Handheld Device Manager, which enables operations staff to manage anything from an IBM server zSeries to a personal digital assistant (PDA), using the same management paradigm and user interface. Target platforms include Palm, Microsoft and Compaq, as well as IBM's WorkPad.

Gartner Group says the average cost per handheld device is approximately $2,700 per device per year (including technical support, asset tracking, and synchronisation).

'Understandably, much of the hype surrounding the management of mobile computing is centred around the management of the devices,' says Tom Scholtz, a director at Meta Group. 'However, the critical differentiator will be the ability to deliver on availability, performance and security expectations by effectively managing the underlying infrastructure, such as servers and networks, and applications.'

SUMMARY
Organisations seeking systems management solutions face a bewildering choice, as hundreds of new suppliers emerge to exploit the opportunities of e-business. Traditional suppliers like CA and Tivoli may not move as fast as these upstarts, but their framework-based approach offers stability and reassurance.

Nick Langley
Read more on Software development tools