Rejuvenating the mainframe
With z/OS, IBM aims to bridge the gap between the mainframe and e-business, but is it just a 13% more expensive name for OS/390?...

Download this free guide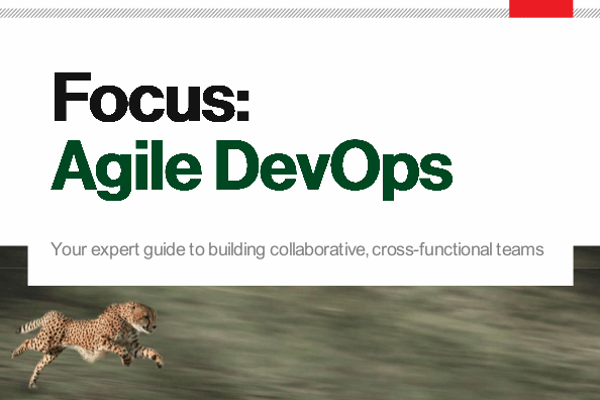 How can your business benefit from DevOps?
Let's take a look at six of the development practices that Disciplined Agile Delivery recommends for disciplined DevOps teams.
By submitting your personal information, you agree that TechTarget and its partners may contact you regarding relevant content, products and special offers.
You also agree that your personal information may be transferred and processed in the United States, and that you have read and agree to the Terms of Use and the Privacy Policy.

With z/OS, IBM aims to bridge the gap between the mainframe and e-business, but is it just a 13% more expensive name for OS/390? Nick Langley reports



There is a desperate need to rejuvenate the mainframe. According to Meta Group, 60% of the mainframe workforce is over 50, and new computer science graduates can't be bothered with BSam, QSam, BDam, BPam, BTam, ISam, QTam, VTam, VSam, TCam and all the other acronyms that have littered the paths of application developers for 35 years. The mainframe may be an ideal server for soaking up the unpredictable peaks in e-business activity, but doing so requires bridging a gap as big as that between children and their grandparents.

This is where the z/Architecture, z/OS and z/VM come in. Introduced in October 2000, IBM's 64-bit mainframe architecture is built from the ground up for TCP/IP, Java, Websphere, XML, and everyday co-existence with non-mainframe computing environments.

Z/OS has a venerable pedigree. 0S/360 was introduced with System/360 - essentially the first modern mainframe - in the mid-1960s. With the arrival of System/370 in 1972, IBM introduced virtual storage capability, and OS/360 had to be transformed into a virtual storage operating system, MVS (Multiple Virtual Storage).

In 1983, a new addressing structure gave access to 2Gbytes of virtual storage, and MVS/XA (Extended Architecture) was introduced, followed in 1990 by MVS/ESA (Enterprise System Architecture), which could address 16Tbytes. In the second half of the 1990s IBM began naming operating systems after hardware again. MVS became OS/390. Now we have z/OS, with a potential address space eight billion times bigger than that of OS/390.

While IBM often gives the impression that z/OS is an entirely new generation of operating system, the move towards Java and other Web-orientated technologies began in the mid-1990s with the later releases of OS/390. The fundamental changes are the capacity and performance increases made possible by 64-bit addressing, and the attempt to lower the price disadvantage of mainframe ownership though workload rather than processor-based pricing.

In terms of business functionality, the enhancements in z/OS Version 1 Release 2, introduced in October 2001, cover IP networking, Internet and intranet security, and distributed print management. Performance enhancements include Hipersockets - a "network in the box" for fast TCP/IP communications between z/OS, Linux for zSeries, and z/VM virtual servers/partitions. IBM claims the zServer File System for z/OS Unix System Services can improve performance for applications that use the current HFS file system.

TCP/IP enhancements include improved routing of traffic across a Parallel Sysplex and the ability to allocate priorities according to business needs - "buy" requests before "browse", for example.

In line with IBM's Project e-Liza (an initiative to reduce the fallibility and complexity of server operations, named after the ability of lizards to regulate and heal themselves, and even regenerate bits that have been bitten off), Release 2 has enhanced self-configuration capability, with extensions to the z/OS Managed System Infrastructure (Msys) for Setup, and enhanced self-management. Intelligent Resource Director (IRD) has been extended to manage the CPU resources of partitions running non-z/OS operating systems, such as Linux for zSeries and z/VM.

By simplifying configuration, Msys for Setup is intended to lower skills requirements and enable systems to be up and running more quickly, cutting total cost of ownership. Msys for Operations is similarly aimed at de-skilling operators and reducing the number of outages caused by human error.

Z/OS Release 2 also runs on G5/G6 and Multiprise 3000, although without real and virtual 64-bit support, IRD, Hipersockets and Sub-Capacity Workload License charges.

When z/OS Release 1 came out in March , Ed Cowger, vice-president of analyst firm Gartner Group said the $64,000 question was whether software houses would support the features of the new operating system. Of course, $64,000 is lunch money compared to what is really at stake.

The hardest thing for the software suppliers to swallow is workload-based pricing. Instead of buying licences based on the size of the processor, installations log what they actually use, smoothed out over time to reduce the impact of peaks in activity, and pay accordingly. IBM Licence Management (ILM) is the technology that is supposed to enable customers and suppliers to agree on the size of the licence they need.

In July 2001 IBM said it would delay implementation of ILM, but would deliver Sub-Capacity pricing by September 2001 via an interim tool. IBM has still not said when ILM will become available, nor announced workload capacity pricing for its own database management and application development tools.

As of November 2001, Allen Systems Group (ASG), BMC Software, Candle, Compuware and Isogon were the only independent software suppliers to have announced support for the Sub-Capacity pricing initiative - and not all have publicly renewed their commitment since their enthusiastic declarations of "day-one support" for z/OS Release 1.

Unlike IBM, independent software suppliers do not have hardware revenue to offset reductions in the cost of software. For this reason, Gartner expects to see a "revenue-neutral" transition - you will be paying the same under Sub-Capacity pricing however the figure is arrived at.

According to surveys of mainframe users conducted by Xephon, many are still unconvinced that IBM and the software houses are adopting genuinely fairer usage-based pricing schemes. Xephon is broadly supportive. "IBM has never promised huge reductions in software prices here, but usage-based pricing at least makes the charging process considerably fairer, allowing users to test software on a small scale and cope with the capacity spikes that are so characteristic of e-business," said the company.

More than half of the 59 respondents to Xephon's summer 2001 survey said they had already started implementing z/OS or would do so in the fairly near future. A quarter had decided not to make the move; the rest had yet to make a decision. Nearly half were unsure whether usage-based pricing would save them money. Of those who had come to a conclusion, more than two-thirds believed there would be substantial cost savings.

"In view of the complexity of pricing management, particularly among the independent software suppliers, and the fact that the S/390 marketeers must be seen to be driving costs down, there is still much work to be done in winning over the more sceptical customers,'" said Xephon.

A major problem for the mainframe is that mission-critical enterprise applications such as ERP and CRM are ported late, if at all. The portfolio of applications written to take advantage of the z/Architecture and z/OS is even smaller. So a key question is: will applications and products currently running in 31-bit ESA mode run on z/OS in 64-bit real memory?

IBM's response is that the vast majority of applications and products have no awareness of the amount of real storage available. Although Cobol does not support 64-bit addresses, users may get some benefits. With a 64-bit addressable real memory backing virtual memory, there will be less paging and swapping. DB2 can exploit 64-bit addressing for SQL statements in Cobol programs without any changes.

But IBM warns that programs that deal with real storage addresses may need to be changed. Similarly, some software products may use real storage addresses - you will need to contact your supplier to be sure.

While software houses may not be prepared to re-engineer applications for z/OS, the z/Architecture's support for Java and Linux should ensure a decent portfolio. This may cause an expansion of interest in IBM's Virtual Machine operating systems

Although overshadowed by z/OS Release 2, z/VM Version 4 Release 2 was also announced in October 2001. Besides the traditional advantages of mainframe-based Virtual Machine capabilities, such as the ability to run test, development and production systems on the same machine, z/VM Version 4's big selling point is that it offers a platform for consolidating Linux workloads on a single zSeries 900 or S/390. New system images can be quickly created to run in partitions, and operating systems and application code can be shared between virtual servers.

Despite the huge investment in z/OS and z/VM and their predecessors, the full might of IBM's marketing machine is being put behind an operating system that is effectively given away free - Linux for the mainframe. In 2002 we are promised z/OS Release 3, which will offer further enhancements to Msys, workload management and other features of Release 2, but nothing startlingly new.

IBM's old PCM rival Amdahl, which has not developed a 64-bit architecture, believes users will conclude that the benefits of IRD, Hipersockets and the rest are not worth the cost of the upheaval of moving to z/Architecture and z/OS. It thinks most users will continue to use 31-bit, while waiting to see what happens with Linux. For the half-convinced, IBM pledges to support z/OS on 31-bit until at least 2005.

For now, perhaps the last word should go to independent analyst Phil Isham, who describes z/OS as "a 13% more expensive name for OS/390, designed to accelerate the decline in market share".

Further Information:
www.ibm.com/servers/eserver/zseries/solutions/s390da/osnp.html

64-bit compatibility information
Read more on Operating systems software