Overworked and underpaid
Getting the balance right between home and office is no easy task and there are many reasons why some people find it impossible...
Getting the balance right between home and office is no easy task and there are many reasons why some people find it impossible to reach a compromise between work and leisure.



An employee may decide to work longer hours in order to reap the financial benefits, but often the reason for working overtime, which can be unpaid, is fear of losing the job.

The government has conducted surveys in recent years to investigate what is happening in workplaces in the UK. The first in a series commissioned by the Department for Education and Employment looks specifically at the issue of the balance between home and work.

Download this free guide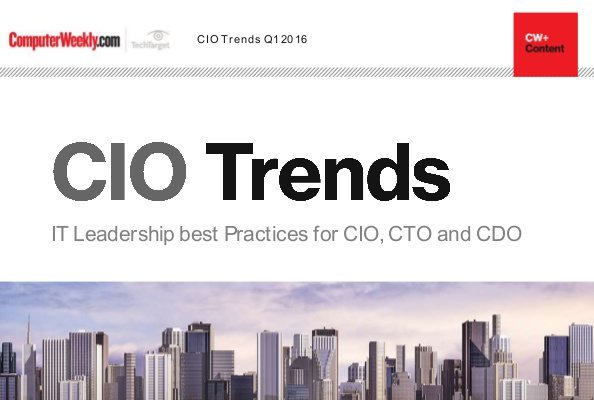 Your exclusive guide to CIO trends
A collection of our most popular articles for IT leaders from the first few months of 2016, including: - Corporate giants recruit digitally-minded outsiders to drive transformation - Analytics platforms to drive strategy in 2016 - Next generation: The changing role of IT leaders.
By submitting your email address, you agree to receive emails regarding relevant topic offers from TechTarget and its partners. You can withdraw your consent at any time. Contact TechTarget at 275 Grove Street, Newton, MA.
You also agree that your personal information may be transferred and processed in the United States, and that you have read and agree to the Terms of Use and the Privacy Policy.

The Work-Life Balance 2000 report, which will be published later this month, has raised the usual question marks about working practices in British offices. The UK population has already earned the reputation of being the hardest working in Europe in terms of hours, but the poorest in terms of quality of life.
The European ethos
Visit the continent and you are likely to encounter a very different lifestyle. Most Brits returning from a stay across the channel want to know why we have it so bad.
The Spanish enjoy a siesta, the French take most of August off and the Swiss get to take themselves off to the tranquility of the mountains when the going gets tough.
Admittedly, these are rather stereotypical impressions, but it is difficult not to reach the conclusion that there is something unbalanced about the working lives of most Brits.
"I think the whole transport infrastructure is going to seize up soon and then people won't be able to get to work in the first place," claims one source, who regularly commutes between offices in Manchester and London.
Raw deal for women
"There is agreement all round — from business and from employees — that work-life balance practices lead to a healthier, happier workforce and bottom-line benefits," claims Margaret Hodge, minister for employment and equal opportunities.
She describes the differences between men and women's working lives that were highlighted by the survey, pointing out that women seem to be getting a tougher deal.
"For decades, women have been calling for a better work-life balance to help them be the productive workers and good mothers that they want to be. But men have been excluded from this process. Now fathers too are calling for a fairer deal," she claims.
The survey indicated that men are enjoying greater flexibility in their work. A quarter of the men surveyed already work from home, while a further 38 per cent would like to start teleworking.
However, only 16 per cent of women manage to work from home, despite the expressed desire of a further 33 per cent to join them. Most worrying is the tendency of a number of women (25 per cent) not to take their allowed maternity leave of 18 weeks. The number of fathers working more than 60 hours a week is also higher than the Department for Education and Employement would like.
Job insecurity
Some sources claim the reason so many people in the UK work extra hours without claiming their rightful benefits is because of the high number of small to medium-size enterprises (SMEs) with fewer than 50 staff.
Another factor could be the threat of being given the sack if staff leave the office on time. Job insecurity is considered by some as the major reason that UK workers stay at their desks for longer than European counterparts. With going the extra mile now taken for granted, many employees have been pushed into a corner where they have little option but to carry on working longer hours.
Employees working for these smaller companies may find it more difficult to leave the office on time at the end of the working day. In businesses with a "family firm" ethos and where the boss leads from the front, employees often feel they have to pull together and get the work done by working longer hours.
"I worked for a fairly small dot matrix printer company," recalls one source. "The boss was very charismatic and no one would leave until he did. You could drive past at 7.45 on a winter's night and all the lights on the third floor, where the management were based, would be blazing away."
He claims that management staff stayed late at the office in an attempt to impress the boss, but spent most of the time after hours clock watching and wishing the boss would leave. "It was not a very productive time, particularly after 7.30 when people were getting very pissed off waiting," he admits.
Whether the situation can change depends largely on employers' willingness to provide workers with the option to be flexible.
More than half of the employers surveyed (55 per cent) believed that moving from full to part-time hours is acceptable in some cases. But when it comes to giving employees their rights, there is still a great deal of room for improvement.
The survey found that only 20 per cent of employers were aware of the recent extension of maternity rights, while just under a quarter were also ignorant of the new paternity leave rights.
Hodge believes that the swing towards positive moves outweighed the negatives in the attitudes of employers. "The most progressive employers in the survey are already seeing the business benefits of working smarter — not working less," she insists.
Hodge adds that 60 per cent of employers are now allowing staff to vary their hours, and more than half will allow employees to switch to part-time working in some cases.
Employers must act
The government is trying to encourage employers to pay greater attention to worker needs by highlighting the benefits of having a happier workforce.
"People are our most valuable resource and only by building a better work-life balance for all can we get the most out of UK Plc," Hodge stresses.
The initial reaction from some employers was positive and women's groups indicated that highlighting the problems women faced in the workplace was a welcome move.
However, some critics argue that it may not have any effect. These sorts of findings have been put forward by different groups before, but they have not resulted in any significant changes in the British workplace.
"How many times have we heard this sort of stuff before?Bemoaning the hours the British work seems to be a recurring theme in workplace politics," claims one source.
The pressure on employers to improve conditions is where the survey leaves the matter. Whether or not things change is partly in the hands of the bosses.
However, the role of the employee is crucial in putting pressure on firms to deliver changes. As the report reveals, the number of women failing to take their full maternity benefits indicates there is some confusion over rights.
Improved conditions would come as welcome relief to the thousands of employees working beyond the call of duty. But even with legislation coming from Europe, such as the Working Time directive, major changes in the working culture are still needed.
If working practices that have become reinforced over the last few years can be relearned, then a proper balance might be restored between home life and work. In the meantime, UK Plc continues to be staffed by overworked and under-appreciated staff.
Read more on IT jobs and recruitment