Measuring up
In the second part of our look at e-procurement, David Bicknell finds out how companies are measuring return on investment
This Article Covers
RELATED TOPICS

Download this free guide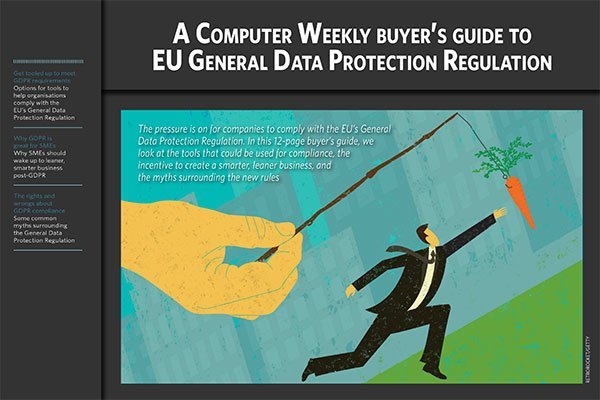 Computer Weekly's Buyer's Guide to GDPR Part 2
In this 12-page buyer's guide, we look at the tools that could be used for compliance, the incentive to create a smarter, leaner business, and the myths surrounding the new rules.

By submitting your personal information, you agree that TechTarget and its partners may contact you regarding relevant content, products and special offers.

You also agree that your personal information may be transferred and processed in the United States, and that you have read and agree to the Terms of Use and the Privacy Policy.

In the second part of our look at e-procurement, David Bicknell finds out how companies are measuring return on investment



It is more than three years since a range of blue-chip companies learnt that by radically changing the way they buy everyday goods and services, they could make large cost savings which would go straight to the company's bottom line. Inevitably, there was more hype than reality in some of the claims. In many cases improvements in supply chain processes were being double-counted. The wilder estimates of 10%-20% had been replaced by sober predictions of 8% returns from implementation of e-procurement best practice across a range of organisations.

Even 8% was a stretch too far in some cases, requiring significant headcount reduction, and so a lower target was adopted, perhaps as low as 1%.

Yet, that 1% of the corporate spend of a global company like Cable & Wireless could still mean savings of millions of pounds, year on year. That has changed boardroom perceptions at companies such as Rolls-Royce, from mere interest to regarding e-procurement as having a positive effect on long-term stability.

The investments by major corporates to support e-procurement have cost between £15m and £25m as they sought to streamline their procurement operations, rationalise their suppliers and get key suppliers electronically enabled.

The first generation of projects should be demonstrating the measurable savings achieved. Savings are being made, but few companies can say they have been accurately monitoring and measuring the real benefits.

In the current economic climate companies are working harder to justify their investment. Those that decided early on that they were going to make e-procurement work by measuring their returns on investment and setting up benchmarks are now being held up as exemplars by others belatedly trying to measure their own success.

BuyIT, an independent network of companies and public sector organisations, which has facilitated best practice thinking on a range of IT and e-business issues, recently used the experiences of Cable & Wireless and Rolls-Royce and, with input from Diageo, Shell, IBM, Prudential, Reuters, Royal Bank of Scotland and Kellogg's, developed a set of guidelines on return on investment and metrics. One BuyIT member, for example, is expecting to save £114m over five years and to bring 500 suppliers online.

IBM, as a user with an overall global purchasing spend of $42bn (£38bn), identified e-procurement as a means of reducing costs way back in 1993. Since then, it has made savings of $9bn. According to Peter Edwards, IBM's business operations centre manager, the move has been a major success. "We found if we shaved just three points a year off our spend, it generated hundreds of millions of dollars in savings. It meant that we had to get procurement operating as a global unit, and it has been very successful," he says.

That meant changing the mindset when it came to purchasing strategy. Edwards explains, "Previously purchasing would be made at an individual country level, with savings logged by individual buyers, which would then be signed off. But now we have people trying to leverage the spend, perhaps looking at what we did at a regional level and taking it to a global level.

Other factors have helped, such as IBM taking time to benchmark industry trends for savings in areas such as travel, temporary staff, and IT contractors.

In its Measuring the Benefits from E-procurement - What to Measure and How to Measure It guideline, BuyIT identified five interdependent savings drivers:


Transactional benefits


Compliance benefits


Management information benefits


Price benefits


Payment benefits.


While all of these rely on the skill of the corporate procurement and purchasing department, at the heart lies a joint effort with the IT department, with challenges facing both.

The IT department has to integrate e-procurement with enterprise resource planning (ERP) systems and IT systems to support business needs. But most organisations are still a long way from being able to deliver

e-procurement on the back of an integrated ERP system. So solutions from software providers, such as Ariba, Commerce One, Oracle and SAP, are also being used to drive their e-procurement projects. The IT department then has the job of finding short-term ways to interface these with back-office systems.

The purchasing operation may have just as a tough a job as IT, imposing new standards of discipline and performance monitoring, changing attitudes, such as ending maverick buying, and aligning cultures. It means, as one BuyIT member, Diageo, says, working globally, not multinationally. SAP believes successful organisations usually have a strong supplier relationship strategy.

Most companies have realised that savings are less than they originally thought, and that the definition of e-procurement has got bigger. It is no longer just about e-transactions, but includes sourcing, e-procurement, and payment.

A BuyIT member says, "E-procurement is just about doing it more efficiently. But you have to adapt the process - just because you e-procure does not make the process efficient. You are using one tool to buy from, and you have one process with chosen suppliers who are on board. You do not have to monitor and police a lot of different tools and processes."

Some organisations, for instance, Shell, have opted for e-sourcing, or reverse auctions, the strategic sourcing of products using the Internet, rather than tackle e-procurement, where all of the staff in the organisation are encouraged to comply with the deals corporate buyers have done.

Eric Davies, Royal Bank of Scotland's head of purchasing, processes and systems, is also putting his energies into e-sourcing, and is being particularly successful at it. Davies defines e-sourcing as "a process upstream of letting the contract. It's an extra tool for our professional buyers but doesn't replace the professional buyer and is an extra option for them in their sourcing activity leading to the contract".

In contrast, he says, "E-procurement is about creating the connectedness in the deals that the buyers have done and offering it on the desktop to encourage compliance. The increased compliance is your return on investment, as well as the user-friendliness that encourages people to do that rather than some other ad hoc process, and the fact that you can connect into suppliers' sales order systems and so cut out cost within the supply chain."

Davies says he is looking for every potential mechanism to help to deliver savings, and e-sourcing was an obvious choice. "The e-sourcing solution we've developed involved a third party, and we just need to punch out on the Internet using a hosted software solution from Freemarkets."

Royal Bank of Scotland's e-sourcing activities have seen purchasing meet its targets, gaining an early payback on its investment in the Freemarkets service in less than a year, and overall cost reductions of about 20%.

Diageo, which owns the Guinness drinks brand, made its business case estimate for e-procurement savings with a suggested return of 3% to 6%, a figure mainly based on buying compliance within the business. It will soon have more than 70 suppliers online, with 1,450 users of the system. Services procured include the acquisition of temporary staff, from ordering through to payment.

Having seen e-procurement first-hand, Roy Jakes, head of Diageo's global e-procurement programme, offers the following advice:


Do not just e-enable faulty processes


Do not underestimate the fact that this is cutting edge technology and you need to support suppliers which lack skills


Do not underestimate internal change management - this is a significant change and needs top down support to enforce a new way of working


Do not set excessively ambitious long-term goals. Set two- to three-month milestones.


For some companies whose procurement operations are already well-honed, simply making the case for e-procurement can be a headache. Alistair Hirst, European procurement director for cereals group Kellogg's, is interested, but knows he still has to generate a return on investment.

Kellogg's presence in the fast-moving consumer goods marketplace has meant that it already has a leading-edge procurement team, which has taken significant costs out of the production process. In fact, it has been so successful, that Hirst has been struggling to make an effective business case for e-procurement. Previously, the cost of implementing new software has tipped the balance away from the company's decision to go down the e-procurement route. But recent falls in the cost of the software solutions means Kellogg's may eventually adopt it.

Peter Duschinsky, a director of BuyIT, sums up the current view on e-procurement and return on investment, "The business case for e-procurement is based on being able to achieve year-on-year reductions in purchase prices and savings from lower process costs. While early claims are now seen as unrealistic, and it has turned out to be harder to implement than initially expected, none of our members has any doubt that e-procurement is still a 'no-brainer' for larger organisations with significant low-value, high-volume spend."

E-procurement - and getting a measurable return from it - has been a winding road, but ultimately the journey will be worth it.

Keys to successful e-procurement

Define key performance indicators early in the process to enable successful benefits tracking


Distil the business case into measurable key performance indicators which should be monitored throughout the project


Agree on the measurement process and baseline


Don't forget "soft" factors such as time savings, improved information and worflow, and make a conscious decision on whether you want to measure them


Get sponsors' buy-in and sign-off


Get a third-party or in-house independent auditor to track and monitor the success of the project.


Case study: Cable & Wireless makes savings of £25m a year
Cable & Wireless also gained main board-level approval to make a significant investment in what it believes is a world class e-procurement solution, based on full integration with a single, global SAP implementation.

"The global procurement team has successfully implemented revised global processes and a supporting e-procurement system. Internally it is changing the way we requisition and buy goods and services. These processes ensure greater compliance and governance, leading to significant cost reductions for the company. Externally it is going to improve our supplier relationships," says Ben Jackson, the company's global e-procurement director.

The telecoms giant expects e-procurement to deliver operating cost savings of up to £25m a year, with Online Auctions already estimated to have delivered savings of £2.5m. One PC auction made a 50% saving in 30 minutes, while a utilities auction covering gas and electricity made a 22% saving. Cable & Wireless has adopted 130 suppliers, deployed in the UK, US and Japan, and has more than 2,000 users.

Significantly, Cable & Wireless has invested heavily in e-procurement metrics, with the board insisting that the e-procurement operation must have someone measuring the benefits full-time. Gesa Juttner is the supply manager who uses key metrics to monitor and track the performance of procurement against agreed targets and forecasts, confirms the wisdom of the policy. "Like all companies we had processes in place, but no-one was watching to see that they were followed. Now buying performance is visible and that's changing behaviour," Juttner says.

Case study: Roll-Royce drives process change with e-buying
E-procurement has now become so important to business strategy, that Rolls-Royce, faced with the effects of 11 September, subsequently decided to ring-fence its e-procurement activities.

Peter Conway, director of business process improvement at Rolls-Royce, had already persuaded his board to make a "significant" investment in e-procurement, part of which went on Exostar, a business-to-business exchange for the aerospace and defence industry. The commitment to this investment and its expected return has remained in place.

Conway admits that e-procurement alone will not give benefits. "It is all about the process change that goes alongside it. If we try to implement e-procurement without process change and without rationalising back-office systems, we'll find it won't make the returns that would make this a no-brainer."

The benefits for Rolls-Royce come in three areas:

In the procurement process itself - but not necessarily by cutting headcount out of the process


Procurement activities: more than two-thirds of the cost of the final product is based on the purchased part, and Conway is looking for significant cost improvements of between 1% and 2%. Although there has been lots of hype over e-auctions, Rolls-Royce says it has also learned from its activities there. "We have run a range of auctions achieving significant reductions in the price we're paying," says Conway.


Alignment of the Rolls-Royce supply chain, "A lot of money is tied up in managing our supply chain, and we need to rationalise our supply chain to become more effective," Conway says.


BuyIT's guideline offers more advice on e-procurement
The BuyIT guideline, Measuring the Benefits of E-procurement - What to Measure and How to Measure It, was developed collaboratively by BuyIT members, led by Cable & Wireless and IBM UK, with input from Elcom, Guinness UDV, J Sainsbury, MRO Software, Rolls-Royce, Shell and Taylor Woodrow.

The guideline defines five areas of benefits: transactional; compliance; management information; price; and payment, together with definitions of what comprises e-procurement applicable spending, and possible constraints to success. It also explains how to measure each of those benefits, breaking them down into:


Aim


Baseline approach


Hard and soft benefits


How to get the measurements


What measurements you will get


How often to take the measurements


What the risks are.


BuyIT will also shortly be releasing a framework guide for chief executives on how to drive e-business strategy. Both will be available free at www.buyitnet.org/
Read more on E-commerce technology