Linux: the pic'n'mix solution
If you want applications from different suppliers to interoperate, Linux is the way to go, writes Julia Vowler.

Download this free guide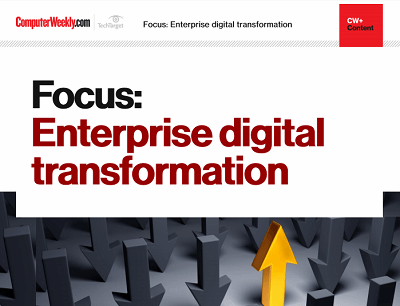 Are you digital to the transformation?
Digital transformation - the buzzword that we can't get away from. Enterprises need to accelerate their digital transformation journeys to avoid being left behind in an increasingly digital world. It's not an easy feat, but one that can be costly to get wrong. Join us as Computer Weekly takes a look at how businesses can stay on track through collaboration, innovation, and listening to user needs.

By submitting your personal information, you agree that TechTarget and its partners may contact you regarding relevant content, products and special offers.

You also agree that your personal information may be transferred and processed in the United States, and that you have read and agree to the Terms of Use and the Privacy Policy.

If you want applications from different suppliers to interoperate, Linux is the way to go, writes Julia Vowler.



Fear of Microsoft's effective monopoly is fertilising the open source movement - but is corporate IT ready for Linux?

Views are mixed, but those who have already tried it, or are inclined to, agree that caution is necessary.

The Infrastucture Forum (Tif) advises its members to consider the future direction of their organisation's infrastructure - which products to use, and how much involvement they want in the development process - before adopting open source.

Tif identifies the benefits of open source as better quality, security and flexibility. "Open source is seen as faster to innovate and at no cost." There is also far less of the us-and-them tensions between supplier and user communities because of the self-help culture of open source, says Tif.

"The producers of the product are the consumers and that alone drives the development time. The open source community offers unparalleled support in comparison with the commercial environment," says Tif.

Getting senior management buy-in for adopting Linux, designing and moving to an open infrastructure, having to mix-and-match products from several suppliers instead of a highly integrated product from a single supplier will all present particular challenges.

So where should Linux best be deployed? "A replacement for Microsoft Office in the Linux environment has become a mandatory prerequisite for any rational decision to adopt Linux as the client PC operating system," says David Rippon, chairman of IT directors' group, Elite.

"Star Office currently does not provide the seamless interchange of documents, spreadsheets and presentations of Microsoft Office, and this is the single biggest factor preventing large scale adoption of Linux in the commercial environment."

"Everyone would love to have a real alternative to Windows Office; unfortunately Linux isn't there yet."

As ever, the key factor affecting take-up is applications. "The cost of retesting and any conversion will be significant. Where application software has been installed on client PCs this could be the single biggest cost incurred in converting to Linux," warns Rippon.

At the server level things are easier, says Rippon.

"Server PCs will only process one application, so the compatibility between Linux and that single application will be cheaper to manage - specific server applications could be successfully located on a Linux server," he says, especially Web hosting, where Linux has been chosen where there is no Microsoft legacy.

Even so, noted Tif members at a recent workshop on open source computing, corporate users will have to cope with fewer enterprise-class management tools; more doubt about utilities; many diverse flavours of Linux; and the fact that Linux is optimised for multiple processes rather than multiple threads, so scaling has been an issue. On the plus side this last issue is being addressed in the next release, 2.6, and kernel quality, say Tif members, is high. They also see Linux as inherently more secure, and getting patches is faster than in the proprietary world.

Lack of Linux skills is a problem, and retraining costs have to be factored in, as do the cost of support and professional services associated with real-world implementation. Linux is "not as free as one is led to believe", says Rippon.

What the IT directors say:

"We have been using Linux in Web services for two years. The decision was made by a tecchie who did not ask, he just did it. The board would not have been interested. Linux - it works well and is less vulnerable to viruses. We are now looking to use it for file and print services, but we will never be a 'Linux shop' - it is just part of the jigsaw rather than the answer to everything. We already use a lot of Unix - we would not have used Linux otherwise."



"We don't use Linux. We might when it has become more productised and does not need advanced, in-house skills. We have got one tecchie looking at it because he hates Microsoft (he is a Netware man), but he feels Linux is still too tecchie so we should not adopt it yet."



"We use Linux for some server-based applications, but Microsoft for end users."



"We use Linux for our Web server, but we want to get it to Microsoft as soon as possible. Linux will always be for specific areas. Take-up will bubble up to, say, 10% (of overall IT), but it will never be major - it is too wacky, too 'beards and sandals'. We do not want to head into a technical backwater with Linux - we want to concentrate on business advantage from IT."



Linux for the millionnaire set
Jet-set car-maker Ferrari has been using Linux in the UK for five years, and has just extended its use by replacing a Novel network with five IBM eServer xSeries systems with two local area network (Lan) servers, a proxy server, a Web server and firewall from Linux supplier, Trustix.

The aim was to avoid the Novel upgrade cost but not lose functionality, says Chris Rooke, IS manager at Ferrari UK. "We have been using Linux at Ferrari UK for the past five years on the recommendation of a contractor. We have suffered no major problems," says Rooke.

Asked about the benefits of using Linux he said, "The pros are that it is a stable and cost-effective alternative to other leading solutions. The cons are that there is lack of [Linux] experience throughout the industry.

"Our utilisation of Linux is for specific functions and applications. These tend to be more cost-effective and stable than alternative solutions on different operating systems. This still requires a degree of technical expertise and experience. The risk is that this skill is not as readily available to the industry leaders.

Rooke sees the major barrier to adopting Linux as the lack of inherent Linux knowledge in his current IT team. Nevertheless he plans to adopt it for some critical operations. "Trustix Linux solutions and IBM eServer xSeries systems are to be used for file and print sharing and firewall control," he says. "We will also use Linux to create a low-cost disaster recovery environment. This can be run/updated at the same time as the production systems without extra licence costs.

Persuading business managers to go for Linux was not an issue. It was purely an IT decision, he says. But, he agrees, "Linux skills do not come as standard. Therefore an element of additional training for the IT team is required."

There were no significant implementation issues, according to Rooke. "Linux runs on our existing hardware without issues, does not require expensive licences and is easier to install than other operating systems" he says.

The lesson Ferrari has learned is not to dismiss the benefits that Linux has to offer. "We are fortunate in that we already have a Linux resource within the team which is able to educate and demonstrate the benefits and ease of implementation." he says.

Other organisations considering introducing Linux should be prepared to keep an open mind, says Rooke. "Talk to somebody who understands the benefits and can demonstrate the ease of use, and the potential cost savings." The key benefits Ferarri has identified come from cost avoidance, says Rooke, and from the ability to deploy increased numbers of users in areas that would have required further licences.
Read more on Operating systems software