E-strategy: Fixing the dotcom engine
There are bargains to be had in buying failed and ailing dotcoms if you play the finance game right. Computer Weekly reports on...
This Article Covers
RELATED TOPICS

Download this free guide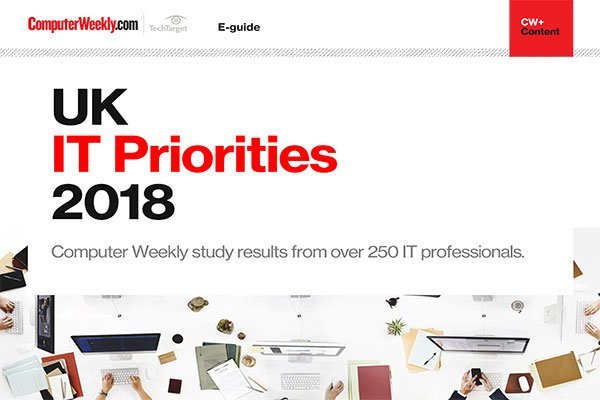 UK IT Priorities 2018 survey results
Download this e-guide to discover the results of our 2018 UK IT Priorities survey, where IT leaders shared with us what they are going to be investing in over the coming 12 months.

By submitting your personal information, you agree that TechTarget and its partners may contact you regarding relevant content, products and special offers.

You also agree that your personal information may be transferred and processed in the United States, and that you have read and agree to the Terms of Use and the Privacy Policy.

There are bargains to be had in buying failed and ailing dotcoms if you play the finance game right. Computer Weekly reports on the advantages of purchasing Web firms



It's no secret that Internet companies are going cheap. Publicly quoted companies are now trading at a fraction of their flotation price. Privately owned businesses are fast reaching the end of their cash reserves with little prospect of encouraging the financier to dig deeper. The question is why would you want to buy a cash-strapped company with all the stigma of a dotcom?

While their business plans may have been grandiose, many dotcoms are sitting on state-of-the-art technology that has been proven to work. Some also bring the added bonuses of a recognised online brand and a customer base.

At the same time analyst research shows that the bricks-and-mortar companies continue to invest in online capabilities and are finding that building e-commerce systems is both time-consuming and costly. So, the thinking goes, why start from scratch when your ideal business could be out there, tailor-made, at a fraction of the price?

"This syndrome is happening. 3i has sold dotcoms to large companies, such as Jungle.com to GUS," says Nick Kingsbury, investment adviser at 3i. "There is an opportunity for the large corporate to buy technology, a brand and a team for a knock- down price, and if the business thrives it could be spun out again for a large profit."

Only the minority of dotcoms have been rescued by old-economy white knights. Many more have fallen by the wayside. Whether this is because established companies are blind to the advantages of buying a dotcom or because they believe that buying an ailing Internet company is a risky business is not known.

But rule out Internet acquisitions at your peril. You risk missing out on what could be a short window of opportunity, warns Ian Glanville, director of technology media and entertainment at KPMG corporate finance. He believes that the price of Internet acquisitions is bound to rise again because, in the midst of acquisition and receivership, some dotcoms are starting to turn a profit.

Advantages of buying over building
"There are three advantages to buying a dotcom over building one," explains Chris Williams, corporate finance head for Andersen's technology, media and communications practice in the UK. "These are economy, speed and risk."

The driving force behind an Internet acquisition, says Williams, is buying technology that works and with it the skilled people that built and run it at a cut price. Anything else is a bonus. Bonuses include use of "novel technology" - a build that involved a lot of customisation for a specific purpose - brand recognition or a customer base.

Furthermore, building an online operation from scratch is time consuming and expensive, with no guarantee that it will work as expected.

"On the pro-side, you get instant access to a working site or technology [thus avoiding the well-known uncertainties of engaging in a software development project]," points out Richard Chapman, a technology specialist partner at Berwin Leighton Paisner, a law firm which advises companies on Internet acquisitions, including GUS on Jungle.com.

"On the con-side, it is often difficult to establish the technical or commercial value of software and you may not be able to keep the key technical staff," he adds.

Due diligence
Richard Wilson, a consultant at Analysys Consulting, says there are more bargains to be found among the privately funded companies. These have smaller financial reserves and less opportunity to obtain further funding or attain profitability than the floated companies. The problem is that potential buyers find it difficult to locate these little-known companies.

When they do find a potential fit, Wilson recommends the purchaser should ask what would have made the Web site or Web company work when it was unsuccessful? Analysis of the dotcom's failings may show that the purchaser has the essential ingredient that the company lacked. This might be the distribution network, the branding or the customer base.

According to Beth Barling, senior analyst at AMR Research, the most important question to address is, "Is the dotcom fit for purpose in terms of the technology, commercial, cultural and branding aspects?"

There are three steps to answering this:

Assess whether the technology suits its purpose



Evaluate whether it will integrate quickly, efficiently and cheaply into the corporate systems



Check whether the employees will integrate into a traditional company.


The notion of branding or goodwill also includes a measure of how the investors or customers will react to the acquisition. There is a stigma attached to Internet brands that companies may steer clear of. Some Internet brands, such as Boo.com, have been associated with frivolous overspending, others with security breaches or bad customer service.

There are bargains in both public and privately owned Internet companies, but they should be assessed. Buyers face a declining number of "good" companies available at the right price, while Internet firms face a lower number of buyers that still need to get their e-commerce strategy right.

Dotcom bargains to watch out for
Public

Lastminute.com has a year (of finances) to prove itself to the markets. It might be a good buy for a travel agent that is struggling to move online
Private

Scoot.com announced in July that it had one month of cash reserves left. Non-UK operations were sold for c1 (60p), it is now assessing what other parts of the business are for sale


Spin-offs
There are offshoots of media conglomerates that do not map onto their core expertise:


Fish4 is owned by a consortium of print media companies
iXM (the interactive version of Exchange & Mart) is a wholly-owned subsidiary of United News and Media



The global advertising network DoubleClick could be a good buy for an advertising agency looking to specialise online.



There is an abundance of application service providers, such as FutureLink, that are struggling for cash. Some insiders would love the company to become the basis for Microsoft's bCentral.



Few of the experts on Internet businesses picked any business-to-business exchanges as potential purchases.
Read more on Data centre hardware