Achieving the goal of CIO
What exactly does a chief information officer do?Paul Burfitt, global CIO at AstraZeneca, analysed the various aspects of his job...
What exactly does a chief information officer do? Paul Burfitt, global CIO at AstraZeneca, analysed the various aspects of his job and presented his findings to a recent CW500 Club meeting. Julia Vowler reports.

Download this free guide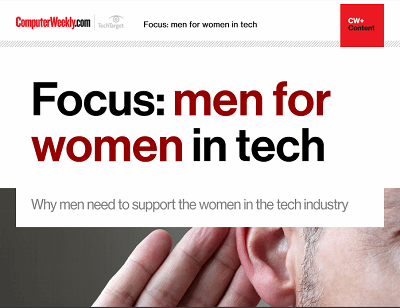 Men for women in tech
This guide showcases some of the men who are helping women to progress in the technology industry and the methods they are using to do so.
By submitting your personal information, you agree that TechTarget and its partners may contact you regarding relevant content, products and special offers.
You also agree that your personal information may be transferred and processed in the United States, and that you have read and agree to the Terms of Use and the Privacy Policy.
With all the high-powered visions of IT at the cutting edge of the world's economy, it is easy to become misty-eyed at the prospect of IT providing strategic business leadership. But what does that actually mean for a chief information officer?
Paul Burfitt, global CIO at pharmaceuticals giant AstraZeneca, analysed what he has done over the past three months to shine some light on the issue.
Countless reports and column inches in IT publications have debated the difference between IT directors and CIOs. The latter is generally seen as the more prestigious role, implying a seat on the board, or at least easy access to it. But Burfitt does not agonise over his job title or who he reports to.
"It is very difficult to generalise what a CIO does, as there is no 'general CIO' definition," he says. "It is what you do to add value to your business that counts.
"I am not saying that it is irrelevant who you report to: it is important. Not because of their label, but whether that person actually gives you the support, energy and inspiration to help you deliver. If I reported to someone who did not do that I would want out."
Nor does Burfitt focus on hands-on running of IT, either in day-to-day or larger operations. The reason is a practical one: with a company the size of AstraZeneca, monitoring all IT operations would be virtually impossible.
"I am the global CIO for AstraZeneca but I do not have direct, hands-on control of all of the company's IT resources. It would be impractical to have direct control over IT in every country where the company operates. My role is to see the overall framework of IS policies, standards and strategies, and to empower people to deliver and contribute locally within that," he says.
Instead, as an executive board member, Burfitt focuses on what most other company directors do - setting targets for IT within AstraZeneca.
"I spend most of my time on the IS vision: the priorities, objectives and targets, and how IS contributes to deliver value to business. I have difficulty with the term 'IT strategy' because it separates IT strategy from business strategy.
I meet with members of the executive team three or four times a year. These meetings are a challenging debate, to steer the IS function towards the company's goals. I am very clear about our business objectives and our vision for IS, and so is the executive team."
Managing staff is another major challenge. "I spend my second biggest chunk of time on people," says Burfitt.
"Recruit good people. It makes an enormous difference. I do not want IS people who are only 'throw IT over the wall' or system builders who let business find the value of IT."
Burfitt believes that staff need to focus on the value of what they are doing to the business, rather than seeing their work in isolation. "IS has a shared responsibility for delivering value from its systems. I insist the milestones are business milestones, not IT ones. Have your implementation party a year after you have delivered it and measure its business value," he says.
Burfitt's third most time-absorbing activity is ensuring that IT systems are efficient across an organisation, through careful delegation, "You won't get into the chief executive's office if his PC is down!"
Burfitt's other main activity is less welcome - IT governance. The role of IT in corporate governance, such as a company's disaster recovery arrangements, has become more high-profile since the 11 September terrorist attacks in the US.
"I was surprised to find I spend so much time on IS governance," he says. "We have been feeling that there were too many reviews and debates which have been slowing us down. So we have been clarifying accountability and the role of committees."
But with so many demands on a CIO's time, coupled with the relatively new nature of the job, how is performance measured?
Burfitt uses balanced scorecards, a software suite with performance indicators. "But you have to prioritise - you can't improve everything all the time. Business and IS priorities change every year and you have to be brave enough to say 'no', if a priority changes."
Paul Burfitt was speaking at a Computer Weekly 500 Club meeting which took place on 12 March 2003 at Claridge's Hotel.

Are you a chief information officer or an IT director?
The terms themselves are academic, but Cathy Holley, chief information officer (CIO) headhunter, thinks the roles are fundamentally different. "A CIO is not just an IT director with a bigger budget. They spend their time completely differently," she says.
The top two concerns of CIOs are career development within an organisation - networking and "branding themselves" - and working out how IT can deliver shareholder value.
Meanwhile, IT directors or would-be IT directors should not underplay their technical knowledge. "The first thing they tell me is 'I am not a techie'. Why are they are ashamed of their techie roots?" asks Holley.
To Holley, shunning the technology dimension of their role is missing a trick. IT is a specialist source of knowledge they bring to the corporate picnic. No one else in the organisation is as well placed to see how technology can contribute to shareholder value.
"Sometimes CIOs describe their role as a sanity check to ensure that IT strategies hang together. They also look at technology futures and budgets, and supplier management is a new entrant to the list," she says.
"The rest of the time they are thinking about how to deliver shareholder value. They don't just have 'a seat on the board', they belong to the board, the executive team.
"They talk to City analysts and spend little or no time with suppliers talking product. They talk to customers."
E-Handbook

E-Handbook

E-Handbook
Read more on IT jobs and recruitment