A tapeless world
With 80 directly attached systems to upgrade, engineering consultancy Arup chose a radical solution - to junk DAS and move toward...
With 80 directly attached systems to upgrade, engineering consultancy Arup chose a radical solution - to junk DAS and move toward a single, tapeless solution. Candice Goodwin reports

From the Sydney Opera House to Gateshead's Angel of the North, engineering consultancy Arup has provided the expertise behind many of the world's most high-profile construction projects.

Download this free guide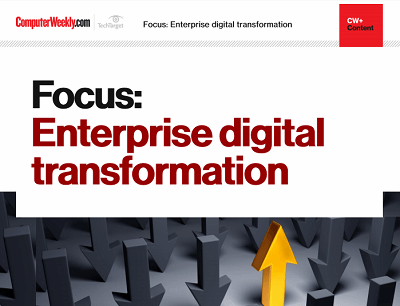 Are you digital to the transformation?
Digital transformation - the buzzword that we can't get away from. Enterprises need to accelerate their digital transformation journeys to avoid being left behind in an increasingly digital world. It's not an easy feat, but one that can be costly to get wrong. Join us as Computer Weekly takes a look at how businesses can stay on track through collaboration, innovation, and listening to user needs.
By submitting your personal information, you agree that TechTarget and its partners may contact you regarding relevant content, products and special offers.
You also agree that your personal information may be transferred and processed in the United States, and that you have read and agree to the Terms of Use and the Privacy Policy.
Its work is data-intensive - it is not uncommon for an Excel spreadsheet model to take up 3Gbytes - and its data footprint is growing 60%-70% year on year. Consolidating it all on a single storage system has improved responsiveness and reliability while making big savings on buying back-up tape.

As storage requirements grew during the 1990s, the 20-30 individual departments within Arup's London operation had added extra direct-attached storage (DAS) on a piecemeal basis. "It was getting to be a management nightmare," explains global operations manager Martin Cooper.

Furthermore, the systems were running out of space. It didn't take long to conclude that simply replacing all 80 DAS systems with higher-capacity versions was not a good idea. "If you have 80 boxes, it's hard to give them all enough care and attention with a small IT department," says Cooper.

As well as management and performance, reliability was a live issue for Arup. Recovering data held in its Exchange system had proved to be particularly problematic. Failures were occurring every six to nine months, with recovery times sometimes exceeding 24 hours.
"Our big problem with Exchange is that we couldn't easily verify if the back-up was good until we tried to restore it - and then we might find we were backing up from corrupt data," says Cooper.

In 2000, Arup decided that consolidating all the storage for its London office on a single tapeless storage device was the way to go. Another possibility was to go for a storage area network, but, as Cooper puts it, "laying fibre to do that would have cost more than storage consolidation".
He and his team spent some time evaluating alternatives from a range of suppliers, including Dell, EMC, StorageWorks and Network Appliance.

The firm's storage technology needs were straightforward: support for several terabytes of storage, an easy upgrade path and a data snapshot facility for quick and easy back-ups. Data snapshots facilitate near-instant online back-up by storing multiple, read-only versions of each data volume.

Price was not an issue. Technology, however, was. Network Appliance's approach to snapshotting was one reason why Arup decided to go with its Nearstore solution. "Other suppliers do snapshotting, but not as efficiently as Network Appliance," says Cooper.

With 7,000 Exchange seats around the world, Arup is a major user and liked the way Nearstore handled Exchange back-ups. It lets you snapshot Exchange databases and will also verify the snapshot so you know the copies are good. "You can restore to a known good copy in minutes," says Cooper. "It saves all the grief of clustering and mirroring."

Having decided to go with Network Appliance, Arup wanted to be absolutely sure the new technology would work as billed before rolling it out to the entire London operation. In late 2000, it started work on an initial proof of concept, covering 600 staff in its building engineering division, comprising eight separate groups housed in three offices more than a mile apart and running 16 separate servers.

Over three months, all 16 servers were replaced with a single Nearstore system linked to a back-up system using Network Appliance's Snapmirror snapshot software.

The pilot system brought a number of important benefits. Many staff found it much easier to recover lost data. It also means if someone accidentally deletes a file they can now restore it themselves, avoiding the embarrassment of having to ask ITfor help.

Recovery time for Exchange substantially improved: database recovery in 25 minutes compared with 24 hours before. Storage consolidation across the eight groups reduced the number of back-ups by 90%. Merging eight mail domains delivered savings in licensing, maintenance and tape media.

But possibly the most striking benefit has been the improvement in resilience. "If the main box goes, you can fall back on to the back-up box, but from what we've seen so far, the Nearstore systems don't fail, so what we're really doing is protecting against the building failing," Cooper says. The main and back-up systems are kept in separate server rooms in separate sites.

Moving data from 16 servers to a single storage system proved to be "amazingly simple". Arup used Network Appliance's Virtual File Manager (VFM), which enables system administrators to create a virtual name space for all files. Users can continue to access their information as before while files are moved across in the background.

The key to any move like this is meticulous planning. VFM allowed Arup to do the planning in background. Two or three years along the line, when the company has to start buying larger file servers, it can just introduce new storage units behind the name space and the users won't know the difference.

Network Appliance uses its own operating system, Ontap, which handles mirroring, back-up and Exchange restore. "Having just one OS is a lot easier, and with fewer than 100 commands, it's easy to learn," Cooper says.

This summer, Arup started to transfer all 80 servers in its London offices to Network Appliance storage, and is now about 20% through the project. Performance across a network has proved to be an issue with centralised storage, and for this reason most large offices will have their own Nearstore server.

In London, Arup is installing a 32Tbyte primary Nearstore unit, mirrored to two 48Tbyte secondary storage boxes, providing disaster recovery and tapeless back-up.

Though Arup is investing more than £1m in its storage consolidation project, Cooper estimates that it would have spent an equivalent amount in simply upgrading its old direct attached systems - and the new system is producing impressive savings. "The new tapeless back-up system has paid for itself just by removing the need to buy tapes," he explains.

But Cooper also expects to see benefits for the business. As well as better data availability and security, Arup's compact IT team will be able to work more effectively. "IT can easily regress into a fire-fighting department instead of proactively going out and working with the business," he says. "Rather than reducing the IT team in numbers, we're expecting them to do better work."

Martin Cooper, global operations manager at Arup, is speaking on consolidating and centralising storage capacity at Storage Expo 2004 on 13 October

www.storage-expo.com
This article is part of Computer Weekly's Special Report on storage produced in association with Cisco Systems